Hewitt residents Monday demanded a public report from the law firm the city council hired to investigate employee complaints against council members, rather than a summary of the issues by the city attorney.
The Hewitt City Council on Dec. 17 authorized City Attorney Mike Dixon to compile a report for public inspection detailing the events that have unfolded since May that have resulted in a Texas Rangers investigation and Texas Workforce Commission investigation. That report was not complete as of Monday.
However, residents used the public comment portion of the meeting Monday to question that decision.
Fortenberry said in his column he would personally pay to have Julia Gannaway of Lynn Ross & Gannaway LLP, out of Fort Worth publicly present her closed-door report on the investigation of city employee claims against council members. The move would be necessary because the firm never presented a written report to the council.
The city council called for the investigation May 21 after several complaints by city employees were filed against elected officials. The council then met with the firm June 21 behind closed doors.
Fortenberry used the Sunday column to question Dixon's "personal and professional integrity" and alleged he sided with Passalugo over everyone else. Fortenberry said he couldn't trust Dixon's version of the events that have occurred.
Dixon, who was unanimously hired by the council Sept. 17, said he could not comment on the column.
Dixon was selected after the council in a 4-2 vote fired its longtime city attorney Charles Buenger and Buenger & Associates. Fortenberry and councilman Bill Fuller opposed dismissing Buenger.
Dixon on Monday suggested holding a special called meeting Jan. 14 to present the information.
Fortenberry asked the report be presented during a regularly scheduled meeting so as not to incur additional costs on the city.
Hewitt resident Michael Bancale said having Dixon compile a report of the complaints would be a duplication of effort. Hewitt residents already paid for one investigation, and the results of that one should just be shared, Bancale said.
Resident Mike Field, a retired attorney, went so far as to tell Dixon to reflect "on whether you're a positive or negative influence on this city."
Field said the city looks like it's being run by Moe, Larry and Curly from "The Three Stooges."
Resident Ann Schiltz said everyone needs to learn to apologize, accept responsibility and allow the city to move forward.
"We live in the U.S. of A. and what's important here is freedom and the right to make choices," Schiltz said. "We are the ones that live in this town. Listen to us. Listen to us."
Resident Elli Mevis said there has been no transparency in the matter.
"Summaries are inherently biased because you are picking what you say and what you leave out," she said. "You don't believe me, turn on MSNBC and then switch to Fox News and then see if they are saying the same thing about the same news item."
Hewitt resident Betty Orton said her heart aches for the council members.
"I feel like we're in Washington almost with what we're going through," said Orton, who was a candidate in the November council election. "I think of all of us here have made mistakes. We've all said things we wish we'd have never said."
Also during the meeting, U.S. Rep. Bill Flores, R-Bryan, swore in the newest council member.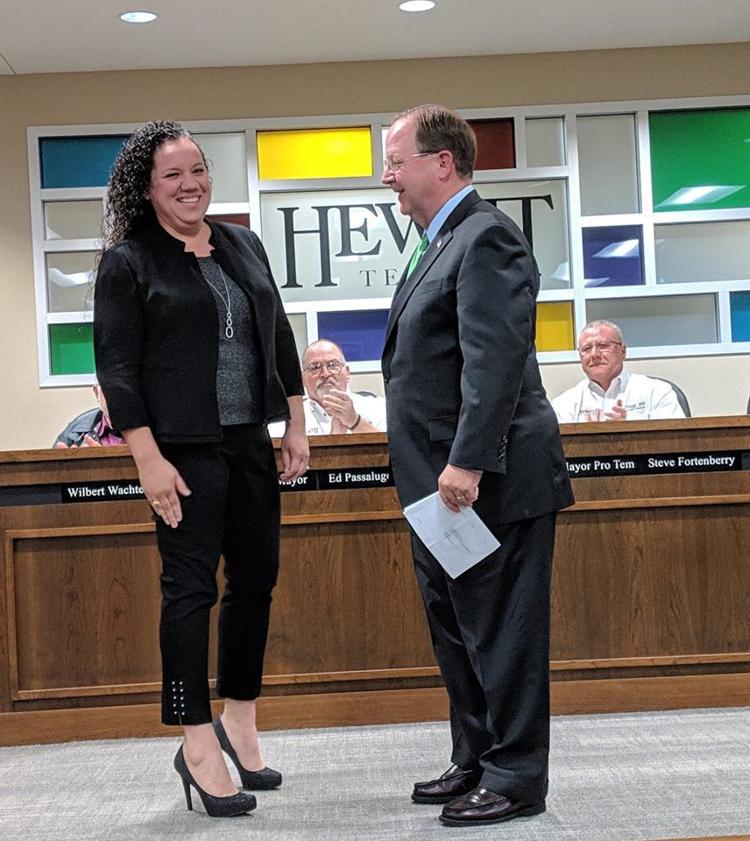 Erica Bruce won the December runoff election with almost 66 percent of votes cast for the at-large seat. Bruce fills the seat after the vacancy created by Kurt Krakowian when he stepped down in July. The term for the seat ends in May, and Bruce has said she'll run again for the position. The at-large position is one of four council seats that will be on the May ballot if races are challenged. Incumbents' terms ending include seats currently represented by Travis Bailey, James Vidrine and Passalugo.
Flores said he's sworn in about a dozen people over the years. Flores and Bruce recently crossed paths at a December Advocacy Center charity event. Flores said Bruce asked him to swear her in and since he had available time he agreed.
"It's a special event," Flores said before the council meeting. "I like to support anyone that's running for public service. I think that it's probably a cool thing for them to have their congressperson swear them in and I'm glad to help them out with that."
Flores said he's heard there has been some conflict on the city council in recent months but he didn't know anything about the matter. Flores said he's seen some chatter on social media about him attending the meeting, and one person even sent his wife a message warning that he'd be swearing in a Democrat. Flores said whether his constituents are Republicans or Democrats he will accommodate requests as possible regardless of party affiliation. Hewitt City Council elections are non-partisan.
Bruce said Flores has always been a supporter of the Advocacy Center, where she is an immediate response advocate for crime victims.
"I'm honored that he would take the time out of his schedule," she said.