Inside vote centers starting Oct. 22 McLennan County residents will use the rotary wheels of the county's voting machines to navigate their November midterm ballots.
The eSlate electronic voting system manufactured by Hart InterCivic of Austin is about the size of a legal pad, 1 inch thick, weighing 5.2 pounds. The voter will first select a language, English or Spanish, before entering a four-digit code received upon check-in at the vote center. The code identifies which voting precinct to pull up.
Voters will rotate the wheel to move a blue highlight across the ballot until it hovers over the candidate of their choosing. Once the candidate's name is highlighted, voters can press a button marked "enter." The candidate's name then becomes bold while the other choices fade into the background. The system allows a voter to go back and choose a different name if one is chosen in error.
Before the votes are cast, voters have the chance to review a ballot summary that appears on the screen.
It's not until the voter hits the "cast" button that they are finished.
Almost 45,000 people voted locally in the 2014 midterm, and with McLennan County having broken voter registration records this month, officials expect the polls to be busier than normal.
County elections staff is still processing registration forms, but so far there are 138,864 registered voters. The November ballot includes statewide races, city council and school district races and countywide positions, including the seat for county judge.
Anyone unfamiliar with the county's voting equipment can drop by the county elections office to test drive the system, Elections Administrator Kathy Van Wolfe said.
"We have a machine in our office, and if they come down to early vote they can come over and we'll show them how to use the equipment," Van Wolfe said.
The biggest thing to remember is the machines do not have touch screens, she said.
"The machines usually come back with lots of fingerprints on them," she said.
If a voter needs assistance with the machine they just need to ask a nearby poll worker, Van Wolfe said.
It is important to review the summary screen before hitting the "cast" button.
"After that, it's too late. You've dropped a ballot in box, and we can't get it back," she said.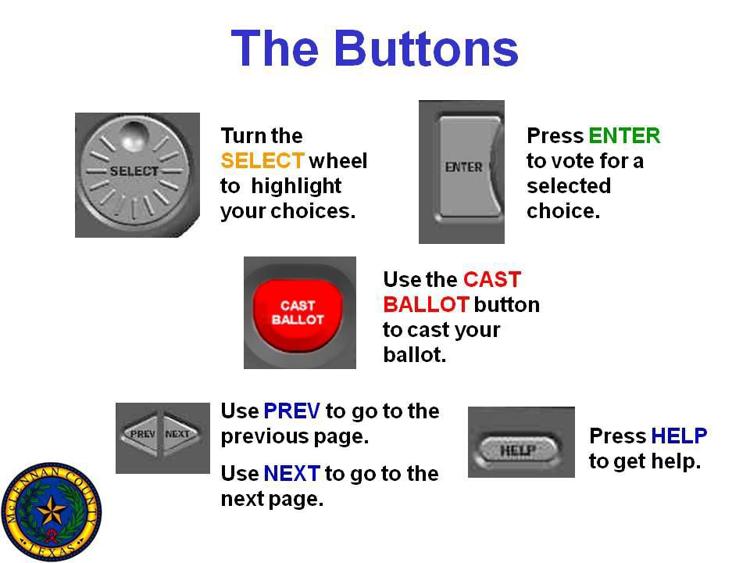 A voter needs one of these seven types of photo ID:
A state driver's license issued by the Texas Department of Public Safety
A Texas election identification certificate issued by DPS
A Texas personal identification card issued by DPS
A Texas handgun license issued by DPS
A U.S. military ID card that includes a personal photo
A U.S. citizenship certificate that includes a personal photo
A U.S. passport.
Those forms of ID can be expired by no more than four years for voters between 18 and 69 years of age. The expiration date does not affect anyone 70 or older.
If someone does not have one of those seven forms of photo ID and cannot reasonably obtain one, there are six other options.
A copy of a government document that shows the voter's name and an address, including the voter registration card.
A copy of a current utility bill.
A copy of a bank statement.
A copy of a government check.
A copy of a paycheck.
A copy of a birth certificate.
Choosing one of the six supporting forms of identification, a voter must also fill out a Reasonable Impediment Declaration, which states the information presented is true and the person faces a reasonable impediment to procuring an acceptable form of photo identification.
If a voter still does not have one of those forms of ID, that person can fill out a provisional ballot.
Just as on Election Day, voters can use any of the open vote centers, regardless of where they live in the county. Van Wolfe said each location is equipped with real-time voter history, which prevents anyone from attempting to vote at multiple locations.
Early voting runs from Oct. 22 through Nov. 2 at the McLennan County Elections Administration Office in the Records Building, 214 N. Fourth St., suite 300, in Waco; the Robinson Community Center, 106 W. Lyndale Drive; the Waco Multi-Purpose Community Center, 1020 Elm St.; First Assembly of God Church, 6701 Bosque Blvd., in Waco; and the Hewitt Public Safety Facility at 100 Patriot Court.
Mail-in ballots are due by Oct. 26.