Brittney Garrett's son won't let her forget his Game Boy is at the bottom of Lake Waco, along with several pieces of her old truck.
And the $130,000 bill sitting on her kitchen table from the Texas Department of Transportation, demanding she pay for damage to a guardrail on the Twin Bridges, reminds her the cost of her wreck could have been much worse. She is lucky, Garrett said.
Almost a year-and-a-half since plummeting into Lake Waco in a wreck on the Highway 6 bridge, Garrett is hoping to share her story with students in McLennan County to bring home the dangers of distracted driving. Garrett crashed into a guardrail after picking up her cell phone as she was driving west March 24, 2016, on her way to pick up her 5-year-old son from his father's house, she said.
"Some people don't know how precious life is. … That's what I want to get across, especially to those who are only 16 and 17," Garrett, 26, said. "You don't even know what life is yet. You think you do, but there's so much more."
Only four minutes passed between Garrett picking up her phone at 11:51 p.m. and a call going out to police at 11:55 p.m., she said. The wreck tore back the door of her truck, creating a hole in her floorboard that she fell through, 60 feet into the lake below, police said at the time.
She walked away with a bruised back, a small laceration under her eye and more than $60,000 in medical bills after landing on her back when she hit the water, she said.
"When I was falling, all I could think about is when I was going to see my son again, you know? Was it worth it, whatever it was?" Garrett said. "It was the worst feeling. I was just so stupid. I thought I was never going to see my son again because of this."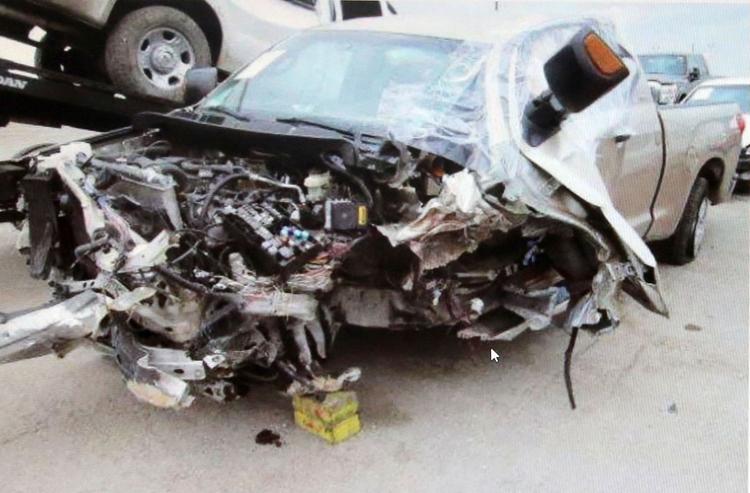 Garrett was invited to the state Legislature in February to testify on a statewide texting ban but was still too overwhelmed at the time, she said.
Now, she's ready to speak up.
"Physically, I'm OK. Mentally, it's hard. … I didn't go to Austin, but I have a passion (to do this) because I'm lucky to be alive," Garrett said. "I don't want someone else to have to lose their kid because of it or survive and have to deal with what I've had to deal with the past year."
She has her good days, and she has joined a couple of athletic teams to keep her distracted. But strange dreams of wrecking again still wake her up from a dead sleep, she said. She still drives but keeps her phone in her purse to where she can't reach it, and she tenses up if she has to cross the Twin Bridges, she said.
The mother who police say miraculously survived a car crash and 60-foot fall into Lake Waco …
She went back to the site of the crash for the first time two months ago on an early Sunday morning to look over the bridge and take it all in, she said.
"It was pretty crazy to see how far up it is," Garrett said. "Probably a couple months ago, I was coming across the bridges, and for some reason it hit me. I remembered the impact when I hit the rails. I remember that, and I remember falling. The trauma doctor said I did a back flop and that saved me, too, so I didn't have brain trauma or break some ribs or anything. I remember swimming back to the top and woke up on a log. That's the part where I don't have a visual."
The timing of her desire to talk to students is almost perfect, with the texting ban going into effect Sept. 1, she said as she gripped a crinkled piece of paper scribbled with statistics from Texas Department of Transportation.
The number of distracted driving cases in the state has risen since 2014, with one in five crashes caused by distracted driving, TxDOT reported. More than 450 people were killed and more than 3,000 people were seriously injured because of distracted driving related crashes last year, TxDOT executive director James Bass wrote in a press release last month.
McLennan County had 1,159 distracted driving related crashes last year, up from 951 in 2015 and 892 in 2014, according to TxDOT data.
In Waco, distracted driving has become an epidemic, Waco police Sgt. W. Patrick Swanton said.
It seems like almost every accident he's responded to the past five years has been caused by distracted driving or, even if distracted driving wasn't the cause, other drivers are filming and snapping pictures as they go by, which can create an even more dangerous situation, he said.
"We're seeing it more and more nowadays, where people aren't paying attention. … We've seen it all," Swanton said. "It's very easy for Joe Citizen to see. Just pull up to an intersection and look around you."
He said several people stopped to watch Waco first responders at a fiery crash on Interstate 35 at Valley Mills Drive that killed three people.
A California teenager faces charges that she caused a recent crash that killed her younger sister. The teen was live streaming video on Instagram at the time, according to the Associated Press.
Swanton said Texas' new state law is only a start to curb the issue, even if the law will be difficult to enforce.
"Quite frankly, it's a feel-good law. … In essence, I think you're going to see a moderate number of tickets for that," he said. "You'll have to be right next to them to see their cell phones to write a ticket, and you can do it because people are so distracted."
Garrett is still figuring out her plan to visit schools and speak to students next year, but she thinks that is the best way she can educate others on the risks of distracted driving, she said.
"God works his magic in amazing ways. How that woman is still alive is nothing short of a miracle," Swanton said of Garrett. "I think it's fantastic she's trying to reach out with what could have easily cost her life. I'm glad this woman is taking some responsibility for what happened to her, and maybe sharing her story can save someone else's life."