Lake Air Montessori Magnet School teacher Jonathan Cambambia thought he was going up to his school to sign some paperwork. He even had a pen in his pocket.
But the ruse quickly fell apart when Cambambia saw the cameras and staff from Lake Air with Waco Independent School District administrators on the school lawn, including Superintendent Susan Kincannon, who were all there to congratulate him on being selected Waco ISD's Elementary Teacher of the Year.
Cambambia was stunned. He did not expect to receive such an honor Thursday morning.
Waco ISD administrators and teachers surprised him and three others with Teacher of the Year awards Thursday, creating a different ruse for each teacher that brought them to their respective campuses for a socially distanced celebration of their work.
Waco High School teacher Julie Richardson won Secondary Teacher of the Year, and the two Virginia DuPuy First Year Teacher of the Year awards went to West Avenue Elementary School teacher Cassandra Benjamin and University High School teacher Charidy Lee. Named for the former Waco mayor and public education advocate, the Virginia DuPuy awards recognize one elementary and one secondary teacher who just started their education careers.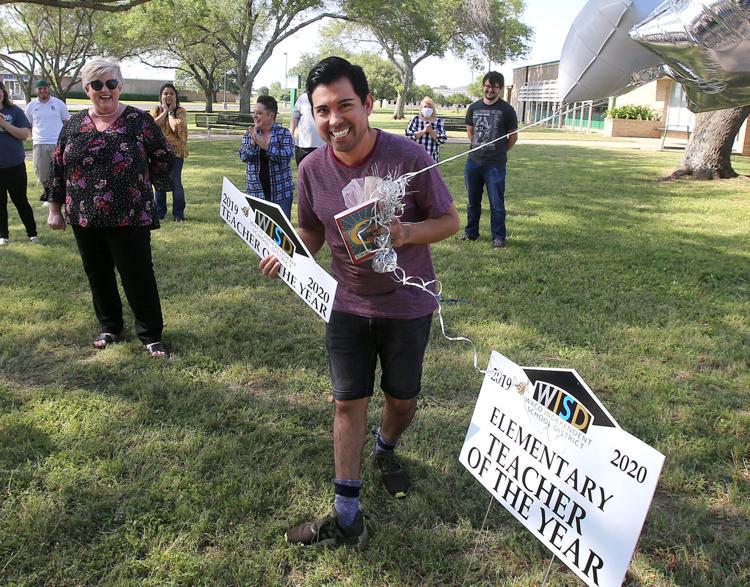 Cambambia started working as a teacher six years ago at Lake Air, where he teaches English, reading and social studies for fourth, fifth and sixth grade students. He said he believes he received the award because of his hard work, and he plans to show his students how his perseverance and determination led him to meet his goal.
"Hopefully, this can show my students that they can accomplish what they want," he said.
Initially, Cambambia did not want to be a teacher, until he started substitute teaching and realized how important teachers are. He remembered his days in Waco ISD schools and the educators who made an impact on him.
"I realized teachers can have impactful moments with students and make a difference," he said. "I just want to empower my students."
Waco High special education teacher Julie Richardson went to her campus Thursday, expecting to collect donations for a fellow teacher whose child is sick. When another teacher asked her to talk outside, Richardson followed her out, where she saw a crowd gathered, cheering for her Secondary Teacher of the Year award.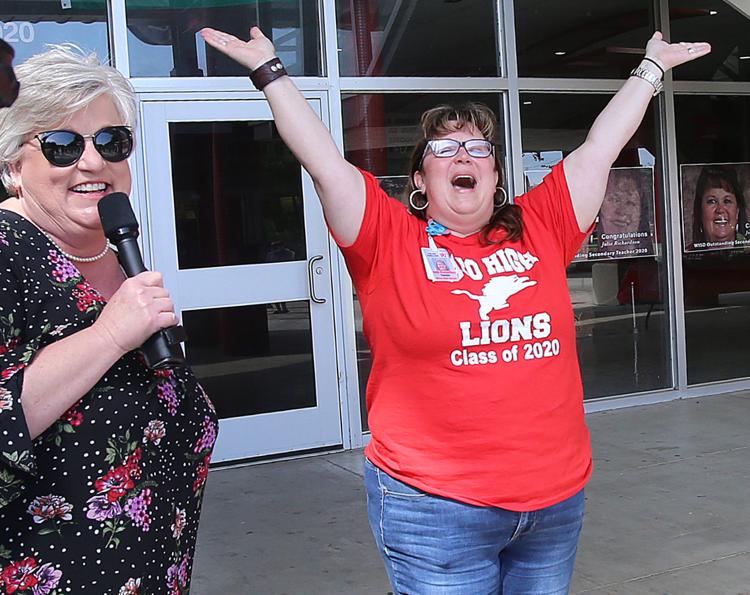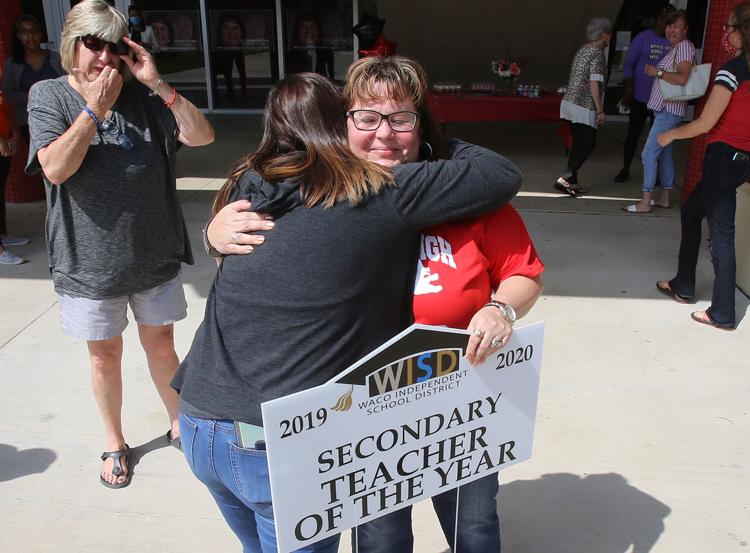 Richardson said she was shocked and humbled and that it is a huge honor to receive the award because her work as a special education and credit recovery teacher is to help students who may have behavioral issues or who may not perform well on state standardized tests, which earn schools recognition for high scores.
Sometimes, her students grow frustrated in the classroom because they do not learn the same way as many of their peers and they act out. Richardson's students retaking a class for credit often need extra motivation to complete a class they have taken before, so she tries to show them new ways to understand the material and increase their self-confidence.
"I work really hard with the kids. I'm very passionate," she said. "I form relationships with the students and with their families, and I let them know I'm in there for the long haul."
Richardson has taught for 14 years, almost five of those at Waco ISD and 10 years at Bruceville-Eddy ISD.
Although her job can be difficult and unrewarding, Richardson said she keeps coming back each day because she loves the students she works with and wants to see them succeed. Educators must have thick skin because some days are going to leave them feeling like a rock star and other days will leave them feeling defeated, but they keep coming back to work, she said.
"Because it's not about you," Richardson said. "It's about the child succeeding."