A far more vocal crowd turned out Monday for the second of three community meetings held by the Waco Independent School District intended to help find a contingency plan to keep five schools on the verge of closure open next year.
Residents held Superintendent A. Marcus Nelson's feet to the fire in the meeting moderated by Texas Tribune CEO Evan Smith at the City of Waco Multi-Purpose Center. They asked several times about how the district would tackle two issues to address change needed over the next two semesters: distrust among residents and parents, and equitable learning experiences for students in the five campuses, which are in some of Waco ISD's most low-income, high minority-populated areas.
The answer is targeted intervention: working child by child, teacher by teacher, as employees did in Laredo ISD when Nelson helped turn around nine schools before he left to come to Waco ISD in June, Nelson said.
"There's a standard, and if you can't meet the standard, then maybe you should go to another school district. If you're going to be in the Waco Independent School District, we're going to expect you to tutor kids, before and after school and on Saturdays," Nelson said. "We're raising expectations for everybody."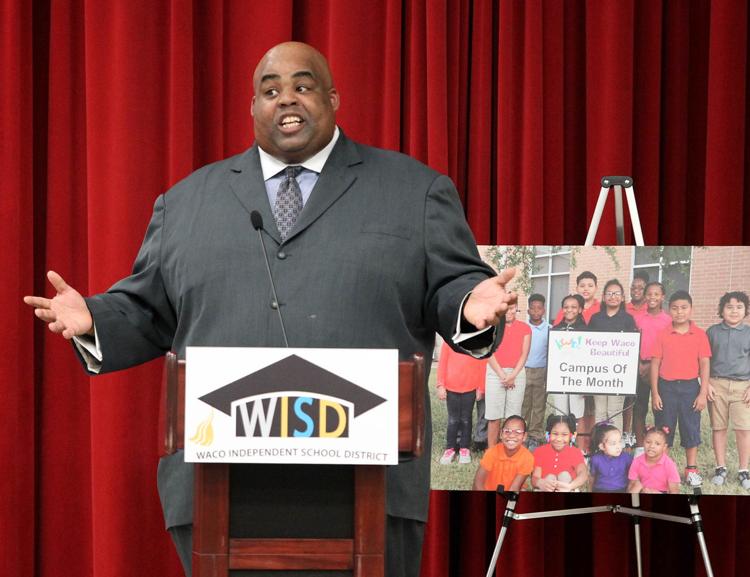 Nelson reiterated several options presented at the Oct. 23 meeting to keep Alta Vista Elementary School, Brook Avenue Elementary School, J.H. Hines Elementary School, G.W. Carver Middle School and Indian Spring Middle School open, based on state laws passed in 2015 and 2017.
The campuses have failed state academic standards for five consecutive years or more, the state's legal threshold to close a campus.
If the five schools don't meet state accountability ratings in May, the 2015 law requires the campuses to close or the district's elected school board to be replaced with state appointees, according to a recent warning letter Texas Education Commissioner Mike Morath sent the district. But Texas Education Agency officials recently told the district replacing the school board isn't an option because the board is doing what it should, Nelson said.
But a law passed this year gives those districts a chance to come up with an alternative plan that could keep the schools open another two years, and Waco ISD has until February to submit the plan to the state for approval, Nelson said. Waco ISD can repurpose schools with a new campus ID number, effectively making them new schools, create partnerships with a for-profit charter school or create a partnership with a nonprofit group, district spokesman Kyle DeBeer said.
With four of the five schools having a student population that's about 90 percent economically disadvantaged or higher and state accountability measures the same for every school across the state, Nelson was asked what the district would do to help those students achieve high performance.
"That's why we push our kids so hard. We have very little control of what they go home to," Nelson said. "I know kids in Waco ISD right now that the biggest problem they have is are they going to go to Texas Tech or are they going to Texas A&M, because Momma went to Tech and Daddy went to A&M. ... But sitting right next to that student is a student who has no home support. They go home, and they're the oldest in their family and have to take care of their siblings. With that kid, you have to level the playing field and have to assume personal responsibility, that this kid needs more help and support."
With five campuses facing the possibility of closure by the state after this school year, Wa…
He challenged parents to become more involved at home and at the campus level to push children toward college-readiness initiatives and dual-credit programs, or sitting down with students to do homework and help with literacy skills. But the challenge comes when educators have to serve as possible surrogate parents and the first thing a Waco ISD employee might have to do when they walk in each morning in is find something for the student to eat, Nelson pointed out.
"The main thing we have to do for these poor children in these schools is we have to push the expectations higher and higher, and help them reach those expectations," Nelson said. "Do you really think a kid from poverty can be successful at Baylor (University)? I emphatically believe that. We have to put systems in place that really allow for the equity in excellence we're demanding."
But parents pushed back, stating there's an element of distrust with district administrators and school board members. They brought up how their children have fallen through educational gaps, despite being actively involved or communicating with Waco ISD employees, and a sense of feeling unwelcome on campuses.
They also brought up past issues and pleaded with Nelson and board members in the meeting, saying that if schools were to be repurposed, district officials heavily scrutinized any possibility of merging a struggling campus with another struggling campus, as was done in 2008.
"I've heard praise for the board, some indictment on parents, some indictment on the community, but there's a reason for that: There's a lack of trust in communities of color with the school district, and that's been there for a long time," said Ramona Curtis, Baylor's director for community engagement and Initiatives. "Our parents don't look like the nuclear family, and all these kind of things. When I grew up, my parents expected the school to teach me, but I know we're in a different time now. ... I want to know what we're going to do differently, with the board as well. Even though these schools are in neighborhoods some of our board members don't live, I want them to also feel some sense of accountability as well."
Nelson responded by stating every parent and child was welcome to come to the table in Waco ISD because district staff can't accomplish the goal by themselves. The district has close to 15,000 students, and Nelson's trying to act quickly and be decisive about reality facing the struggling campuses, he said.
"I'm trying to build confidence in our community that this is no joke. This is a serious commitment. All of my love, all of my peace, all of my happiness goes into improving the educational product of every community we have, not just some zip codes," Nelson said. "Until we can proclaim all kids are going to all quality schools, you have a superintendent who is going to consistently push for higher expectations. No, I'm not indicting anyone. I'm trying to encourage people to become part of this movement."
Nelson said opting to surrender the schools to a for-profit charter system wasn't an option because that would bring in educators and officials who aren't familiar with Waco.
Instead, the district's leaning toward making an in-district charter by partnering with a local nonprofit under the law or making both middle schools single-gender campuses, creating a sixth-grade center and realigning J.H. Hines and South Waco Elementary to serve prekindergarten through second grade, while Alta Vista and Brook Avenue could be realigned to serve third through fifth grade, he said.
The last of the three meetings will be held at 6 p.m. Monday at the Cen-Tex Hispanic Chamber of Commerce, 915 La Salle Ave.