After 17 years on the Waco Independent School District board of trustees, president Pat Atkins is resigning, citing his family's decision to move outside the district's boundaries and his desire to step out of the way as the board prepares to hire a superintendent.
His resignation takes effect Thursday, if the board accepts it, leaving trustees to discuss at their meeting how to fill the vacancy, according to a Waco ISD news release. State law and board policy allow the remaining board members to either fill the vacancy by appointment until the next trustee election or call a special election.
Atkins, 54, served as president for nine years. He is a civil attorney, and his wife, Sandy, is a Waco ISD teacher. Their three children graduated from Waco ISD schools.
He told fellow school board members that he and his wife plan to sell their home in Waco ISD and move outside the district later this year. At that time, he will no longer be eligible to serve on the board. Atkins notified trustees of his plans because the board is starting its search for the district's next superintendent.
"I have been reflecting upon our impending move and this board's search for the next superintendent," Atkins wrote in his resignation letter to the trustees. "This hire likely will set the course for the district and the Waco community for several years. I know I can remain on the board a few more months until our new home is complete. It is important, though, that my successor — who will actually be working with the new superintendent — have an opportunity to participate in the hiring process."
The announcement comes two months after the board and then-Superintendent A. Marcus Nelson came to an agreement for Nelson to resign after his misdemeanor marijuana possession arrest. The board took its first steps toward hiring a new superintendent Friday, when it began accepting applications.
Atkins said he believes Nelson made the right choice by resigning because Nelson recognized that the spotlight had shifted to him instead of the students. Atkins recognizes that Nelson was "dynamic leader," but that it would have been difficult for him to sustain the same level of leadership after his arrest.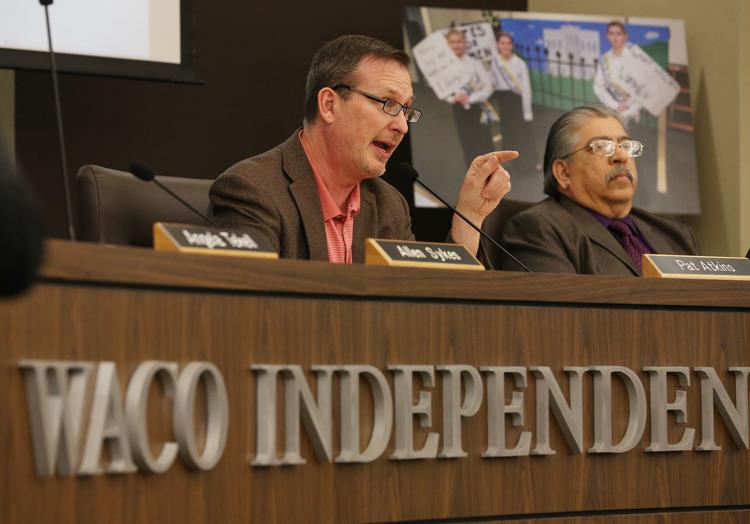 "What was difficult with that situation was we had made so much progress over the last two years, really engaging the community and earning the trust and the commitment of community members, as well as their buy-in to the mission of the Waco public schools," Atkins said. "It was difficult to see how divided people were becoming over that one issue, that there were reasonable, thoughtful people on both sides who were coming to very different conclusions."
Interim Superintendent Hazel Rowe said Atkins has had such a profound impact on the district that it is difficult to articulate.
"For 17 years, he has asked what we can do, together, as a community to give our kids a brighter future," she said. "And for just as long, he has taken seriously the responsibility to be a good steward of our community's tax dollars. Our kids, our schools and our community are all better off because of his leadership."
Atkins has led the school board through several difficult decisions, one of which involved the state Legislature slashing $5.4 billion from public education funding in 2011. Waco ISD's budget took a $3.4 million hit in state funding.
Between October 2011 and February 2012, Atkins and other district officials led community discussions about how to bridge that funding gap. The resulting plan included closing nine campuses.
Waco NAACP President Peaches Henry said Atkins has been a good partner to the community.
"He has listened to the concerns of the community and has been committed to actively listening and seeking input from us," she said. "We would encourage whoever next serves on the board to follow his good example."
Atkins said the district's initiatives in the last few years are starting to pay off in turning around underperforming schools.
In November 2015, voters approved increasing the district's total tax rate by five cents in what was called a "tax ratification election." School board members committed that the additional funds would be used to expand opportunities for students to earn college credit, raise literacy rates and improve behavior and discipline.
"We've already seen significant progress in all three areas," Atkins said. "This year, 30 seniors will graduate with both a high school diploma and an associate's degree from McLennan Community College. Between 2016 and 2018, the percentage of third-graders passing the state reading assessment increased seven percentage points. Our out-of-school suspension rate has dropped by 51 percent since 2015.
"There's much more work to be done, but there's no doubt that the tax ratification election has been a game-changer for Waco schools," he said. "In 2015, eight schools in Waco ISD failed to meet state standards. In 2018, only one campus did."
A law passed in 2015 requires the state education commissioner to either close any campus that fails to meet state standards for five consecutive years or replace the school district's elected board of trustees with an appointed board of managers.
In 2017, six Waco ISD schools failed to meet state standards. Five of the schools had failed to meet them for five or more years in a row. They would have faced closure if they failed to meet state standards for another year.
A 2017 law offered school districts the option of partnering with a nonprofit organization to operate chronically underperforming campuses. If the partnerships met certain eligibility criteria, the campuses would receive a two-year reprieve from accountability interventions.
That is how Transformation Waco was born, a result of a partnership between Waco ISD and Prosper Waco. It is a first-of-its-kind in-district charter system in Texas.
"Superintendents tend to focus on the data sets that they're going to turn in to the state," Atkins said. "I understand that. That's a large part of how their district and their performance is going to be measured. I think our role as board members is simply to remind superintendents and the administration that in this community there is more to education than just standardized testing."
Atkins said the Waco community is committed to increasing opportunities for students to participate in fine arts and advanced academics, as well as career and technology programs. That is evident by the formation of both the advanced manufacturing and advanced health care academies in the district.
"To really be an effective board member, you have to take the time to listen to a lot of different perspectives, and you need to make yourself accessible to where folks are comfortable not only giving feedback but also willing to raise concerns about something that the board is considering doing," he said.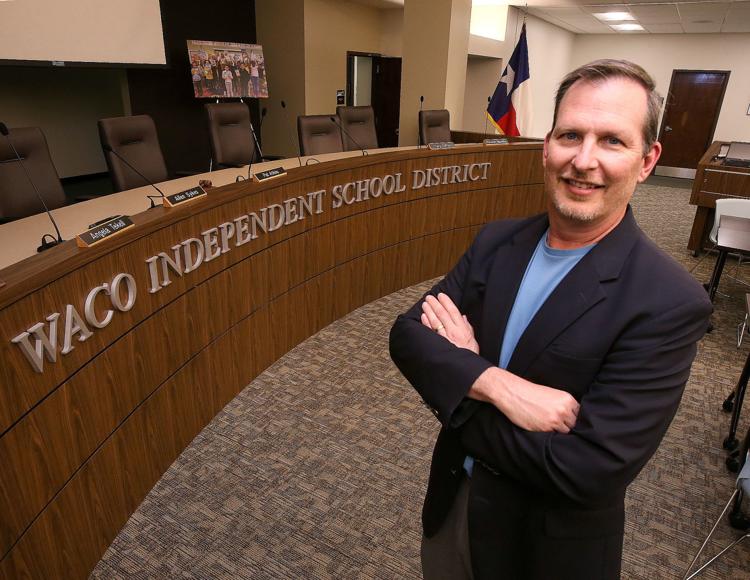 "I've been doing it for 17 years at no pay because it is very gratifying, and it is rewarding to know that you're making a difference in the lives of students and their families. To really understand the issues takes time, and I hope a number of folks will consider applying for or running for my seat because it may be the most difficult, rewarding opportunity in the community."
Waco American Federation of Teachers representative Rosalinda Silva said she is sorry to see Atkins go.
"We need somebody in there that is going to be as fair-minded as Pat Atkins," she said. "We will miss him. We love him and wish him and his family well."