Veteran David Hanks has not worn socks with his shoes since he served in the Vietnam War.
Not since he saw his friend's boot cut off, after it had grown attached to the man's foot because of jungle rot.
That's what happens when you wear wet socks in Southeast Asia, Hanks told a Vanguard College Preparatory School class on the Vietnam War.
"I never wore socks again," he said.
That was not the only lesson Hanks, 66, learned while he served in U.S. Air Force in Laos, where he advised the Hmong people by fighting the Pathet Lao, a communist political movement and organization that formed in 1950. The group eventually took control of Laos in 1975.
Teacher Brad Livingstone, husband of Baylor University President Linda Livingstone, started the Vietnam War class this semester after teaching a class on World War II for the past two years. The foundation of both his war history classes involves connecting students with war veterans by bringing in veterans to speak to his classes, but it has become difficult to find World War II veterans who are alive and in good enough health to come share their stories with students.
Livingstone decided to open a class on the Vietnam War in hopes that he will be able to find more veterans like Hanks to come speak to his class and because he knows many U.S. teenagers do not know much, if anything, about the country's involvement in the war. His invitation is open to all Vietnam veterans.
The class discusses questions like why the U.S. became involved in Vietnam, whether the U.S. should have intervened in the conflict and what lessons the nation has learned from the war. Livingstone also encourages his students to thank veterans for their service and how best to approach them.
Holley Anderson, one of Livingstone's students, asked Hanks to come speak to her class because he is a family friend. The senior said she decided to take Livingstone's Vietnam class because she took his World War II class.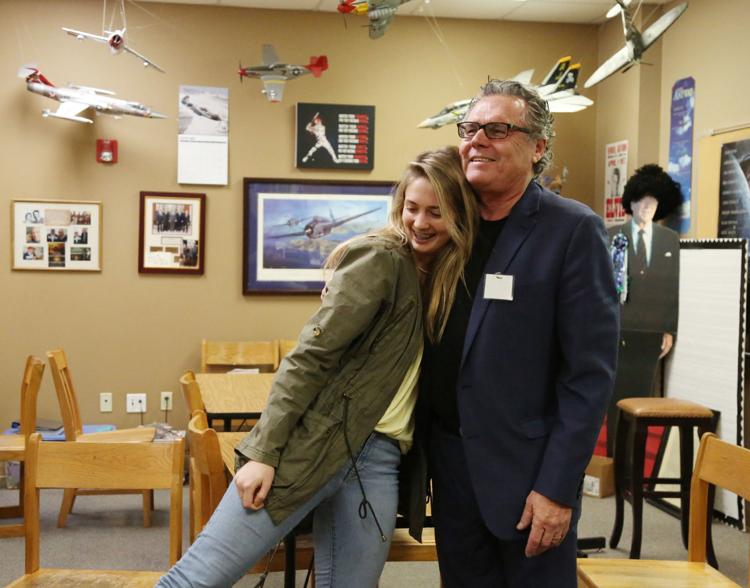 "Mr. Livingstone is a great teacher," she said. "He is passionate about what he teaches, and that makes it fun for the students."
Senior Seeyoung Yoon decided to take the class because she realized she knows almost nothing about the Vietnam War. She said she was surprised by Hanks' admission to the class that he never watches any war movies or documentaries because they trigger memories of his time in the war.
"A lot of veterans that we talk to, they talk about their experience and how it impacted them, but how he talked was like he wanted us to feel that, too," Yoon said.
Hanks talked to the class Friday about why he thought the U.S. entered the Vietnam War — to defeat communism — and how he remained in constant survival mode during his 18 months in Southeast Asia.
"No matter what war you're in, it's war. In theater, you're only thinking of survival," he said. "When you're out there on the ground, you see the horrors."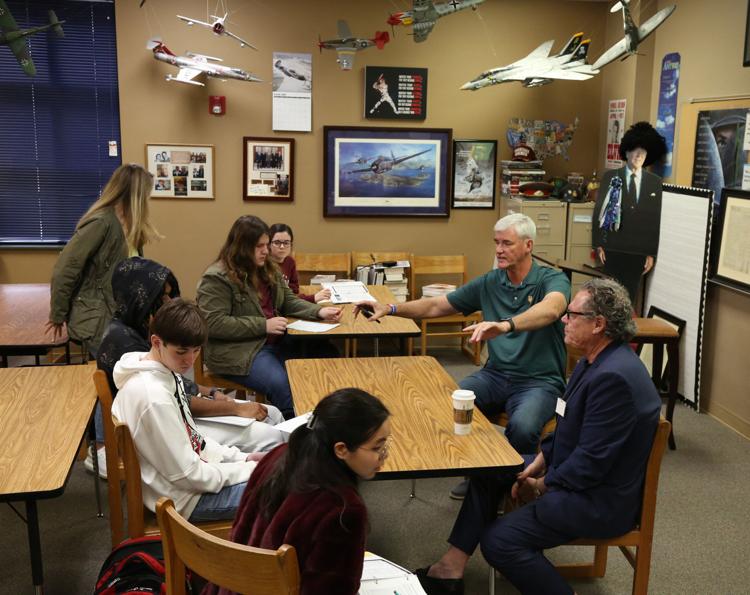 One student asked Hanks when he was most frightened while serving during the war. He replied "every day."
"It's always in the back of your mind," he said.
Another student asked Hanks if he ever suffered any injures. He said he didn't want to talk about it.
Hanks grew emotional, his voice breaking, when he recounted his trip back to the U.S. The airline assured him the plane would wait for him, even though he was running late, but by the time he reached the gate, the plane had started to taxi off to the runway. But then the plane turned around and came to get him.
Hanks served 4½ years in the Air Force. Now he works in the oil industry and travels all over the world. He owns a house in Bogota, Colombia. While he talked about how the war affected him and shaped his view of the world, Hanks remained matter-of-fact about his experience.
"I don't like war," he said, "but unfortunately, sometimes it's necessary."
Senior Aaron Leonard said Hanks gave the class a lot of insight into the "nitty-gritty" aspects of the war that other veterans sometimes shy away from discussing.
"It gives us a whole new perspective on what we actually know," he said.
Senior Adley Mattei said the impact the war left on Hanks is still apparent, right down to his sockless feet.
"Taking this class helps build a bridge between the younger generation and the older generation because a lot of times there's a gap because we both stigmatize the other generation," she said. "By being able to actually talk to them, it breaks that barrier down."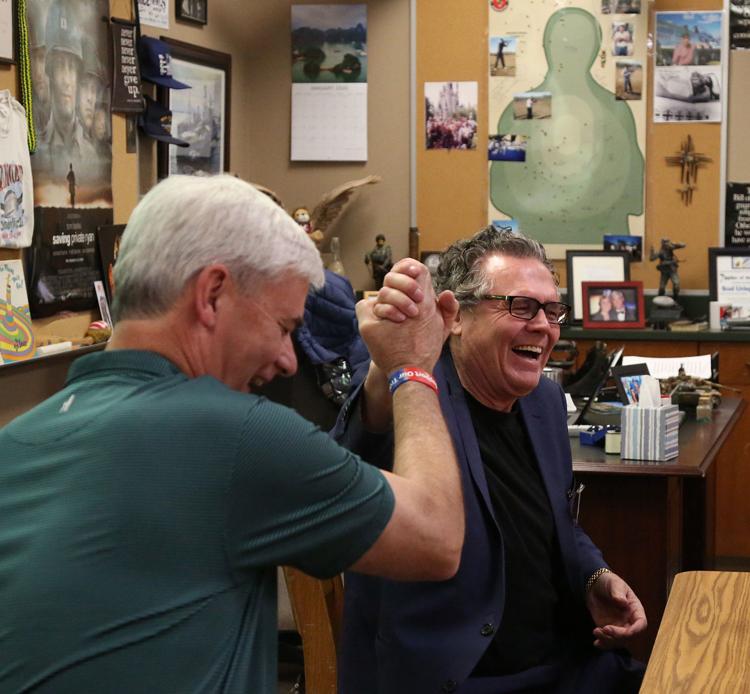 Livingstone invites any Vietnam War veterans to come speak to his class. He can be reached at 310-463-3715.