Waco Independent School District's effort to spin off an in-district charter to govern five at-risk schools in the coming year is already starting to see a pay off, at least in the state funding those schools will receive.
The state will chip in an about $1,000 extra per student in the coming year for those schools, Waco ISD officials said Tuesday at the board meeting of Transformation Waco, the nonprofit formed to oversee the schools' improvement.
For example, a student at J.H. Hines Elementary School, which is in the charter "transformation zone," will bring down 15 percent more funding than a Waco Independent School District student attending West Avenue Elementary School, which is not part of the zone.
"This is the sort of hook, if you will, to get districts participating in this because we get that additional money for the students in the transformation zone," Waco ISD Chief Financial Officer Sheryl Davis told the Transformation Waco board Tuesday.
It was the second board meeting for the newly formed nonprofit, which will oversee five schools that state education officials have deemed "improvement required" because of shortcomings on standardized test results. Those schools are Alta Vista Elementary School, Brook Avenue Elementary School, J.H. Hines Elementary School, G.W. Carver Middle School and Indian Spring Middle School.
Davis educated the Transformation Waco board about their 2018-19 budget revenue sources and what tasks, including audits and state finance reports, Waco ISD will carry out on behalf of the nonprofit.
"This is a very different kind of organization from what I think any of us are used to," Davis said. "This type of organization basically straddles the fence between school districts and charter schools.
"So some things are going to be very different from what you see in a school district, and some things are going to be very different from what you see in a regular charter school."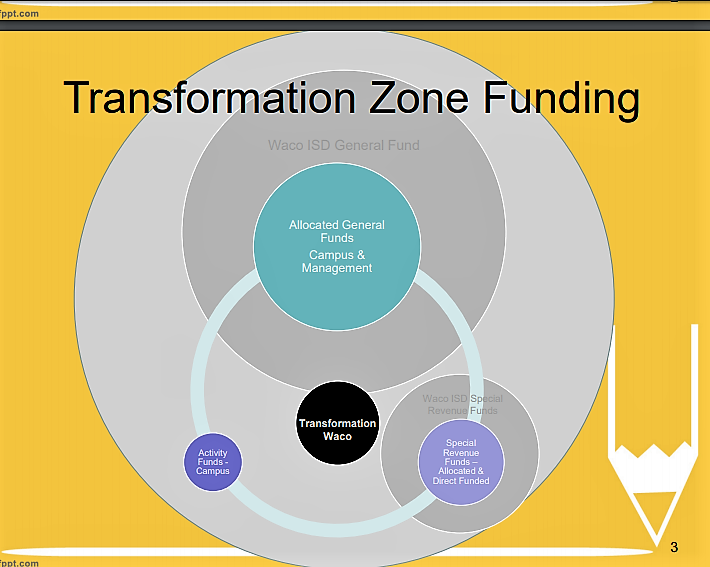 An independent charter school cannot receive property tax revenues, but Transformation Waco can, she said.
"Because you're this hybrid and you're really part of the school district, there is a component that is coming from local property taxes that is not like a regular charter school," she said.
The state also will up the ante for funding the five schools in the form of a "small-midsize school district" allotment.
"You can see you just really blow us out of the water at that point," Davis said, pointing to the slideshow depicting the various revenue sources. "You get $1,000 more per student in (average daily attendance funding) than Waco ISD does."
A general education student at Waco ISD is calculated to bringing in $5,541 in state funding, whereas a general education student attending an in-district charter school generates $6,522 in state funding.
In comparison to the rest of the country, Texas ranks 10th from the bottom in public education spending, according to a U.S. Census Bureau report released in May.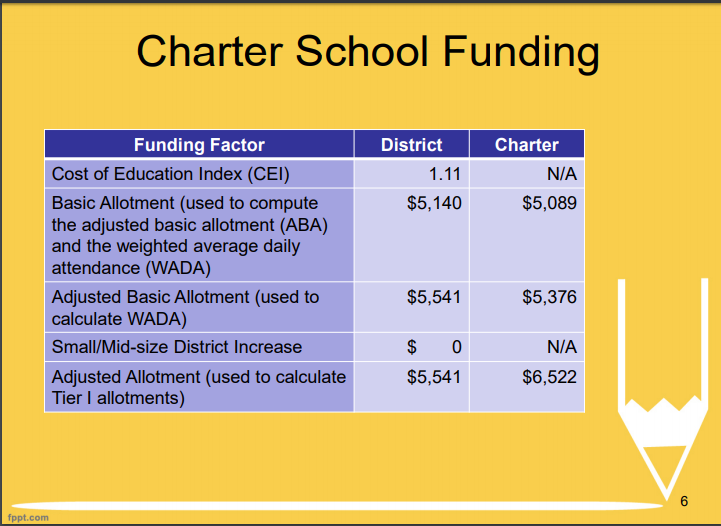 The Transformation Waco board also tended to other business during Tuesday's board meeting. They reviewed CEO and board roles and responsibilities. The board unanimously voted to create a parent involvement committee that will include board members Mary Fisher, Christy Perkins, and Iliana Neumann.
The in-district charter's budget will not be final until the Waco ISD board approves it in August. Board president Malcolm Duncan Jr. said the complexity of the funding model will require some extra attention.
"I believe we are going to need to establish a finance committee," Duncan told the board Tuesday. "There are certain funds we're going to be charged with monitoring the expense of that are over and above the typical WISD expenditures. It's going to be a big opportunity but a big responsibility."
Only a handful of people attended the meeting at G.W. Carver on Tuesday, including Waco ISD employees, consultants, the nonprofit board and two representatives from Hearne ISD who wanted to observe the operations of Texas' first in-district charter school board.
The nonprofit has less than a month before the first day of school in Texas, Aug. 21. Some board members voiced concerns about the group's organization going into the rapidly approaching new school year.
Board member Hazel Rowe said she is worried about the board not meeting again until after the first day of school.
Fisher, also a parent of G.W. Carver Middle School students, relayed concerns from other parents and staff about leadership changes that took place at the school this summer.
Board member Melli Wickliff discouraged Fisher from talking further about that subject.
Duncan mentioned the possibility of adding more subcommittees.
Although the board must abide by state law and Texas Education Agency code, it is unknown whether the board's future subcommittees will be open to the public, in accordance with the Texas Open Meetings Act.
The new board is still learning the boundaries of operations as a nonprofit in-district charter partnership, Duncan said.
"We do have some different opportunities as a charter school than a normal school district would have," he said.