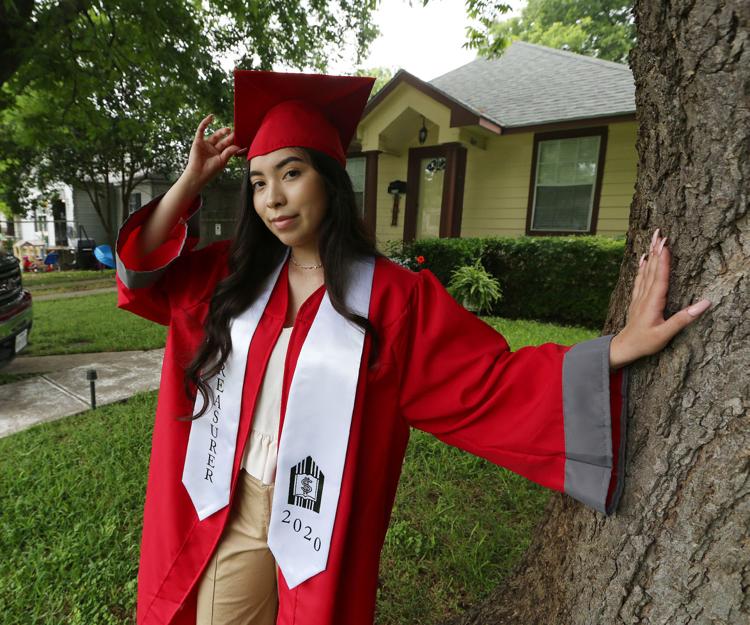 There likely will never be another group of high school seniors like the Class of 2020.
The graduating seniors endured many firsts, such as a pandemic that interrupted their lives in almost every conceivable way, while missing out on many lasts, like their final high school exams, senior prom and their last day of high school.
Gov. Greg Abbott closed school campuses April 17 for the rest of the school year, after directing school districts to shut down and pivot to remote instruction in late March to help prevent the spread of COVID-19, the disease caused by the novel coronavirus. Students at most Greater Waco schools did not return to the classroom after leaving for spring break.
Graduation ceremonies for local districts look considerably different this year, as well, with the state mandating outdoor ceremonies that include adequate social distancing and screening for people with possible COVID-19 symptoms.
But perhaps the most notable difference will be the change to the boisterous applause and cheers as seniors in shiny caps and gowns walk across graduation stages, that unspoken contest of who received the loudest cheers from their watching friends and family members. This year, those cheers will come from only a few.
Here, six seniors from the Waco area share their experiences of living and graduating high school during a pandemic, all in their own words.
---
"That was pretty much the start of the end of everything."
---
Katherine Burnham, Waco High School, JRTOC cadet:
"When we first had been closed down for a couple of weeks, the first thing I thought was, 'Oh, an extended spring break,' because I was already starting to get a little bit of senioritis, and I remember right before I left for spring break I told my friend, 'If only spring break could be a little longer.' Only now do I realize how ironic that statement was."
Grant Hicks, Waco High School senior class vice president:
"My first reaction was 'wow' because normally I like to have everything planned, so I had a full set schedule of how everything was going to go. But life has a funny way of saying 'you're not in control.' That also taught me that you can try to predict whatever you can, but who's to say that's ever going to happen?"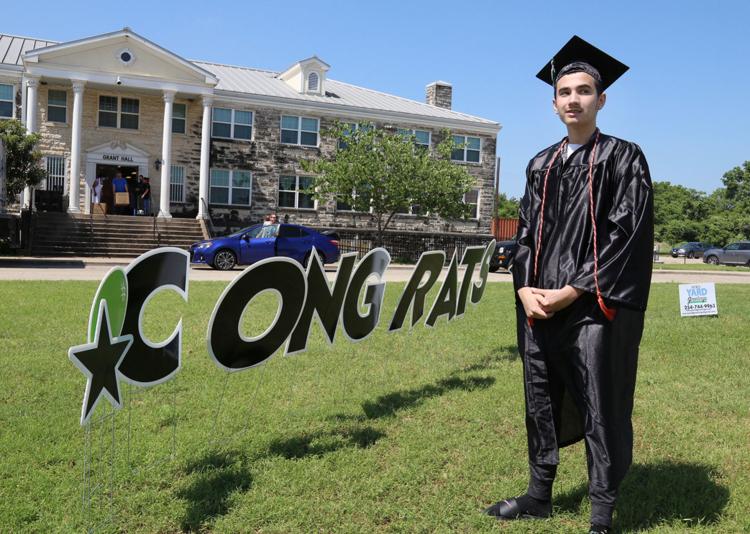 Gabriel Cervantes, Rapoport Academy's Meyer High School senior class president:
"It's difficult, of course, because there were lots of senior activities that we had planned on doing, like a senior trip, a senior prank, skip day, things of that sort. It's hard not being able to have those things to look back on whenever we get older."
Karoline Turner, Robinson High School senior, National FFA Organization member:
"I was actually in Houston at the livestock show. I was in the show ring with my goat when they came over the loudspeaker, saying that they had to shut everything down because of a coronavirus scare. They were evacuating people, and we had to pack up and leave and be out by 4 o'clock. It really affected my senior year. I didn't get to finish showing because right after Houston canceled, then Austin canceled."
Kimberly Hernandez, Waco High School, first in her family to attend college:
"Neither of my parents went to college. My dad did finish high school. He went to Waco High, as well. But my mom went to school, but she didn't finish high school. So, it was a really big deal for me to just even be interested in school in general. Although my parents didn't go to college, they were still very insistent on me doing good in school from a really young age. So, being involved in school in general and doing my work and being a Gifted and Talented student — that was always like the norm for me. I always knew from a young age that I would go to college. I didn't know how I was going to do it, but I knew I was going to go."
Rhett Grosz, Midway High School senior, baseball player:
"We only got to play about 12 or so games, and we were actually about to leave for a tournament the Thursday of spring break. They canceled it because there was a case or two in Frisco, which is where our tournament was supposed to be. That was pretty much the start of the end of everything."
---
"Everything I was looking forward to being a senior I was about to miss out on."
---
"When I found out they had extended it through the rest of the school year, the first thing I immediately thought was, 'I'm not going to have prom. Since I'm in JROTC, I'm not going to have my final military ball, which is a really big deal for seniors. I'm not going to have my final big show for choir. I'm not going to have my final award ceremony for JROTC. I'm not going to be able to see my friends. I'm not going to be able to do senior trips.' It just kind of hit me a couple weeks in that everything I was looking forward to being a senior I was about to miss out on."
"I would have loved to go to prom, but there will always be another party. When it comes to graduation, that's where I have to draw the line because I've already sacrificed so much, and graduation is a memory that really can't be replaced. It's especially that way for me because it symbolizes more than what prom does. Prom is a night with friends. But who says that everyone has friends? For graduation, there were plenty of times when I wanted to quit, and I didn't. Along with the academic struggles I would have, I also had personal issues, as well, so to have gone through all that and then I had to fight to even celebrate that success and see other people celebrate what they had to overcome."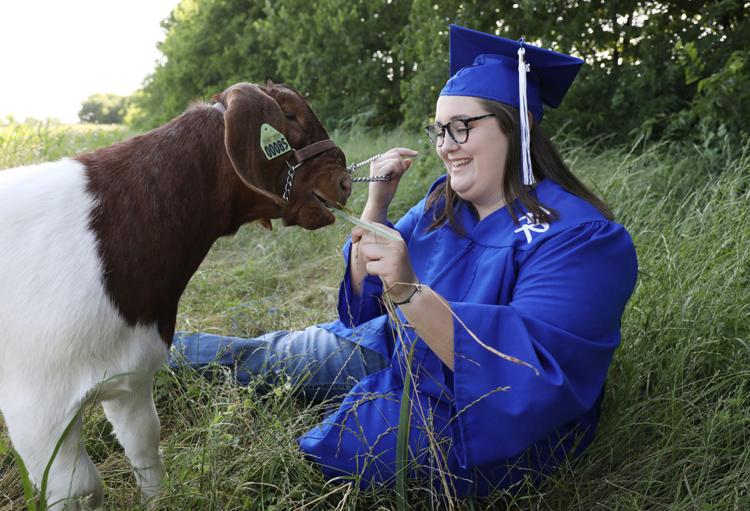 "This was God's plan, and he probably has something bigger in mind for all of us. My family and friends, we're all safe and none of us have been sick. Even though it's not ending the way we hoped, we can all just take this time to better ourselves and be a family and do the things we don't normally get to because if they're like me, they're super busy. But we can take this time to slow down and just enjoy the moment with our family and friends."
"It is honestly one of the most devastating things. I don't want to seem so dramatic, but it honestly is because I've had friends who have been working their butts off since middle school. Moments that should be some of the best times of your high school career are over. The senior year is what you look forward to the most because this is your last one."
"It's kind of the you-don't-know-what-you're-missing thing, because I've never had a senior year. I've always heard it's really cool to go to prom and your senior banquets. I've never had the experience of those things before. I imagine that they're all really good, but I'm just not really sure what exactly they're like."
---
"We've all accomplished something great."
---
"Regardless of what happens during our graduation, the opportunity to walk the stage is a gift enough. It's a monumental event enough that I appreciate regardless of the circumstances."
"It is definitely difficult for us, especially as graduates, but also I'm sure for our families because if it weren't for all this stuff going on right now with the coronavirus, we'd have a big graduation with thousands of people there at the FCC like we usually do. It's not underwhelming because we know about everything going on. We know that it's important for things to be like this, but it's also going to take away a little bit of participation from other people who would come to watch our graduation.
"It's still going to be a good moment because we've all accomplished something great."
"A lot of students hate that it's going to be at Rocket Field, and they don't like that they can't have their entire families there, which will be kind of upsetting to not have the whole family there. But I like the idea of having it at our stadium so you can relive all the memories of all those football games that you sat in the stands, and being in band, I can be on that field one last time."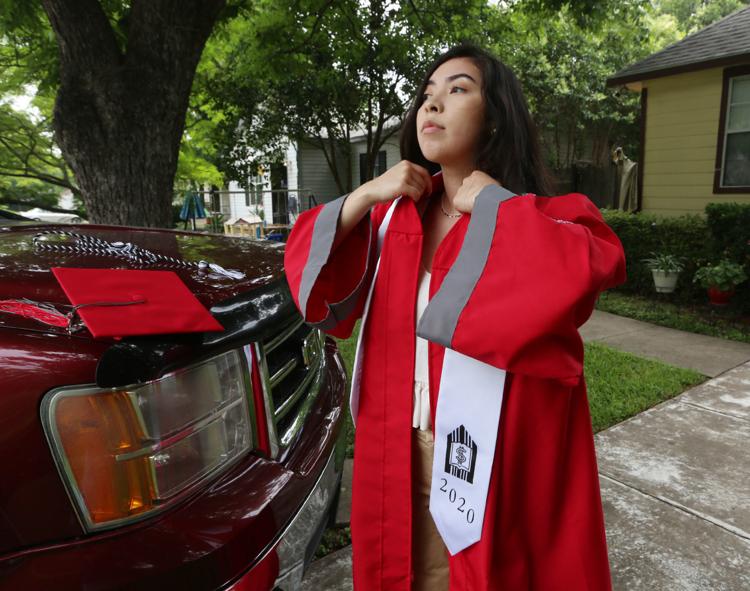 "I just really wanted to break the chain. I wanted to make a difference for my future family. I definitely want my kids to be able to say, 'my mom went to college, she finished high school,' and I also want to be able to help my future kid and guide them through the college route because I had no clue how to do certain things. Now, a lot of it I had to learn on my own, and for me to be able to have that knowledge instilled into my future kids, that's honestly what matters to me most. Because my mom didn't go to college, she was always on me to get everything turned in, to be on time at school. It was also my mom as well instilling everything in my head from a really young age.
"You don't want to be selfish. Obviously I'm so grateful that I'm graduating, that we're having our graduation, that my mom and my older brother can come. All of that is great, but it's just bittersweet. It's a bittersweet time right now."
"Being back up at Panther Stadium for the first time in a long time will be a little unsettling, but all of it, to me, just seems a little disconnected, compared to the normal, when you have your last week of school and then you go and everyone's inside of the Ferrell Center. It's a big celebration. It already seems so different that they're limiting the amount of people there.
"I think it is necessary right now, but I don't think it takes anything away from us. We still spent four good years at the high school — or three and a half actually — and I don't think that can really be taken away, regardless of the situation."
---
"It's shown me nothing is really certain."
---
"I'm going to remember we were a part of history. I'm going to remember that our senior class was the one that graduated under very difficult circumstances, concerning the pandemic. I'm going to remember being quarantined more than the first semester of my senior year of high school. I'm trying to look toward the positive. It will be a very interesting story to tell my kids when I have some.
"I would be willing to give up my senior year if it meant saving lives. That's how I choose to look at it."
"It is cool to know that this is really going to go in the history books, and I get to tell that story. I would have liked it to have been a nicer story, but it's a great conversation starter.
"We have experienced a lot of change, and even with them trying to create a vaccine, nothing will ever be the same. Teachers and professors can easily shift their class to online. Students know that they can overcome hurdles in their way. When everyone talks about returning to normal, not everything will return back to normal. There's going to be a lot of change, so I have been trying to accept that, as well. It has to happen. That's how the world works."
"It's shown me that nothing is really certain. This whole pandemic took over so quickly. There were so many updates so fast. Everything just happened and was changed in our everyday lives, and it just kind of taught me to appreciate what we have now."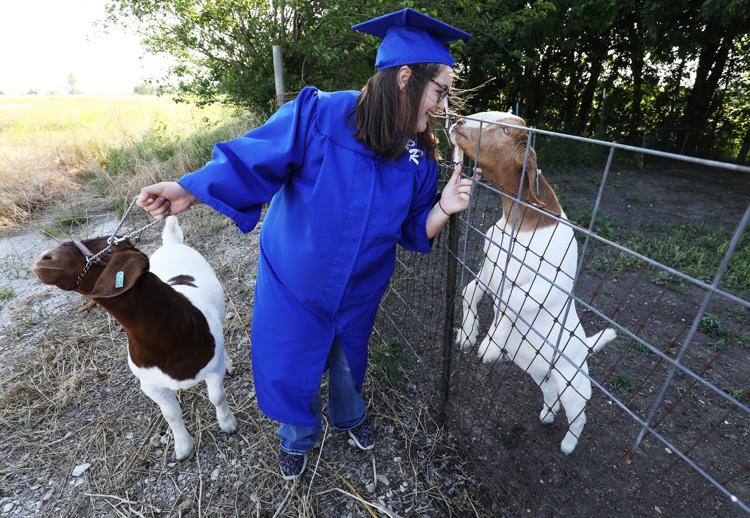 "I think I'll definitely remember the toilet paper shortage. My grandmother lived through the Great Depression, and I know that she hoards toilet paper. Now she's living through this, so I know she's going to hoard it even more. I'll just remember that it was a rough time for everyone, but we lived through it, and even though not everything happened the way we all wanted it to, I can just remember that at least my family was safe and healthy, and we tried to have as much fun as we can.
"It's taught me definitely that people do not wash their hands enough. It's just taught me to love my friends and family and to try to cherish every moment we have with them, no matter where we're at or what we're doing, and to just have fun and hopefully never be stuck in quarantine ever again."
"I need to appreciate the things that I have. I don't think anyone expected this to happen — everything shut down — but definitely appreciate the things you have while you have them because they can be taken away in literally the snap of a finger. I really wish I would have had that approach right before I left for spring break that last time."