Prekindergarten student Adelaide DeLeon did not linger in the classroom doorway Tuesday morning, as tears welled up in her mother's eyes and her father beamed, watching their youngest child start her first day of school.
Adelaide simply told her parents to go and walked straight into Kristi Lopez's classroom at Bell's Hill Elementary School, a bouquet of yellow flowers in hand to brighten her new teacher's day.
"We thought it be would a lot harder," said her mother, Becky DeLeon.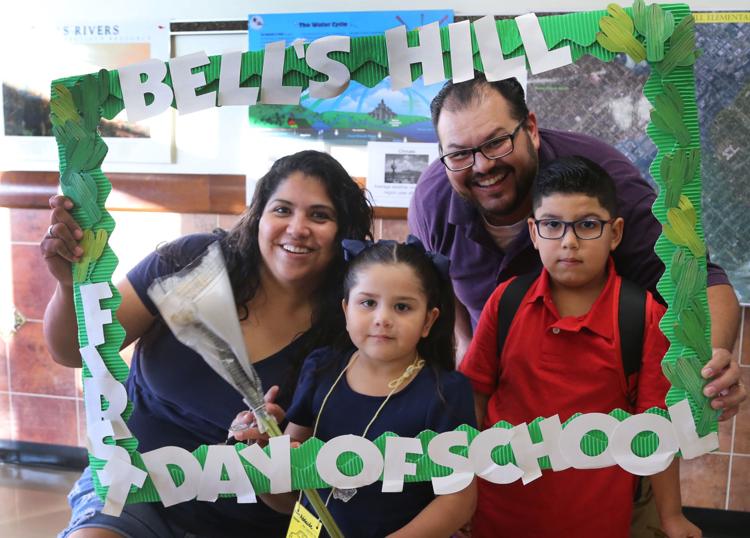 The parents, Becky and Adrian DeLeon, have a rich history with Bell's Hill that is continuing with their daughter, Adelaide. Her brother, Adrian DeLeon Jr. is attending first grade there this year, and their father also is a product of the South Waco school, which recently won high ratings from the state.
"We have a big heart for Bell's Hill," Adrian DeLeon said.
That was obvious from the bouquet in both of their children's hands. Other students wandered past, carrying packages of construction paper and Kleenex, pencils and folders, but it appeared only the DeLeons thought to bring along flowers, as well.
"We're excited to see everybody back at school," Principal Rebekah Mechell said. "Teachers and staff have been preparing to make this the best year yet."
Making the grade
Mechell is confident this will be the year Bell's Hill receives an A rating under the state's accountability rating system. The campus received a B rating of 88 from the state this year, the highest score of any campus in the district under rating system, which is largely based on standardized tests.
"We couldn't do it without the staff we have, the kids and their wonderful parents," Mechell said.
Bell's Hill enrollment last school year was 772, according to the state. About half of those students — 46.9% — are learning English or have limited English capabilities, which is more than twice the district rate of 19.5%. And nearly all of Bell's Hill students are considered economically disadvantaged, or 93.9% compared to a districtwide rate of 77%.
Additionally, the elementary school earned four out of six possible distinctions for academic achievement from the state, more than any other Waco ISD campus.
First day memories
Those achievements aside, it was back to business Tuesday morning. Parents made their children pause in front the school to snap a classic first-day-of-school photo with their cellphones, as choruses of "good morning" rang out from school staff members standing in doorways to welcome the sudden influx of students. The halls were empty just the day before.
Waco firefighters with Engine Co. 5 stood outside the school's front doors and handed out Waco Fire Department stickers to students. Some students let loose a stream of tears when it came time to part with their parents, which did not seem any easier for the parents who walked away, looking back over their shoulders as teachers consoled their children.
The DeLeons said they were pleased with their children's teachers this year. Their son, who moved onto Mrs. Quintero's first grade class, also had Mrs. Lopez, who is teaching their daughter this year.
As 8 a.m. neared, the official start of the school day, Lopez tried to console a crying girl by handing her a pillow and telling her what a great school year she was going to have. The girl continued crying, but Lopez continued smiling.
"We're going to have a wonderful year," she said, before closing her classroom door. "Once they're in my room, they're my kids."