Cristian Garcia, 5, slipped on a pair of navy blue frames, looked into the handheld mirror in front of him and grinned. Then he shook his head.
"No? OK. Try this pair," said the Greater Waco Advanced Health Care Academy student holding the mirror for him. She handed him a pair of lime green and black eyeglass frames.
Cristian slid the black and green frames over the bridge of his nose and smiled broadly into the mirror, turning his head from side to side as the older student adjusted the glasses to fit his head. He nodded so vigorously the glasses nearly fell off his face.
Why those frames? "I like green," he said.
Cristian was one of about 400 Waco Independent School District students from 22 campuses who received a free eye exam this week, thanks to a collaboration between the school district, Transformation Waco, the Bernard & Audre Rapoport Foundation, and the Essilor Vision Foundation. The two-day event, dubbed "Vision Fest," took place at the Greater Waco Advanced Health Care Academy, where trained student volunteers assisted with the vision screening process.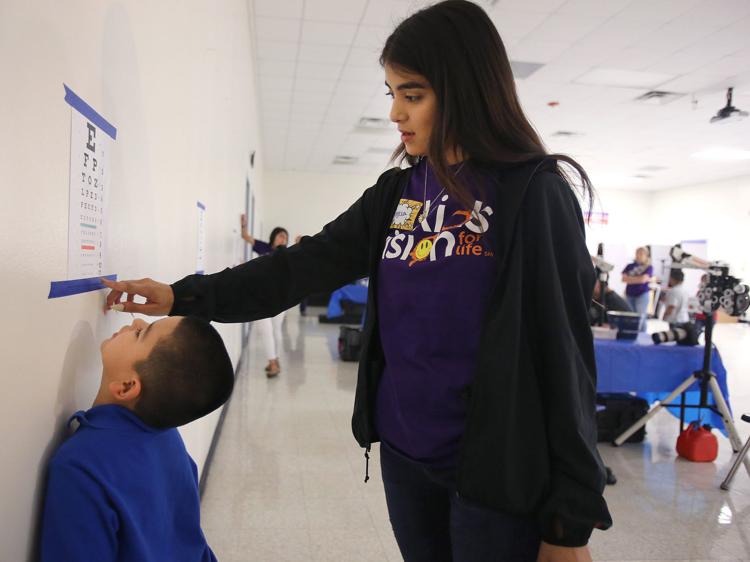 The Essilor Vision Foundation, a Dallas-based nonprofit, found seven optometrists from around the state to volunteer their time Monday and Tuesday to provide eye exams. After the optometrists determined the students' prescriptions, Essilor produced prescription glasses and fit them for each student.
Some students were able to get their glasses the same day, and others with more complex prescriptions will get theirs in about three weeks, said Marina Patino, associate director for Kids Vision for Life, an offshoot of the Essilor Vision Foundation.
"It's not just about putting a pair of glasses on a kid," Patino said. "With glasses, his whole life is going to change completely."
Since 2007, the Essilor Vision Foundation has provided more than 1 million pairs of eyeglasses to people in need, according to its website.
Patino said many parents associate poor vision with age and do not get their children's vision tested, so they are not aware their children need corrective lenses. Children, on the other hand, have no point of reference, so they do not know whether their vision is impaired.
"We're bridging the gap of accessibility and affordability and providing awareness," she said.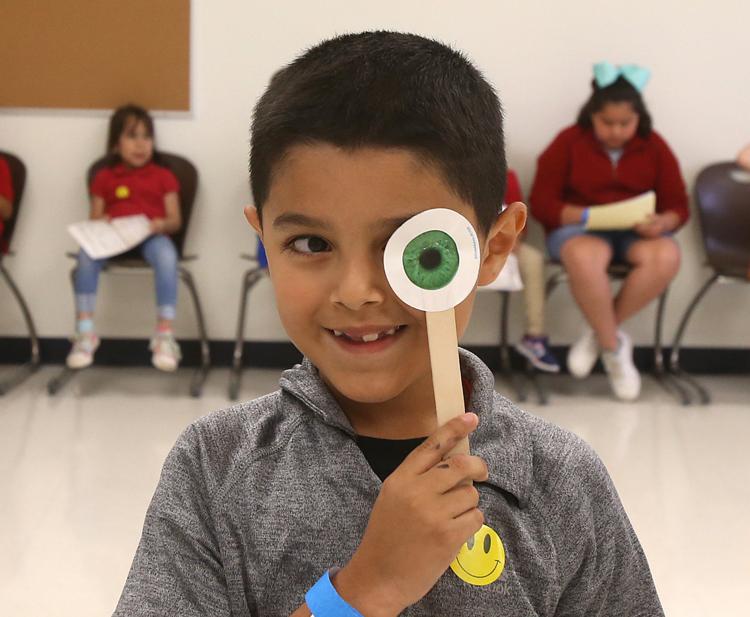 Vision Fest is an initiative of Transformation Waco, the in-district charter system comprised of five Waco ISD schools that were on the brink of state closure. Transformation Waco offers "wraparound services" like Vision Fest to students to address unmet needs that may affect academic success, according to a press release.
In the past, Transformation Waco has secured eye exams and eyeglasses for students with vision needs who were identified through screenings by school nurses, the press release states. Through financial support from the Rapoport Foundation, 97 students from five schools received prescription eyeglasses provided by the Essilor Vision Foundation.
Rapoport Foundation administrative coordinator Jenny Peel said the foundation knew it needed to help bring Vision Fest to Waco after hearing about similar vision events Essilor had conducted before.
"It was a no-brainer," Peel said of getting the foundation's board to agree to help with Vision Fest. "If you can help them be able to see, you can solve a lot of problems."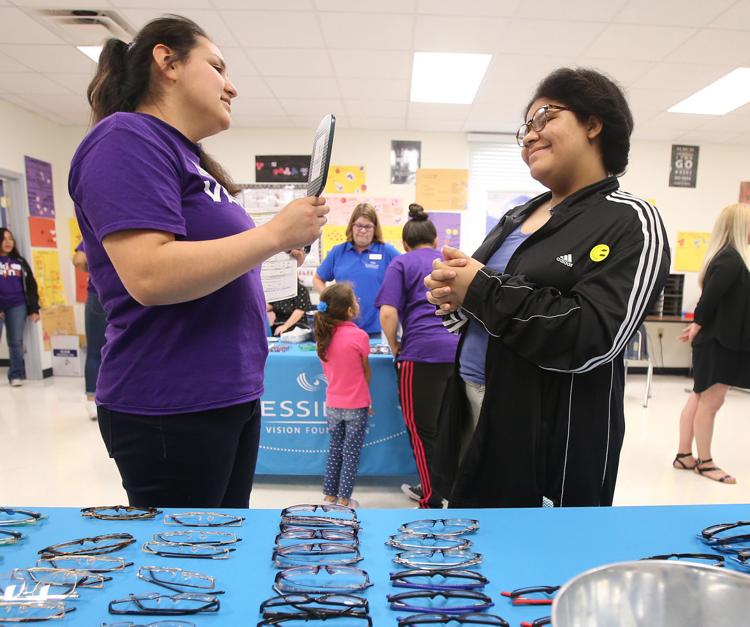 Just ask Transformation Waco CEO Robin McDurham. She often tells the story of one student who read everything on two different lines.
"Can you imagine how difficult it is to learn reading that way?" McDurham said. "You have to be able to see to read."
But the problems do not end there. McDurham said vision impairment sometimes leads to students zoning out during lessons or misbehaving in class.
"For some kids, if you can't fully engage in the lesson you are easily distracted," she said. "We often use the word 'focus,' and this is the perfect example of why that word is so commonly thrown out."
She recited a thank-you letter one student sent Transformation Waco after receiving a pair of eyeglasses that sums up the motivations behind Vision Fest. It read: "Thank you for the glasses. Before, everything was blurry, and now I can see."
Seventh-grade Cesar Chavez Middle School student Brooklyn Green, 13, cannot wait for the moment she can see clearly. She said she often has to ask to see her friends' notes from class because the board is blurry from her seat and the more she tries to squint to see, the blurrier everything gets.
"When they tested my eyes, it was so clear," Brooklyn said. "I could see the small letters. It was really nice to be able to see."
She picked out a pair of silver, round eyeglass frames, but that was not her favorite part of Vision Fest. Brooklyn said she also enjoyed meeting new people and mingling with different personalities, and she said everybody was extremely nice.
Vision Fest is not over. As part of Transformation Waco's long-term plan, students at the Greater Waco Advanced Health Care Academy will learn to make prescription eyeglasses on site using equipment to be purchased with Rapoport Foundation funding.