The curbside feeding programs that started in March after schools closed will continue through summer, and school districts are reporting record numbers of meals served and steady demand.
Waco ISD served 30,000 meals last week at its various pickup locations, and Midway ISD served 1,000 meals a day in the last week. The curbside model is a major departure from a traditional summer feeding program, which would require students to congregate and eat together at a set location.
Midway ISD spokeswoman Traci Marlin said after tinkering with its pickup locations throughout the spring, the district has hit its stride and likely won't add or remove feeding locations for the rest of the year.
"We have had tons more this year than we've had in past years, kind of a continuation of all the meals we had going out during [the school year]," Marlin said.
The outbreak of the coronavirus hit McLennan County during spring break in early March. Schools were delayed from reopening after spring break on March 16, and eventually campuses were ordered closed for the remainder of the school year.
Marlin said the district typically served only 100 meals a day during summer and is now up to 10 times that number. The district, which is offering the meals to all children regardless of whether or not they attend a Midway school, now has three pickup locations and four buses that act as mobile sites.
"As soon as the schools closed in March, we had a tremendous response to having meals," Marlin said. "At first we couldn't seem to do enough of them. We were hitting 9,000, 10,000, 11,000 meals. As we were going along it just kept going up and up and up."
Like many districts, Midway opted to send home breakfasts and lunches for several days on Monday, Wednesday and Friday. Unlike Waco ISD, the district isn't permitted to serve dinners under USDA regulations because not enough students qualify for free and reduced lunches.
'For all kids'
Marlin said the district served 12,125 meals during the last week of the school year in May.
"It's for all kids, they don't have to be a Midway ISD student or from a low income family," Marlin said.
Marlin said when the program was new, the district received messages and calls from onlookers concerned that not everyone picking up a meal was really in need, either because their vehicles seemed too expensive or for some other reason.
"There's no way for us to know, we don't need to ask what their situation is, they just need to have children," Marlin said.
Cliff Reece, Child Nutrition Services Director for Waco ISD, said despite the upheaval of the last several months, the district is serving roughly the same number of children that it would serve during a typical summer. He estimates the district served 30,000 meals last week, but the numbers fluctuate as new sites are added and dropped.
Waco ISD also serves all children, not just those enrolled in the district.
"We had a site that started Monday, and we may have two more that are starting, and we may change around our mobile sites," Reece said. "It's kind of a moving target this summer. It's obviously different from anything we've done in the past."
He said it's been a challenge to make sure the district is reaching everyone who needs the meals. Waco ISD provides meals at 30 sites, fewer than the 50 or so that would usually be running if students were attending in-person summer school. When schools closed in March, the district set up feeding sites at city community centers that later closed as well.
"That obviously had an impact, so we've tried to do our normal program to cover those areas a little bit to pick up students that might not have access to meals in those areas," Reece said.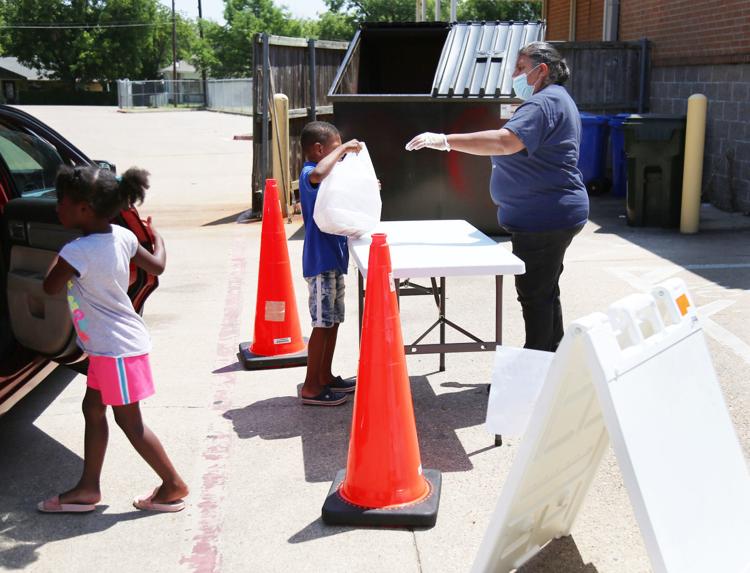 Waco ISD's program is slightly different. Parents fill out a card detailing how many students they're picking up for instead of bringing their children with them every time. Waco ISD is also providing snacks and supper through the end of June, but will require USDA approval to continue providing that extra food. Breakfast and lunch will continue until the end of August or the beginning of school, whichever comes first.
Baylor program
Reece said he's working with Craig Nash at the Baylor Collaborative on Hunger and Poverty to get the word out and figure out where students still need help. Nash said the organization's seven regional offices throughout the state are reporting an uptick in need.
"The unemployment is so high, there's kind of a whole new group of people who never knew about the summer food programs available to them and may not have had the need for them," Nash said.
Nash said the shift from requiring students to eat together on-campus to curbside and mobile services in March made it much easier for people to access the meals.
"So many families rely on school meals during the school year," Nash said. "The switch over to the summer-style feeding in March made people more aware of it."
When the USDA made it possible to serve multiple meals at a time, the program became even more accessible.
"It kind of removes the barrier for a lot of families," Nash said.
Nash said during a typical summer feeding program, the number of meals decreases through July and August as kids leave summer school and families travel. Even as people return to the roads, he said he anticipates the need for meals will remain steady or possibly increase.
"Traditionally, the need goes down as summer goes along," Nash said. "But if I had to predict, I'd say this would be a different summer."