Using socks, rice and calming essential oils, hundreds of students at Robinson Independent School District's Mental Health Resource Fair learned how to create their own aromatherapy neck wraps Wednesday.
The do-it-yourself stress reliever was so popular, Robinson ISD school counselors ran out of socks for the students.
"We had students actually take off their socks and ask to use their own," Robinson High School counselor Anne-Marie Zellers said. "They loved it. Next year, we'll bring more socks."
As part of Red Ribbon Week, the high school counseling team organized the district's second Mental Health Resource Fair in an effort to educate parents and students about the importance of mental health. More than 700 students and parents visited a dozen mental and physical health agency booths in the Robinson High School cafeteria.
"The hope is that when you can bring resources in (the school) then there is not such a stigma if you need to go and seek those out," Zellers said.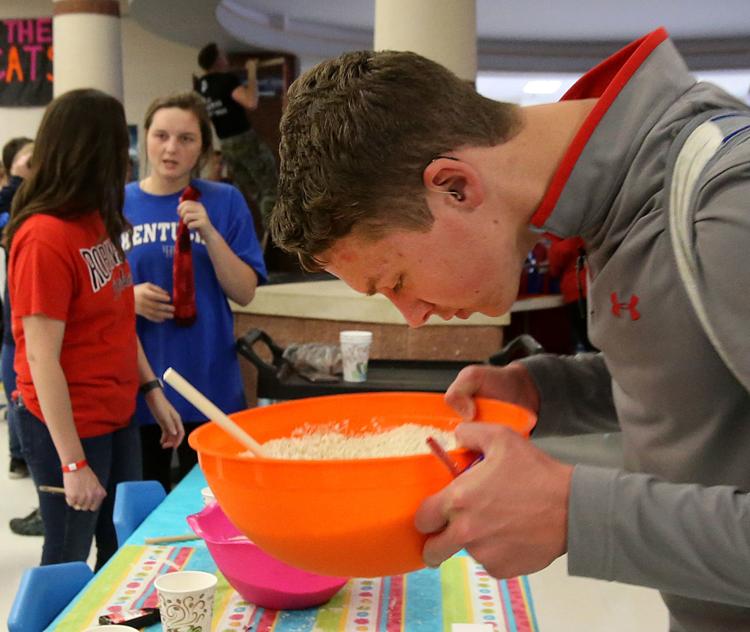 Student mental health has garnered increased attention statewide since Gov. Greg Abbott included the need for mental health interventions in his school safety plan released in August.
Zellers said stress, anxiety and depression are common among teenage students.
"It's just kind of the range of emotions for a teenager. So providing those services here and then connecting them with resources outside of the schools is something that we wanted to make available," she said.
Cynthia Cunningham, Executive Director of National Alliance on Mental Illness Waco, said she was pleased to see so many children approach her with previous knowledge of mental illnesses and a curiosity on specifics of various illnesses.
"They are asking a lot of questions which is good because a lot of times kids just don't talk," Cunningham said.
NAMI Waco provides mental health support, advocacy and free education classes.
"We want everybody to learn about mental illness," she said. "It's just your brain. There's nothing to be ashamed of."
Mental health goes hand in hand with the theme of the Red Ribbon Week, a drug, alcohol and violence awareness campaign observed in schools nationwide in October.
"The majority of people with addiction issues have an underlying mental health addiction issue going on," Cunningham said. "We can't just treat the addiction. You need to treat the mental health at the same time."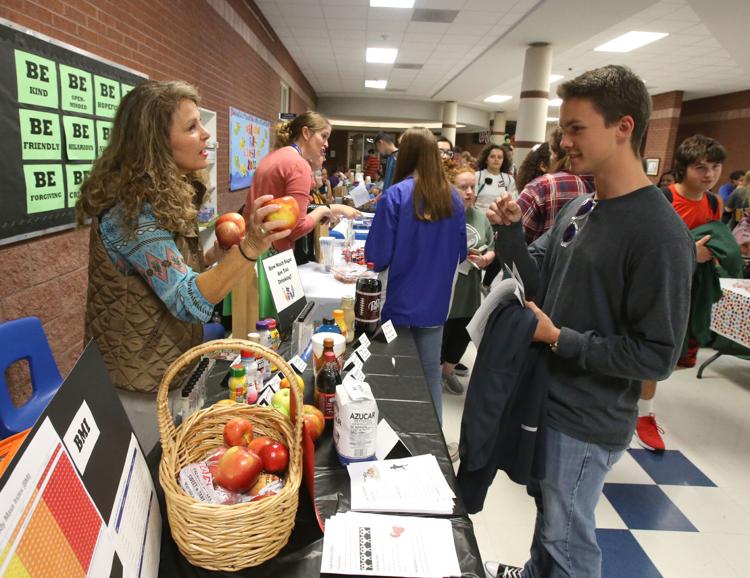 Also at Wednesday's fair, local dietitian Lisa Hoelscher stood behind a table of common sugary drinks, protein shakes and juices as part of her display educating students about the effects of a high-sugar diet.
Her most popular display was one of a gelatinous 5-pound hunk of fat.
"That's why I put it there (in the front), it's such an attention getter and it may get them to look at other stuff," Hoelscher said.
Aside from a poor diet's effects on the body, the brain is also heavily affected by the food a person ingests, she said.
"Fatigue, tiredness, not being alert and not eating is a big factor (of mental health) too," she said. "I talked to a lot of kids and they just go grab a coke at a local place on the way to school and they don't get breakfast."
Just as Hoelscher finished that sentence, Sheila Payne, a Robinson ISD paraprofessional, joked about wanting to drink the Dr Pepper sitting on the table behind a label noting the drink contains 64 grams of sugar and 250 calories.
"So many people come up and ask if they can have it when I'm done," Hoelscher said. "Some people drink 2 liters of soda a day."
The most added sugar a person should eat in a day is 37.5 grams or 9 teaspoons for men and 25 grams or 6 teaspoons for women, according to the American Heart Association.
A 2-liter jug of Dr Pepper has 240 grams of sugar.
Representatives from STARRY Counseling, the YMCA, the Nurse-Family Partnership, UnBound, Klaras Center for Families, the Advocacy Center for Crime Victims and Children, the Center for Children and Families, Cedar Crest Hospital, Jamie's Place Grief Support Group, the U.S. Marines, Texas Department of State Health Services and the Methodist Children's Home were also on hand to talk to students and parents.
Zellers said she was pleased to see so many new vendors join the district's second mental health fair.
"I think that it will continue to grow and hopefully as word gets out then more of our families will see it too," she said.