Playing atop Hewitt Elementary School's newest playground, fourth-grader Santiago Fraga said he was happy to be outside after a week of rain.
With Academic Development Assistant Laura Walton by his side, Fraga safely navigated the playground in his wheelchair as dozens of his peers ran around playing and laughing during recess.
"I like doing the wheel," Fraga said pointing to a playground feature that consists of a wheel that, as it turns, spins around colorful objects.
Five years in the making, the playground is the product of the Hewitt Elementary School PTA fundraising efforts and a recent $90,000 grant from the Midway Panther Kids program.
"We had an exceptional year last year. We have to give a lot of kudos to our parents," PTA President Heather Shell said.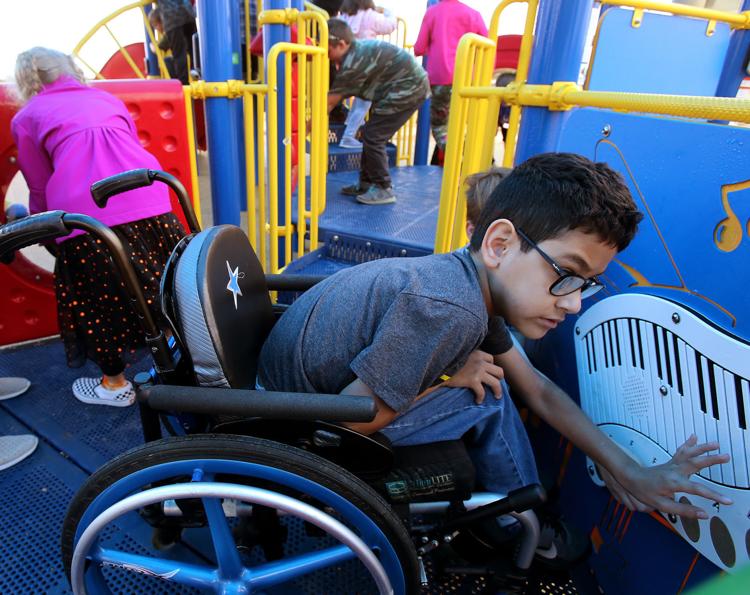 Built by We Build Fun Inc., the 3,000-square-foot $145,000 play space includes a wheelchair accessible sidewalk and ramp, rubber cushioned flooring, a large sunshade and a wheelchair accessible glider that seats up to 10 students, including two in wheelchairs.
Third-grader Zaneria Hughes joined dozens of other students lined up for a turn on the glider.
"That's my favorite," Hughes said pointing to the glider as another group of students laughed and rocked back and forth on the new playground feature.
Seeing all the children playing together on one playground brings tears to Shell's eyes.
"It's really nice to see the kids play on there and to know that they have a place that is all inclusive where kids can go and play," she said. "It makes a big difference."
Principal Christy Watley and Assistant Principal Christi Yourman, both former special education teachers, said they were excited to see the completed project.
"We both have a big heart for our kids," Watley said.
Eight years ago, Yourman wrote a grant application to fund the school's first accessible swings.
"(The swings) really included them and gave them a purpose to go out to recess, because our kids didn't want to go out to recess," Yourman said of her special education students. "It was hot. It wasn't made for them, and they weren't able to participate. So they were watching everybody else have fun."
Now, students of all abilities can play together at the same time.
"We wanted to make sure that they would be able to have fun because they're kids and they should have fun," Yourman said.
The school playground is also open to the community on nights and weekends.
"We think it's really wonderful that Midway ISD has remained committed to keeping their playgrounds open to the public," Waco Senior Park Planner Tom Balk said.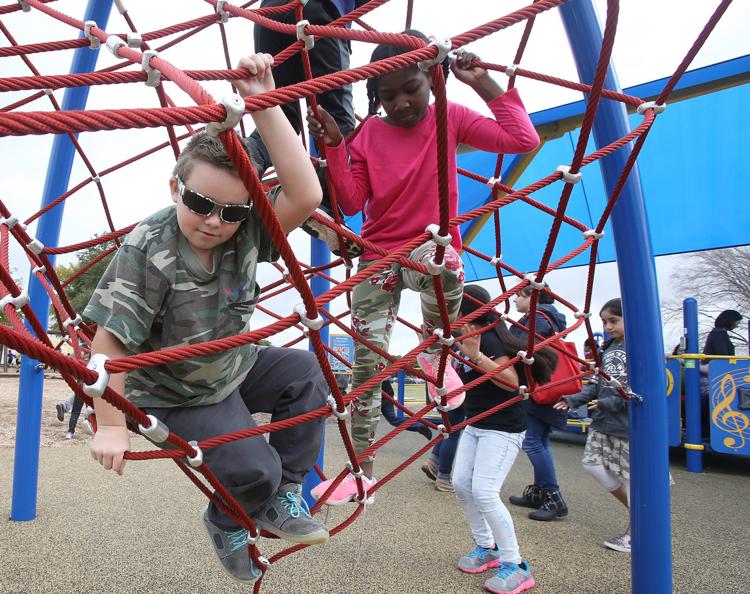 "We don't anticipate a groundbreaking in the next 12 months but we are making those advancements on the front end to get the funding," Balk said.
A site near where Floyd Casey Stadium stood seems to be a "front-runner," but more environmental testing will need to be done before the department can recommend it for use as a playground, he said.
The parks department is also researching challenges posed by a "significant" storm drain under another prospective site at University Parks Drive and Jefferson Avenue, Balk said.
"They want us to do some due diligence to check with our parallel departments to figure out what really is reasonable to put over a storm drain," he said. "It's probably not a playground."
A decision on the playground site is not expected before December, he said.
In the meantime, Balk is also hoping Hewitt Elementary's new inclusive playground can be connected to the city of Waco's Pioneer Park near the edge of school property using a series of sidewalks.
"It was just approved for CIP (Capital Improvement Program) funds to be a recipient of some improvements," he said of Pioneer Park. "We're hopeful that we'll be able to expand some trail connections and include a pavilion. … We still need to communicate with the school district on that."
The Waco Parks and Recreation Commission is looking to three sites as potential homes for the city's first inclusive playground.