Local clergy members on Monday encouraged the community to gather all the facts before condemning Waco Independent School District Superintendent A. Marcus Nelson, who was arrested Wednesday on a misdemeanor possession of marijuana charge.
Six pastors assembled at Carver Park Baptist Church to voice their support for Nelson, who the board of trustees selected as superintendent in April 2017. The board extended Nelson's contract in December until June 1, 2024.
"We're standing together because we're in agreement that the board did a great job in selecting Dr. Nelson to be our superintendent," said the Rev. Dr. Gaylon Foreman of Carver Park Baptist Church. "He's lived up to everything they said he would and done a great job. We believe, with that in mind, that we should support him with all that's within us."
A Texas Department of Public Safety trooper arrested Nelson after stopping him for driving in the passing lane of U.S. Highway 190, south of Hearne, and smelling marijuana as he approached Nelson's vehicle. The trooper found a small amount of marijuana, less than two ounces, in the passenger seat.
Nelson was booked into the Robertson County Jail in Franklin. No court date has been set, according to the Robertson County Clerk's Office.
The other clergy members who attended were: the Rev. Linda Thomas of Victory in Praise Worship Center, the Rev. Patrick Riley of Voice of Jubilee Apostolic Center, the Rev. Bryan Dalco of One Fellowship Church, the Rev. Larrye Weaver of Good Samaritan Missionary Baptist Church, and the Rev. Dr. Gilbert Gillum Jr. of Living Word Church of God in Christ.
Waco Independent School District Superintendent A. Marcus Nelson could face termination by t…
Foreman emphasized that Nelson is innocent until proven guilty and that the case must run its course through justice system before any decisions are made about Nelson's future. He said there have been numerous cases that appeared to be "open and shut" but a different picture emerged once all the facts were revealed.
"We want to remember at this point charges have been filed, but he has not been found guilty," Foreman said. The other pastors murmured their assent with "amen" and "yes."
Foreman and Dalco, with One Fellowship Church, said they spoke with Nelson and offered him spiritual guidance and encouragement. They also told the superintendent they are not judging or convicting him but are willing to help him through this time.
"We don't look at or determine right or wrong," Dalco said. "When things like this happen, it happens to all of us. If one of us falls, we all fall, but we also all get up together. This is an issue we have to face as a community."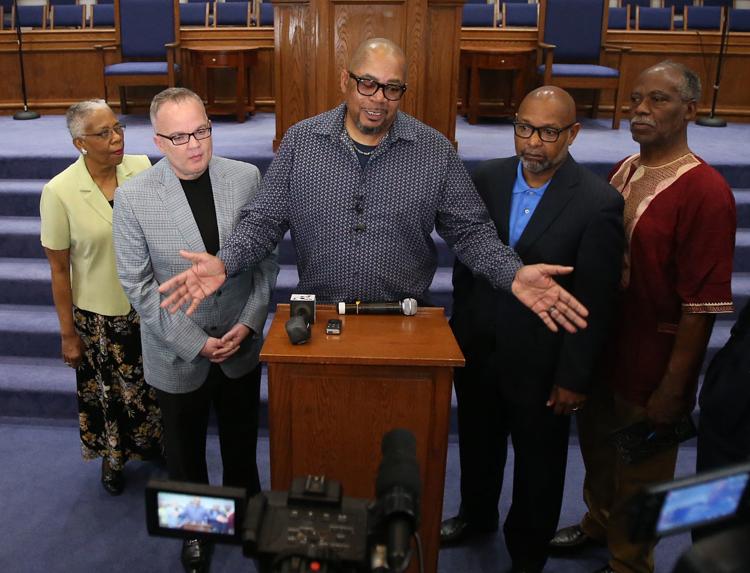 The religious leaders extolled Nelson's accomplishments in the community and the progress he has made in the school district. A year after Nelson became superintendent, four of the five Waco ISD campuses listed as underperforming by the Texas Education Agency met standards on state standardized tests.
"His being able to remain (superintendent) would be a powerful message that it's about what the man has accomplished and not just one mistake he has made," Gillum, with Living Word Church, said. "Just because the man is in an elevated position as a superintendent of schools does not diminish his humanity. I believe there can be a recovery of the respect, as well as the honor the man held in the community. All of us have made mistakes."
Riley with Voice of Jubilee Apostolic Center, said Nelson's arrest simply shows he is human.
"We need to remember all the good that he's done," he said. "We tend to focus on the negative, and we don't even know if there is a negative yet. We just need to remember he's helped our community, he's helped our kids, and right now, our kids need somebody like Dr. Nelson."
Gillum added that the clergy's purpose is to "galvanize and rally the community." He said Nelson can recover from this arrest and overcome any future obstacles it may bring.
"A good father would support his son," Weaver with Good Samaritan Missionary Baptist Church said. "Dr. Nelson is like a son to most of us. We're going to support him like a father would support a son."
When asked what action they would like the board to take when it meets March 19 with Nelson, Foreman said he hopes the board gathers and examines all the facts before making a decision.
"I would hate to think that they would allow the poll of public opinion to make them think they have to make a decision right now if they don't have all the information by then," he said. "He's the same man they hired almost two years ago."
The school board may suspend Nelson with pay "as determined to be in the best interest of the district," according to Nelson's contract. The board also may suspend Nelson without pay or terminate his contract for "good cause."
The Texas Education Code states that the board of trustees may terminate a term contract and discharge a superintendent at any time for "good cause as determined by the board."
Nelson's contract outlines multiple reasons that constitute "good cause" for suspension without pay or termination, including "illegal use of drugs, hallucinogens or other substances regulated by the Texas Controlled Substances Act" and "conviction of a felony or crime involving moral turpitude."
Nelson's contract with Waco ISD is void if his superintendent certification expires or is canceled or revoked, according to the contract.