In a newly released deposition, former Baylor University Athletics Director Ian McCaw accuses campus police and the former chairman of the university board of regents of undermining the process for reporting sexual assaults.
In the nearly 400-page deposition released in its entirety Friday, McCaw says then-chairman Richard Willis instructed him to circumvent a Title IX coordinator in 2015 and to conduct his own probe of a sexual assault report.
In the same deposition, citing a blog, he also said former Police Chief Jim Doak reprimanded officers who investigated sexual assaults "because Baylor did not want them showing up on their records and did not want information that would discourage families from sending their children to the university."
McCaw's deposition was taken in Lynchburg, Virginia, on June 19 by attorneys representing 10 plantiffs in a federal Title IX discrimination lawsuit that faults the university's response to sexual violence reports.
McCaw's deposition, which also accuses the board of acting with racist intentions and putting out a "phony" report in 2016 about Baylor's institutional response to sexual violence, was met with general denials by top Baylor officials Friday. Board of Regents Chairman Joel Allison on Friday said the statements run contrary to Baylor's mission and his own recollections.
"Those are accusations, allegations," Allison said in a press conference Friday, two hours after the full deposition was posted. "I don't see them substantiated by facts. That's not been my experience as a board member. And while they're serious allegations, I haven't seen the facts behind it."
McCaw, now the athletics director of Liberty University, said in the deposition that he was disgusted by racism that he said motivated the board to "scapegoat" the sexual assault scandal onto the football program. Allison denied such a motive.
"There's no place for racism on this university, and I have not personally seen it or witnessed it," Allison said.
McCaw largely pinned the scandal on a select group of current and former regents and the Baylor Police Department, adding that a large number of sexual assault accusations involve Baylor fraternities and its club rugby team.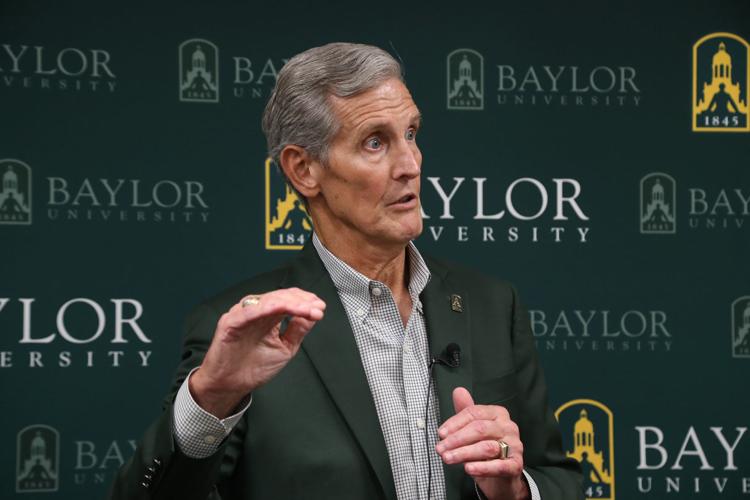 McCaw resigned days after regents released a 13-page document summarizing Pepper Hamilton LLP's investigation into sexual violence, a report McCaw called "phony" and written by a single regent. He said he resigned because he "did not want to be part of some Enron cover-up scheme."
As McCaw's statements have surfaced over the past weeks, Baylor has called them "bizarre, blatantly false, and nothing more than speculation and gossip of which he has no firsthand knowledge."
Baylor President Linda Livingstone on Friday reaffirmed the university's confidence in the investigation and the controversial personnel decisions regents made in its aftermath.
"I think that we're very confident the facts in those situations have not changed, and that the decisions that the board made at the time those facts were released were the right decisions," Livingstone said. "We stand by those decisions as an institution and we also feel very good about the ongoing work that the university has done to implement the recommendations that came out of the work of Pepper Hamilton."
McCaw listed the following leaders as "bad actors": former regents Neal "Buddy" Jones, Dary Stone, Richard Willis, Ron Murff and David Harper, and current regent J. Cary Gray. Willis, Murff and Harper recently cycled off of the board.
He said regents used the term "gang rape" in legal filings and statements to "inflame the scandal." Multiple allegations of gang rape by football players surfaced as the scandal unfolded.
"Principally, Coach Briles was made to be a scapegoat," McCaw said, adding: "I think I was in probably the wrong place at the wrong time."
McCaw said that in 2015, Willis directed McCaw to adjudicate a matter involving a football player after then-Title IX Coordinator Patty Crawford learned about a police report tied to a 2013 incident.
"At the administrative level," McCaw said, "I think the major failings were (former senior vice president) Reagan Ramsower, (Vice President for Student Life) Kevin Jackson in his area, general counsel's office, and certainly the epicenter was Chief (Jim) Doak in the police department."
Doak has been accused by former interim President David Garland of discouraging alleged rape victims from reporting their experiences to police. Doak retired in 2014, and Ramsower left Baylor in May.
McCaw agreed with lawyers that Ramsower "essentially (ran) the university," and that after he was "dinged" by Pepper Hamilton, the longtime administrator received some type of internal discipline. The day regents fired Briles and Starr, they also placed Ramsower in charge of a task force meant to implement the Pepper Hamilton recommendations.
McCaw recalls that after the 2014 Margolis Healy investigation in Baylor's campus safety, Ramsower told him that Doak ran a "1980s-style police operation." That firm found hundreds of violations of Title IX, the Violence Against Women Act and the Clery Act, according to the deposition. The probe came about after some of the regents heard complaints from their own children who attended Baylor, McCaw said.
The university has said that many of McCaw's allegations are hearsay and would not be admissible in court. Among those is the allegation that Doak discouraged his officers from investigating sex assaults.
In a response Friday, the university pointed a finger at McCaw for his role in the scandal.
"Despite the numerous factually baseless assertions in Mr. McCaw's deposition, one fact remains — several incidents of sexual and interpersonal violence involving student-athletes were reported during his tenure as athletics director," Baylor stated. "It was the Baylor Board of Regents that stepped up and took action, launching an independent investigation — by the nation's top sexual assault experts — of not only the football program but of the entire campus in terms of how reports of sexual violence were handled over a specific period."
The statement said the deposition proves Baylor's point that McCaw's statements "are a blatant attempt to redirect responsibility and simply do not reflect reality and the significant measures taken by the Board to address the concerns that had been raised regarding sexual violence."