Ali Shepard starts each weekday at 8:30 a.m. with a free breakfast at G.W. Carver Middle School, preferring to eat the popular breakfast pizza or Pop-Tarts if he does not have enough time to eat a hot meal.
The 11-year-old goes about the rest of his day, moving from class to class, until 4 p.m., when school lets out. Then he ambles toward the school cafeteria, the third time in a day he will enter the room, for the campus after-school program, where he receives another hot meal before tackling homework, playing games or doing Zumba with the other students.
But Ali's favorite activity is on Wednesdays when the students get to cook. The sixth-grader loves to cook.
"I like the smell of food when it's cooking," he said, smiling and sitting at a gleaming white cafeteria table. "I mostly like being in the kitchen because I want to be a chef."
Perhaps that is why Ali likes the food served at Carver Middle School so much. He appreciates the effort that goes into making it, and he reaps the benefits of a school district striving to provide every child with free breakfast, lunch and dinner.
Waco ISD has provided free breakfast to all students for years and started providing free lunch to all students this school year. But not all schools yet offer after-school snacks and dinners as Carver does. The district has applied to participate in a federally funded program that would reimburse it for each after-school meal served as part of an enrichment program. The Texas Department of Agriculture, which administers the Child and Adult Care Food Program, must approve the application before the school district can start offering dinner to more students.
The Child and Adult Care Food Program initially was designed to serve children and adults in daycare but was expanded to include after-school programs for at-risk youth, said Catherine Wright Steele, administrator for the department of agriculture's Food and Nutrition branch.
"The concept was there are children in need who are not going to a traditional child care center," Steele said. "Its intent is to supplement a program that is targeting that child population that otherwise might be at-risk."
The "at-risk" youth may simply be at risk of being bored after school, or they may not have anything to eat at home, said Tonee Shelton, director of the Texas Afterschool Centers on Education program at Carver Middle School.
"Some of our kids, this meal at 4 o'clock is the last meal they'll get tonight," Shelton said. "For some, lunch is the last meal they'll get."
Waco ISD only operates the Texas Afterschool Centers program at Carver through a separate federal grant. In its third year at Carver, the program generally attracts 35 to 50 students a day, Shelton said. It represents a model all schools would be able to implement if the state approves the application for the new grant.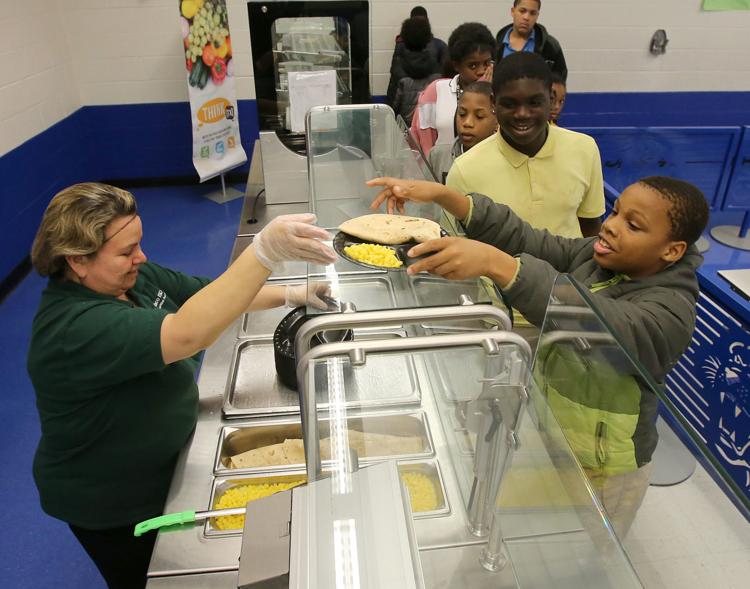 About 50 students made their way through the royal blue cafeteria doors at Carver after the final bell Thursday. As they arrived, they flung their backpacks onto the ground, and Shelton and the teachers who help with the after-school program shouted at them to sign in.
"We always have to tell them to sign in," Shelton said.
In polo shirts of various shades, the students then headed toward the serving line, where Francis Perez, a Child Nutrition Services employee donning a black hairnet, handed them black plastic plates of chicken quesadillas and corn. The students then chose between bananas, oranges and apple or cucumber slices before moving down the line to pick a regular or chocolate milk carton.
The students had about 15 minutes to eat before the activities started. As they finished eating, some of their teachers came by to take them off to tutoring. Others completed homework with the help of Baylor University student volunteers or played games with one another. Then the day's task started: Get into groups to create a commercial for a product idea picked out of a hat.
The after-school program runs Monday through Friday from 4 to 6:45 p.m., when some students get picked up by their parents or ride a bus home. Shelton said the grant requires the program operate for at least 12 hours a week.
"It's important for them to have a safe, encouraging and fun place to be after school," said Shelton, who is a trained social worker. "Everything in life is about relationships, and that's what we build here, strong relationships."
Steele, with the Texas Department of Agriculture, said food is an extremely important component of after-school programs because it gives students an incentive to attend.
"You can't learn on an empty stomach," Shelton said. "When you're thinking about luring kids in, you've got to provide them with something to eat."
Teachers cannot educate students if they are perpetually hungry, and hungry students who misbehave often do so because they cannot concentrate, she said.
That is why Waco ISD is trying to provide all students with three meals a day. The district offers snacks as part of the after-school program it operates at eight elementary schools in conjunction with the YMCA of Central Texas, district spokesman Kyle DeBeer said. Those schools are Alta Vista, Bell's Hill, Cedar Ridge, Crestview, Dean Highland, Kendrick, Mountainview and South Waco.
But at every school, students can get the first two meals of the day for free, and they do not even have to arrive early to get the so-called most important meal of the day.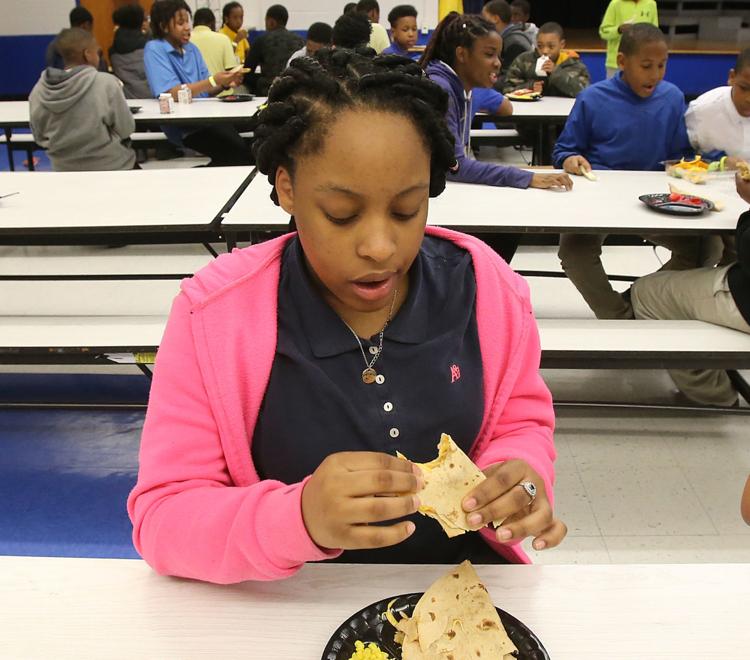 Waco ISD changed the way it delivers breakfast to students with the help of the Texas Hunger Initiative, an organization affiliated with Baylor's Diana R. Garland School of Social Work that works across the state to coordinate efforts to battle hunger.
Texas Hunger Initiative found that serving breakfast after school starts doubles how many students eat breakfast, so Waco ISD's Child Nutrition Services department started offering "grab bags" with a carton of milk or juice and a breakfast item available on carts set up near entrances or in ice chests in classrooms. Students can arrive at school, grab a bag on their way to class and eat there.
The students seem to prefer the grab-and-go option instead of getting to school early, trudging through the regular breakfast line and sitting down at a cafeteria table to eat, said Teresa Koch, a child nutrition services compliance specialist with the district.
Craig Nash, regional manager for child hunger outreach at the Texas Hunger Initiative, said he worked with Waco ISD to make the changes to breakfast service. He knows from his time as a student that only offering breakfast before school does not elicit as many participants.
"I know breakfast was served in our school, but I never actually participated because one, it was served so early in the day, and two, there's often a stigma associated with school breakfast," Nash said. "We've seen basically any time you expand the times and places the kids are getting breakfast the participation goes up."
Eating school breakfast can improve attendance, decrease tardiness and lead to fewer visits to the school nurse, according to the Texas Hunger Initiative. It also can improve nutrient intake, improve test scores and reduce food insecurity among elementary school students.
"(Eating breakfast) helps them to be more alert, to be in class and be more focused because they're not hungry," district food service manager Alma Ramirez said.
In addition to the grab bags, Waco ISD offers two hot entrees for breakfast every day. Breakfast pizza, which is essentially a square piece of Italian sausage pizza, must be offered every day because it is so popular, Ramirez said. If students do not like an option, the staff comes up with another idea to replace it.
"Every campus has that one child who will eat breakfast pizza every morning," she said.
But the food programs help students in ways the school district probably never imagined.
Alonzo Cheeks, an eighth-grader at G.W. Carver Middle School, attends its after-school program every day. He has made friends there and really gotten into Zumba, but he also likes that he gets to do his homework before he forgets about it.
"It builds up my confidence," the 13-year-old said. "When I first came here, I was really shy. Now I talk to people outside the program."
Cheeks, as he likes to be called, is on the A-B honor roll, too. His favorite subject? Math.