Members of the Valley Mills High School Marching Band are not the only ones blowing their horns these days: Fellow students, family, friends and community residents are offering praise too, after the band won the state University Interscholastic League 2A marching band championship.
The 56-member band returned Wednesday from competition at San Antonio's Alamodome to a hero's welcome replete with police and firetruck escort and students swarming to greet a bus of happy gold medalists.
A year after placing second in the state competition, the Eagle Band — more than a quarter of the 205-student high school — brought home its first state championship and the school's first state championship since its 1992 baseball title.
Another Central Texas band, China Spring High School's, was also in San Antonio, competing in the 4A state competition Wednesday. Ultimately though, China Spring did not advance to the competition's final round, according to a China Spring Athletics Facebook post.
For Valley Mills senior Matalynn Thayer, 17, a drum major along with senior Sara Chase and junior Brianna Sansom, a unified spirit was a crucial factor in the Eagle Band taking state.
"There was an energy on the way up. We were prepared to do our best," Thayer said. "I think it showed how much we care about each other."
Coming so close last year gave returning players, especially 14 seniors, a reason for focus, she said.
"I think everyone had (returning to state) in the back of their minds," she said. "We worked on being better people and working hard."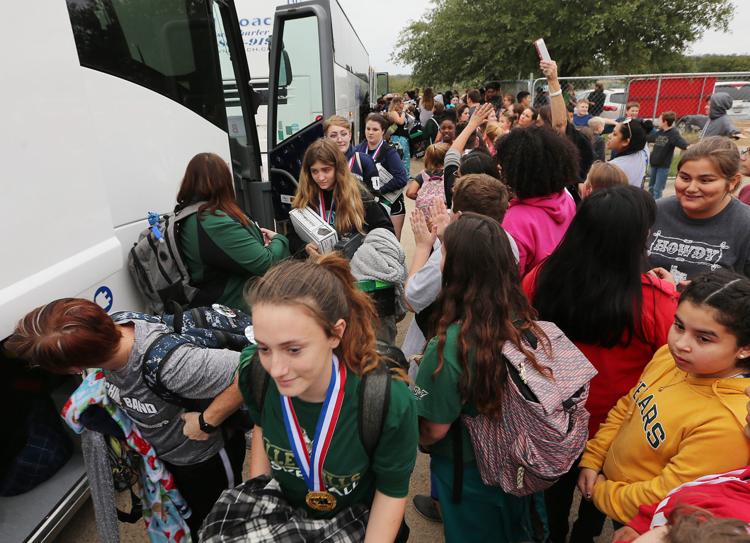 Principal Jason Sansom called it a journey and filled in a detail that Thayer did not mention. A school construction project took over the band's marching area and forced them to practice on the school's baseball field. On top of that, a rainy fall not only scratched days of outdoor practice, but flooded the band hall twice and caused some players to march in boots to handle the mud.
The Wednesday victory brought multiple layers of emotion for some. Thayer's flute-playing younger sister is in the band, too. Band director Jon Schriver, 29, not only returned as a director from last year's contest, but had played in 4A state competition 13 years earlier as a junior French horn player with Poteet High School's band.
Jason Sansom, a drum major when he was a Monterey High School student in Lubbock, saw his daughter Brianna work through summer and fall as a drum major, too.
"We talked some about what being a leader means," he said.
But, his band didn't make it as far as his daughter's.
"I'm kind of living vicariously through this," he said.
For Jennifer Seamanski, it was a parental and personal triumph. She heads the band's 20-member booster club, whose members ran concessions at football games, hauled its equipment to games and contests, pulled keyboards and percussion instruments across fields, served snacks and fluids at practices, provided meals, cleaned uniforms and even did last-minute shoe-shining.
"I don't know how to put it into words," she said, speaking by phone while she and her husband Jon drove the equipment truck back from San Antonio. "We're tired, but it's so worth it. We have amazing kids."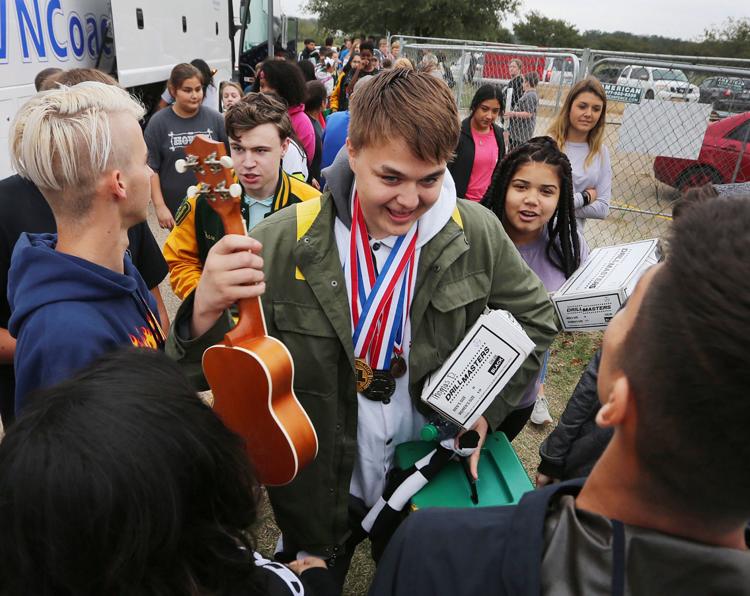 Seamanski, mother to band keyboardist Sarah and a Valley Mills second-grade teacher, was quick to share praise with club officers Amanda Sansom — a McLennan Community College associate nursing professor and, yes, the principal's wife — and Kim Jones, the high school's family and consumer science teacher.
A fortuitous UIL scheduling fluke led to Valley Mills' back-to-back trips to state. This year started a two-year cycle of state qualification for 2A schools that other classifications have had in place for some time. Valley Mills' next chance to go for the state title will be in 2020. Schriver, in fact, reminded juniors as well as seniors that this was their moment in a talk before the contest.
In winning the state title, the Eagle Band found itself competing with some bands fielding almost 100 players, going up against seven schools in the finals. This year's "Out of the Shadows" program, which Schriver and assistant director Stormy Semich prepared, drew on eerie and spooky themes from classical music.
As well as the band played, its marching skill proved the margin of victory — an impressive feat, given that the band's smaller size makes individual players more noticeable.
"With a large band, if a kid makes a mistake, it's not as noticeable," Schriver said. "Our kids just executed very well."
Both Sansom and Seamanski praised Schriver's work in building the band program since coming to Valley Mills seven years ago, starting with a handful of high school players and growing it into today's state-caliber competitor.
The Eagle Band will perform at halftime of Friday's football game between Valley Mills and Goldthwaite, but no more home games are left in their schedule.
This year's memories, however, will last, as will its lessons.
"Hard work pays off," Principal Jason Sansom said. "And winning a state championship is hard to do."