2012 closures may have contributed to 6 Waco ISD schools' struggles
When fifth-grade teacher Jo Spark joined Alta Vista Elementary School in August 2012, the atmosphere was chaotic, she said.
The campus had just changed from a magnet school, where people applied to come and parents were regularly involved, to a standard campus, and working parents found it more difficult to attend school functions, Spark said.
"My daughter-in-law taught here, and I had attended several things that happened during her tenure here, and was amazed at the amount of parental involvement and the level of interest in this school being a showcase for Waco," Spark said. "But we changed attendance zones, and we changed from being the magnet school. We changed administration. We had almost an entirely new faculty, and we had a new student body."
The school met state standards regularly for 16 years, but it has failed for the last five years, according to Texas Education Agency records.
The last year of the Alta Vista magnet school was also the last year for a total of nine Waco ISD schools. Their closures were prompted by cuts in state education funding. A Tribune-Herald review of Waco ISD state academic accountability records back to 1995 shows those nine closures coincide with a marked change in state rating trends for a handful of the remaining schools impacted by the change.
Between 1995 and 2011, only two Waco ISD schools failed state standard more than two years in a row.
Today, the district has six campuses that have struggled to meet state standards for three or more consecutive years. Five have failed at least five years in a row and face the possibility of closure next year if they fail again.
Officials said the 2012 closures are by no means the only factor contributing to the status of the six struggling schools, and some pushed back at connecting the two. All but one of the six schools have seen high principal turnover in recent years, and a new statewide academic accountability system was also implemented in 2012.
Waco ISD Board President Pat Atkins, who has been on the board since 2002, said the closures presented difficulties.
"When you do that, you're clearly increasing the size of attendance zones," Atkins said. "You're clearly moving parents farther away from their child's campus. For families who live in poverty, where there are issues to access to transportation, you're making it more difficult for parents to be engaged with their child's teacher and on their student's campus. We had to balance all that and recognize there were going to be some consequences with reducing the number of campuses in the district."
State funding
In 2011, the state cut $5.4 billion in education funding tied to funding increases in previous years, state Sen. Brian Birdwell, R-Granbury, said. The state faced a difficult budget picture in the wake of the Great Recession, and there have been education funding increases in years since, Birdwell said.
To make up for a reduction of about $6.8 million in state funding across two years, the district had no other choice but to look toward facilities, Atkins said.
"As a district, we made the decision we weren't going to lay off any staff. We weren't going to cut extracurricular programs for students. We weren't going to cut salaries," Atkins said. "When you say you're not going to cut salaries, you've taken almost 80 percent of the budget off the table from the beginning. When you're looking at the other 20 percent, a lot of it is student programming, so you say, 'OK, we're not going to impact fine arts, special ed, Gifted and Talented, athletics,' so those programs come off the table. Then you see most of what you have left is facilities."
Former Superintendent Bonny Cain, who started in 2011 and left the district this year, said at the time that the closures were the best way to deal with a "bad situation with no way out."
"Undoubtedly the $5.4 billion budget cut to public education in 2011 was devastating. Since being elected in 2012, I have continuously worked each session to restore funding to our public education system in efforts to meet the increasing demands placed on our schools and to meet enrollment growth needs," State Rep. Kyle Kacal, R-College Station.
Birdwell, Kacal and State Rep. Charles "Doc" Anderson, R-Waco, each praised ongoing efforts by Superintendent A. Marcus Nelson and the community to support Waco ISD schools and avert closure of the schools on the bubble.
The funding cuts "unmasked a scenario of inefficient operations," Anderson said.
With facilities filled to 74 percent of capacity, the board voted to close and merge several campuses, which expanded attendance zones for some of the five campuses now on the verge of closing, according to district attendance zone maps between 2010 and 2017.
"We basically moved away from what had been a long-standing policy in this district of support of small neighborhood schools," Atkins said. "We felt like that was the best model, particularly at the elementary level, because of budget cuts in Austin."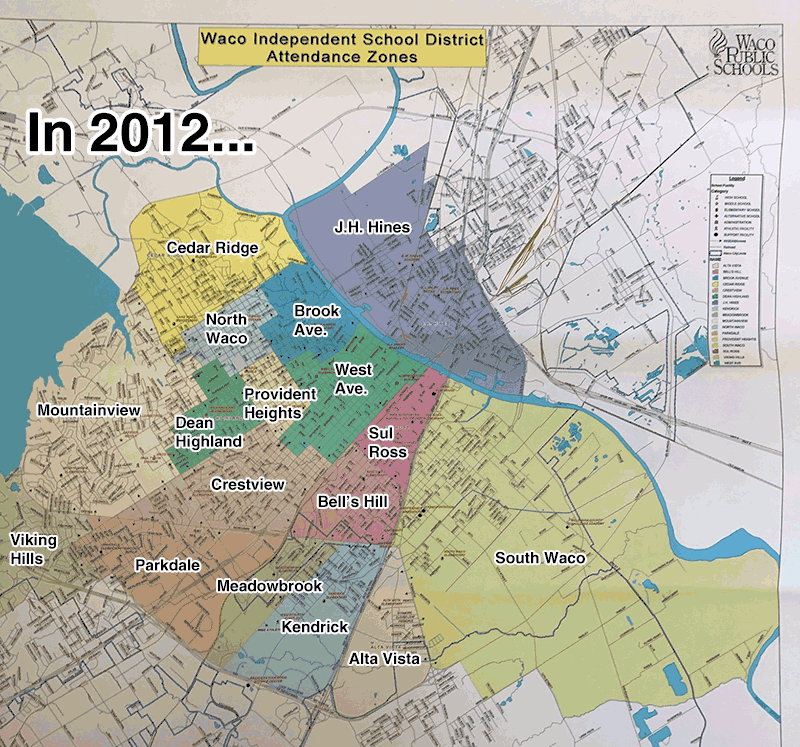 But Atkins questioned the link between 2012's closures and today's ratings struggles. It is certainly not clear-cut, he said.
For one, there has been high turnover of principals at the troubled schools in recent years.
Between 2011 and 2017, four of the five schools at risk of closing next year had three to four principal changes, district data shows.
"Did the turnover in campus leadership on a regular basis impact student outcomes? I don't know," Atkins said. "Are you better giving a principal more time to establish culture on a campus and get staff, parents and students to understand their system and buy into it? Or is the administration charged with making a change when they truly believe this particular principal, no matter how long they have, won't be able to get the job done?
State testing changes
A direct comparison between 2011 and 2017 is also muddied by the state's switch in 2012 from the Texas Assessment of Knowledge and Skills to the State of Texas Assessments of Academic Readiness as a gauge for academic accountability.
The state changed accountability systems once and state assessments twice between 2002 and 2013, Atkins said.
When the TEA gave the first ratings for the new system in 2013, the number of campuses statewide considered unacceptable or improvement required went from 530, or 6.2 percent, in 2011 to 768, or 9 percent, state data shows. Waco ISD went from eight campuses rated unacceptable in 2011 to nine in 2013, state records show. In 2010, Waco ISD had two campuses rated unacceptable.
About 80 percent of Waco ISD's 15,000 students are considered economically disadvantaged. Since the schools closed in 2012, only Alta Vista has seen a marked increase in its population of economically disadvantaged students, jumping from 85 percent in 2011 to 94 percent last year.
But the direct correlation between the high number of economically disadvantaged students and performance cannot be ignored, Atkins said.
Spark said teaching at Alta Vista, she quickly learned how money struggles can reach the classroom.
"I didn't have some of the economic struggles some did. I was very blessed with a husband who had a good job, and I didn't have to worry about if I had enough gas in my car to get (to a school event)," Spark said. "I remember the first year we opened. Parents would come in and say, 'I've got to have my kid. I don't have enough gas in my car to sit in this line for an hour.' I've never thought about that. It's 102 degrees, and they've got other children in the car. Those struggles are real for working families. A lot of them don't have but one car."
Though she'll tell you she's no expert, the difference between a campus passing and failing state standards could come down to how one student is handling outside circumstances, especially if a student is more worried about where they are going to get food for the day than homework.
"If I look at the kids I have, I can see some growth in them every year. We can't do anything about what happened yesterday or last year," Spark said. "But every year we start out saying, these are the problems we saw last year, these are the kids who struggled last year. What are we going to do to help them?"
But poverty has long been an issue in Waco, and it shouldn't be an excuse for why students continue to struggle or the five campuses ratings failures, Brook Oaks Neighborhood Association leaders said.
"I can dispel that right now," President Robert Jackson said. "The poverty situation doesn't equate ignorance. Those same kids recognized at Brook back then came from low-income, Section 8 apartments, but they were recognized. They were in a poverty situation."
Jackson and Vice President Sammy Smith have led the association for about 25 years and have seen their neighborhood school Brook Avenue Elementary and others decline, they said. They host regular monthly meetings and have reached out to the campus to offer help, they said.
Brook Avenue has failed it meet state accountability ratings for six years. Prior to 2011, Brook Avenue only failed to meet state accountability standards twice, in 2007 and 2005.
Since the campus closures, Brook Avenue's attendance zone has been tweaked, but not changed significantly in geographic size. Still, there has been a disconnect between the community and its school since that time, Jackson said.
Before the closures, Brook Avenue had an active parent-teacher association and a campus decision-making counsel of teachers, parents and business partners. Both groups are now almost non-existent, they said.
Four principal changes since 2011 have prevented any sense of stability, Jackson said.
"I don't think they had an accurate plan in place to deal with the funding cuts," he said. "They knew they had to do it, but I don't think it was accurate. They didn't look at the long-term impact it was going to have. If we close these nine schools, is it going to cause this? Or is it going to cause that? Nobody had a long-range plan for how it was going to affect the remaining schools."
Smith said he has not seen any accountability for board members representing the struggling schools today. Some members represent specific areas and others are elected districtwide. Smith served on the board years prior to the 2012 consolidation, he said.
"Children need consistency. They need consistency with support for them, and encouragement for them. Those two things, OK?" Smith said. "If they don't get it at home, and they aren't getting it at school, what are you going to expect? You point a finger at home, but you've got to point a finger at school, too."
Waco ISD has spent thousands on efforts to support economically disadvantaged students in years past. And in the last few months, officials have ramped up community outreach efforts and opportunities, increased the number of volunteers and community partners and held community meetings to encourage feedback. Support and parent engagement has grown at both Alta Vista and Brook Avenue throughout the last year, with principals at both campuses offering more teacher training and events to help parents.
The plan must be approved by the TEA in March, before students finish state exams in May. If the state allows the district to operate under the plan, Waco ISD could avoid closing more campuses or replacing the school board after scores come out in August.
If the campuses all pass in May, the alternative plan won't need to be enforced. But if the state refuses the plan, and the campuses fail, the closure could mean more devastation to low income neighborhoods, Prosper Waco executive director Matthew Polk said.
"That's really the chicken and the egg piece of it. School quality is so often correlated with the level of economic disadvantaged students in those schools because of the need those students have, not because they're not capable," Polk said. "Then really, the only way to best improve the schools is to dilute the level of need, right?"
Economic development in Waco's core and making the inner city more attractive to young families that will boost district enrollment that has been flat for years will also help, he said.
Whatever got Waco ISD to this point, the district is capable of scoring better, Atkins said.
"Was it the turnover in campus leadership that brought about some schools consistently having difficulty meeting the standard? Is it the closing and consolidation of campuses? Is it, frankly, a continuously rising standard of a much more difficult test than what we've given in the past?" Atkins said. "I don't know if I'm in a position to say which one of those factors was the largest contributing factor. I will say this: There are districts with high levels of poverty that are scoring much better than we are on the test, so it can be done."