Cameron Jordan turned heads when he walked into Lorena Elementary School last week.
He was strapped into a walker with multiple joints and wheels as he moved along. For most classmates of the 9-year-old, it was the first time they had seen him out of a wheelchair.
"At school, a lot of kids stood aside and cheered him on," Cameron's mother, Jessica Montez, said. "He was so proud, he was practically marching in."
For Cameron, who has had cerebral palsy all his life, the walker will be a turning point in his development and mobility, Montez said. And the family has a Baylor University student charity to thank for making it happen.
The charity, called Helping Hands, has helped more than two dozen Waco-area families with purchasing equipment for disabilities. Early last week, its founding president, Taylor Ernst, helped deliver the walker to Cameron.
The walker cost about $16,500, and Helping Hands picked up the family's out-of-pocket expense of about $2,100.
Ernst, a business management senior from Huntsville, said seeing Cameron try out the walker confirmed that it was a good use of the charity's money.
"I didn't realize how immobile Cameron actually was," he said.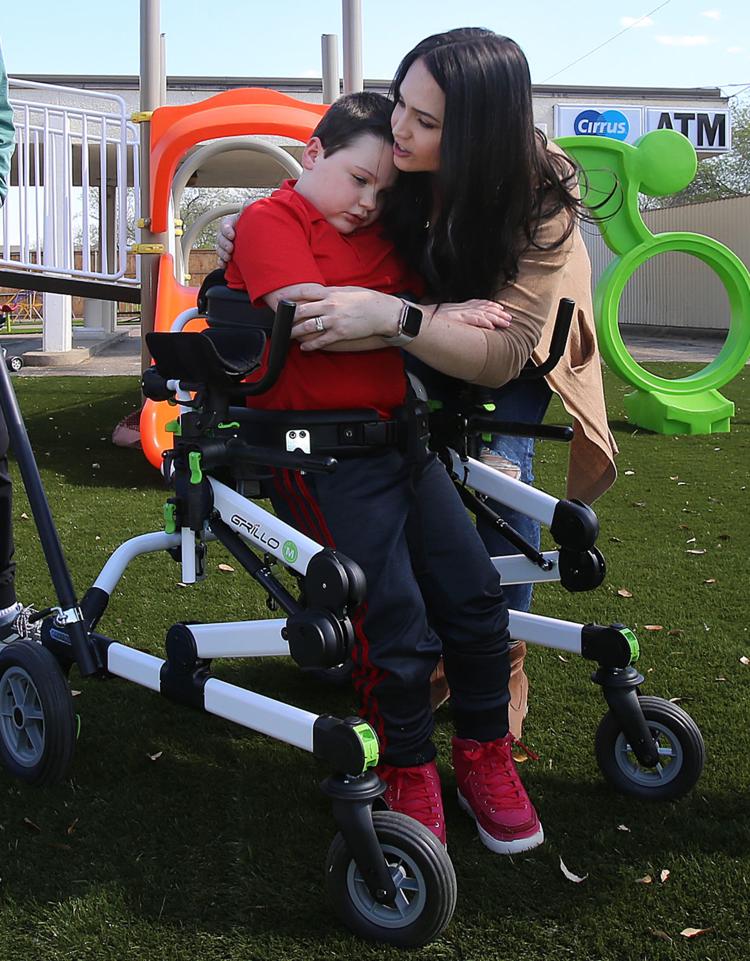 Now 90 pounds, Cameron had outgrown a more basic walker more than a year ago and was relying on a wheelchair, his mother said.
Cameron can be strapped in to his new walker, which protects him from falling as it helps him build muscles in his torso and legs.
"He's kind of suffered without it," Montez said. "It's harder for him to move around now. … Right now if he spends 20 minutes in his walker he is exhausted. But having this walker, he'll be able to build up that stamina."
Cerebral palsy is a motor disability that interferes with balance and posture and sometimes comes with intellectual disabilities. Montez said Cameron is unable to speak and is at the cognitive level of a preschooler.
Helping Hands got its start when Ernst was a freshman trying to help a fellow Baylor student with cerebral palsy. He launched a GoFundMe page to raise money for transportation equipment for his friend, then overshot his $700 goal, raising about $6,500. He realized many more people with disabilities could use a boost.
"I started thinking, if this kid is getting overlooked at Baylor, can you imagine what kids need in Waco? It's been cool to see how God has been working throughout the community," he said.
Ernst said he continues to raise money, and he and other group members vet the applications for funding to make sure the needs are legitimate and not affordable through insurance. He estimates that Cameron is the 28th recipient of help from the charity.
"Our only source of revenue is donors," he said. "Really, all you have to do is post a link and picture, and if you can show (donors) that money is going to a good cause, they'll help."
Ernst will be graduating this year but plans to stay involved in the charity, while passing on leadership to two other Baylor students.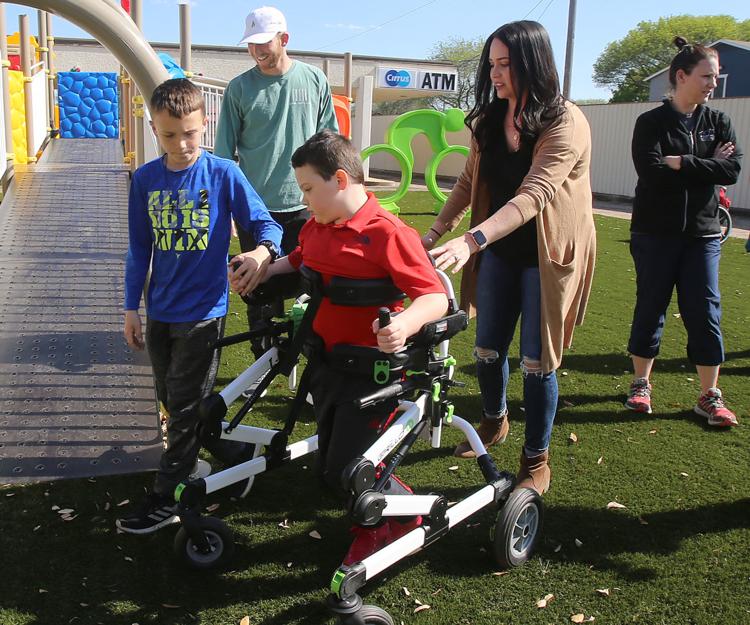 Montez said she heard about Helping Hands through employees at Hope and Believe Pediatric Therapy, the clinic where her son gets physical and occupational therapy. She said without the financial assistance, she would have struggled to pay the out-of-pocket expense for the walker, which was a crucial need.
"It's going to be amazing for him this summer," she said. "He's usually stuck in wheelchair, and now he can go where he wants to go. … I just know it's going to be so good for him physically and emotionally."
She said Cameron is also fortunate to have a caring brother, 11-year-old Caden, as well as understanding classmates at Lorena Elementary School.
"Usually, there's a handful of kids getting to school at the same time, and they give him a high-five," she said.