UPDATE: On March 19, Texas Gov. Greg Abbott on Thursday closed schools for more than 5 million students through April 3.   > Read more
Editor's note: This story has been updated to reflect new information about Marlin ISD and Gholson ISD.
---
Several local school administrators announced Friday they are extending spring break to prevent the reach of the coronavirus outbreak that has triggered a national emergency declaration.
Waco Independent School District and several others are extending spring break by two weeks, to March 27, while several more are extending the break by one week, to March 20, Waco ISD Superintendent Susan Kincannon said as she led a joint press conference at Education Service Center Region 12 in Waco.
In Waco ISD, students will not be on campuses until March 30, but administrative staff will be in their offices and several teachers will be working from home, Kincannon said.
Other school districts delaying the start of classes until March 30 include Connally ISD, La Vega ISD, Lorena ISD, McGregor ISD, Midway ISD, Robinson ISD and West ISD.
Districts delaying the start of classes until March 23 include Axtell ISD, Bosqueville ISD, China Spring ISD, Crawford ISD, Bruceville-Eddy ISD, Hallsburg ISD, Mart ISD, Marlin ISD, Moody ISD, Oglesby ISD, Riesel ISD, Rosebud-Lott ISD and Valley Mills ISD.
---
---
Rapoport Academy, a public charter school system, will delay classes until March 23, according to a post on its website.
Live Oak Classical School, Vanguard College Preparatory School and Bishop Louis Reicher, three Waco private schools, also have announced plans to delay classes by a week.
"This is a developing situation and while there are no confirmed cases in McLennan County at this time, the number of cases in Texas is multiplying," Kincannon said. "This morning, superintendents from across the Greater Waco area gathered to discuss a coordinated community response to the cornoavirus."
Midway ISD Superintendent George Kazanas, who attended the press conference with officials from at least six more districts, noted Gov. Greg Abbott declared a state disaster for all counties in Texas on Friday and President Donald Trump declared a national emergency that can allow up to $50 billion in funding to help fight the COVID-19 disease, which the World Health Organization declared a pandemic Wednesday.
"Eight states have closed all of their public schools with states of emergency in those areas so this is a situation that does require extreme measures," Kazanas said. "Our response today for closing for two weeks is simply a proactive measure."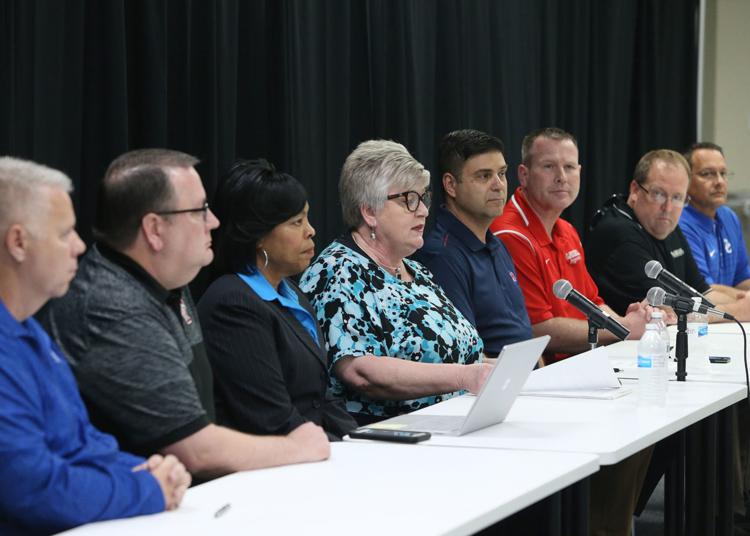 Several school districts said they are evaluating what resources can be used to help provide food to students who rely on free or reduced-price breakfasts and lunches provided as school. Kazanas said Midway officials will meet Saturday morning to look at options, and Kincannon said Waco staff is looking at ways to deliver food to sites where they can continue to offer meals for students during the extended closure.
"Most likely the locations will be school campuses and, or other locations," she said. "Our staff is currently working on that plan, but it is an important plan for our kids to get the meals they need."
Lorena ISD band members returned from Disney World in Florida on Friday, Superintendent Joe Kucera said. He said students are being monitored, but no one has been placed in quarantine.
The Texas Education Code requires schools to have at least 75,600 minutes of instruction in a year, but districts can look into getting waivers from that requirement as long as they commit to supporting student instruction while they are at home, Kincannon said.
The superintendents said they will continue to monitor the situation and take additional action if needed.
Gholson ISD's spring break is March 16-20. The district plans to return to classes on March 23.  
Colleges in Waco also are delaying classes, and Baylor University and McLennan Community College are shifting temporarily to online-only instruction after their extended spring breaks.
Texas State Technical College is extending spring break for two weeks, with in-person classes resuming March 30. Its online classes will continue as normal.
McLennan Community College and Baylor University classes will resume March 23 in online-only formats. Baylor will remain online-only for at least two weeks, while MCC will remain online-only for the rest of the spring semester.