Being a man is not about strength or speed but the character one exhibits, said Dr. Jeremy Korteweg, the keynote speaker at Waco Independent School District's second annual Empowerment Summit for Young Men on Friday.
About 200 male students in grades seven through 12 who campus administrators identified as future leaders attended the event at the Texas Sports Hall of Fame. The school district will hold a similar event for girls March 8.
Korteweg, a physician at the Family Health Center's Martin Luther King Jr. Community Clinic, talked about various challenges boys face as they grow into men, including societal pressures to "act like a man," sexual violence, consent, pornography and respecting women.
University High School junior Daiaundrea London-Ridge said he found the panel discussion with five community leaders to be inspiring.
"It was really inspiring, hearing everybody tell their different stories and how they came from difficult backgrounds and how they came to find their success," he said. "It made me put my life into perspective and think about how little actions today can shape my success in the future."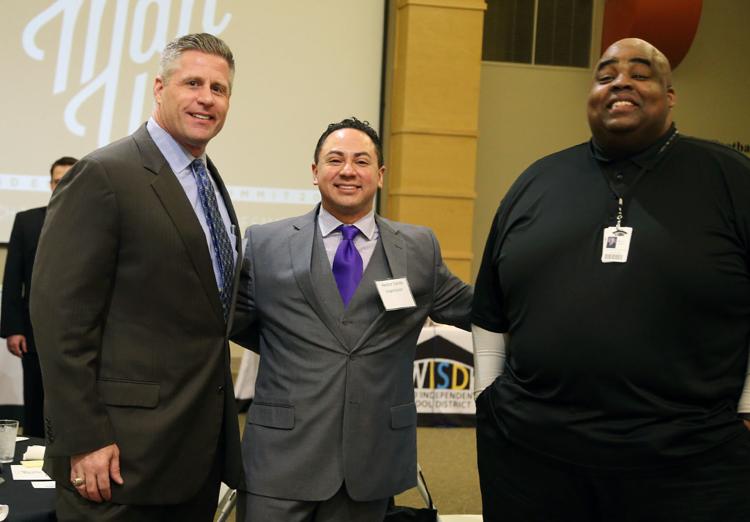 The panel featured Extraco Banks Vice President Sam Brown; Kerry Burkley, a Baptist pastor and children's program director at the Advocacy Center for Crime Victims and Children; Hector Sabido, Inspiracion board chairman and incoming Waco City Council District 2 member; and Alfred Solano, Cen-Tex Hispanic Chamber of Commerce president and CEO.
Waco High School junior Jordan Fuller said he related to the speakers and learned how to approach different situations.
"It made me realize my future is not too far away," he said. "It's coming up faster than I know it, and I need to start planning for what's going to happen."
As a doctor, Korteweg wanted to provide the students with answers to questions they may not want to ask and information about health issues they may face as teenagers, he said.
"Being a leader today isn't about doing something crazy and amazing or necessarily changing the world," Korteweg said. "It's about being a part of where you are, doing your part to lead. Leadership is at the center of solid character and manhood."
Making good decisions is integral to being a good leader and sustaining one's character, he said. But as teenagers, boys think mostly with the part of their brains, the amygdala, that controls emotions, unlike adults over age 25, who use their prefrontal cortex more in decision making. The challenge is to use the prefrontal cortex, which allows for critical thinking, when making decisions instead of relying solely on one's emotions.
"There's a lot of information being sent out to your phones, to your tablets and through your screens that's telling you hidden messages about how you are to act as a man," Korteweg said. "They're sending messages to you, and they're working your brain to change the way that you think about yourself. Most of the time, they're sending messages because they want something from you."
Advertisers send these messages to make money, and students ought to think about where these messages are coming from and decode their contents before buying what they are selling, he said.
For instance, boys should consider where the idea that men need multiple sexual partners to "be a man" comes from, Korteweg said. He then showed a video of former President Barack Obama talking about the same topic.
"If you are comfortable with your sexuality, then you don't need eight women around you twerking," Obama said in the video.
Korteweg also discussed pornography and the toll it takes on men and women. On average, boys are exposed to pornography by age 11, he said. Korteweg said he first saw pornography when he was 10 while playing video games with other boys at his pastor's house.
"You're feeding into an industry that destroys millions and millions of lives," he said. "I challenge you as men to respect women."
That led into a discussion on consent, in which Korteweg said that women can say "no" at any time and revoke their consent to have sex or participate in sexual activity. He emphasized how important it is to talk to sexual partners before engaging in sex, with help from some photos of herpes sores and the physical effects of syphilis. The audience responded with a collective "ew."
Korteweg concluded his speech by challenging the boys to use their prefrontal cortex. Several of the community leaders and professionals who volunteered as table hosts stood up and offered advice to the students.
"You have every opportunity right now to be whoever you want to be. You have every opportunity to fulfill your dreams," said Brad Livingstone, a teacher at Vanguard College Preparatory School and husband of Baylor University President Linda Livingstone. "That's one of the great things about being a teacher. That's one of the great things about being here today, looking at you and knowing someday you're going to change the world. Someday, you're going to make a difference in the life of others."