Those counting at home, anticipating the second Silo District Marathon winding through downtown Waco this weekend, may want to keep in mind it is a numbers game with proceeds earmarked for cancer research.
The Magnolia-sponsored event, which will include Chip Gaines' participation in the half-marathon, will attract more than 6,000 runners assisted by 400 volunteers and 200 law enforcement officers and other first responders.
Between 15,000 and 20,000 people could line the streets, cheering on the competitors, celebrating at local dining and drinking establishments afterward and retiring to local hotel rooms. That is according to Will Phipps, executive director of the Waco Sports Commission, who applied a 2.5-to-1 ratio of friends and family to each participant.
Silo District Marathon: April 28, 2019
Photos by Rod Aydelotte
Last year, the inaugural Silo District Marathon raised $250,000 for the Brave Like Gabe Foundation, named for Gabe Grunewald, a professional runner suffering from a rare salivary gland cancer whom Chip and Joanna Gaines met at an event in New York. Vowing to help, Chip set in motion his vision for a fundraiser.
Money raised will benefit cancer research and patients treated at the Baylor Scott & White McClinton Cancer Center in Waco.
Add it all up and the next two days could prove fun and financially beneficial to the community and a worthy cause. Toss in angst among motorists and business owners facing street closings, and the plot thickens.
"When all is said and done, we anticipate this year's turnout will outpace last year's by a small margin," Magnolia spokesman John Marsicano wrote in a press release. "This year, we will be welcoming runners from all 50 states — Texas, California, Colorado, Florida, Illinois and Missouri will be among the six most represented states. Additionally, we are looking forward to welcoming runners from five other countries, including Canada, Mexico, the Bahamas, Panama and Australia."
The Silo District Marathon is the largest race held in Waco, said Carla Pendergraft, who markets the Waco Convention Center. In contrast, Ironman 70.3 Waco in October last year drew 2,880 competitors and an estimated 12,000 visitors, "and that was a very impactful event," Pendergraft said.
"We find the Silo District Marathon competitors tend to come to town and stay several days, getting used to the climate and looking around town," she wrote in an email response to questions. "Some of them do visit our attractions, take tours, and many do some shopping while they are here. All of them go out to eat, of course. So there should be a very positive impact on our restaurant, hotels, attractions and retail shops."
The city of Waco's Jonathan Cook, who promotes special events and serves as interim parks director, said the marathon is an "all-hands-on-deck" event that involves law enforcement and first responders from 38 counties, the McLennan County Sheriff's Office, the Waco-McLennan County Office of Emergency Management, several city of Waco departments and crews from Dallas Lite and Barricade, a private company specializing in traffic control.
Traffic control, which includes blocking streets, has been an issue.
"This is a great example of a big event that showcases downtown, showcases Waco and brings a lot of people to the heart of our city," said Megan Henderson, executive director of City Center Waco, which advocates for downtown development. "But these events have drawbacks as well, and sometimes fans of these events do not think about those drawbacks, just as those who experience inconveniences may not see the big picture."
Getting customers in the door "is always a challenge," and businesses puzzling over unique ways to attract the marathon-related masses may feel frustrated, Henderson said. If they do not see racers or their followers flocking to their door, they may become disenchanted with the event, she said.
"There were a couple of hiccups I noticed last year related to this issue," Henderson said. "I know of businesses rising to the challenge, trying to come up with cool things to do, a chalk project, for example, to highlight the work of local artists. If a business owner believes an impediment is unreasonable or unnecessary, that's one thing. If organizers can communicate in a clear-headed fashion the long-term benefits, demonstrate how an event could create a positive impression and return business, that's quite another."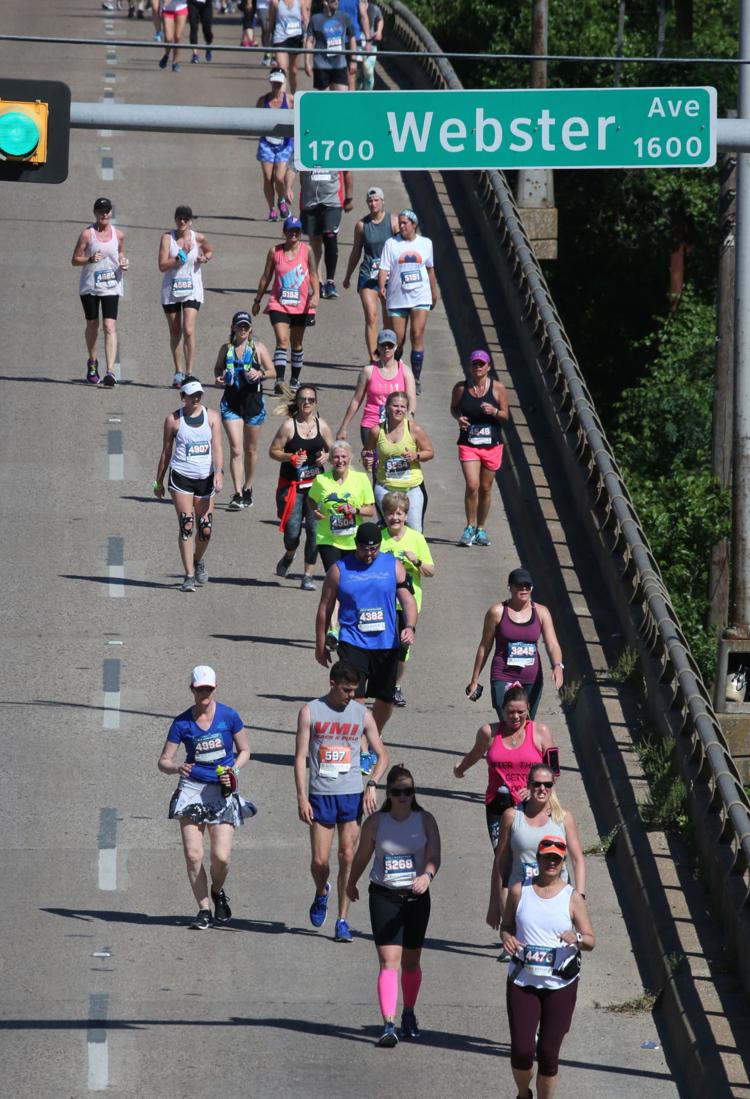 Nancy Goodnight, a veteran triathlon and marathon organizer and member of the Greater Waco Sports Commission advisory board, said organizers have stepped up their game to ensure residents living or doing business along the various routes know about detours and closings this weekend.
"I live on the route myself and I got a door hanger," Goodnight said.
Phipps, the commission's director, said the group is excited Chip Gaines decided to start the marathon.
"But anytime you try something of this magnitude, you will learn about the processes that could have gone better," Phipps said. "The Magnolia brand is not necessarily a sporting event production company. It can do a lot of things and do them well. But other groups locally and outside have great experience in this area, with staffs willing to get in and get their hands dirty. I believe we'll see this run more efficiently than in year one."
New this year is a Health and Fitness Expo held in the Waco Convention Center, 100 Washington Ave., in conjunction with the marathon.
"The expo is designed to appeal to runners and visitors alike since many of the runners are traveling with friends or family and are planning to spend Friday and Saturday exploring all that Waco has to offer," Marsicano said in an email response to questions. "Local businesses like Waco Running Company, Waco Tours and Redefine31 will have booths. Several niche, running-focused national brands like Bondi Bond, Iron Foot and Crazy Water will also be there."
Church Under the Bridge, which has been meeting on Sundays at Magnolia Market at the Silos while Interstate 35 is widened, will gather Sunday at the Dewey Center, 925 N. Ninth St., pastor Jimmy Dorrell said in an email.
The marathon and half-marathon will start at 7 a.m. Sunday at Fifth Street and Webster Avenue, while the 5K run will start at 7:30 a.m. at Fourth Street and Mary Avenue.
Several race viewing locations featured in the marathon information packet include Indian Spring Park on Lake Brazos at University Parks Drive; Cultivate 7twelve and The Warehouse, both on Austin Avenue; the corner of Third Street and Austin Avenue; and Brotherwell Brewing at 400 E. Bridge St. in East Waco.