While working on a documentary about the Waco tornado a few years ago, filmmaker Damon Crump heard plenty of stories about May 11, 1953, Waco's deadliest day.
But he never knew of his own father's tornado story until last month, when he was going through some photo slides his dad had left behind upon his death more than 20 years ago.
There, in a slide tray tucked away in a closet, he found a historical treasure: tiny slides showing in full color the aftermath of the giant tornado that killed 114 people and destroyed hundreds of buildings in downtown Waco.
"I had found that box of metal slides from all the slide trays, some from Yellowstone, some of Old Faithful, some from Mexico," Crump said. "Then I picked one up that looked like a lot of construction or destruction. It dawned on me that these might be pictures of the tornado. I looked at them and said, wow. I don't remember anyone talking about it."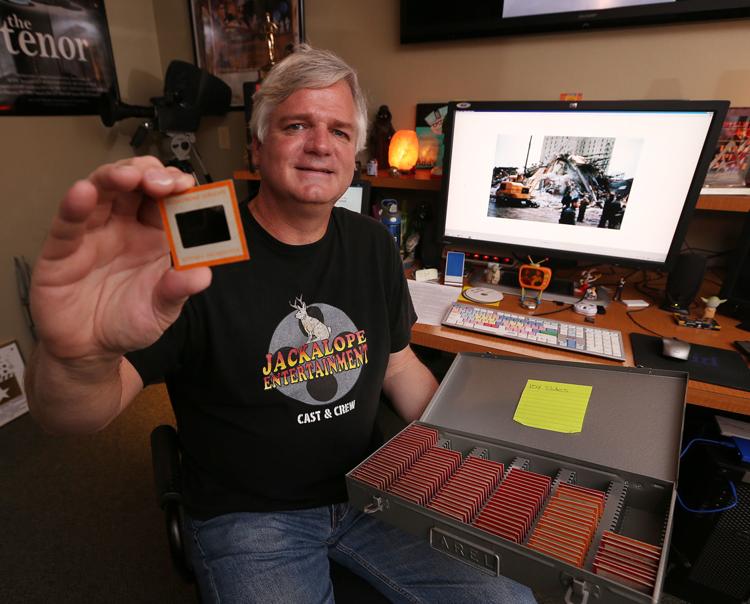 Crump, a Waco native, said his father, Earle Thomas "Tommy" Crump, was in his mid-20s at the the time of the tornado. He was in the local National Guard unit that did rescues, kept the peace and chased off looters.
Tommy Crump died in 1997 without ever telling his son about that episode in his life, but his perspective is captured in vivid color, which is rare for Waco tornado photos. The slides join a small handful of other collections of color photos that have surfaced in the last couple of decades of the tornado's aftermath, including photos taken by 14-year-old David Reagan and Dr. Hannibal Jaworski.
Tommy Crump, who worked for an electrical shop, was a collector of cameras and other gadgets and made use of Kodachrome slides, which at the time were expensive to develop and remained popular for decades.
Instead of the monochromatic bleakness usually associated with images of the tornado's damage, a viewer of these photos sees the jarring cheerfulness of spring sunshine against the ravaged city square. In one photo, crowds wander through the rubble looking at the shorn-off upper story of the buildings, while one man hugs his son from behind. A red Coca-Cola cooler on the sidewalk pops out in the photo.
Other images show cars flattened by debris, while others show giant piles of rubble being cleared by trucks and cranes.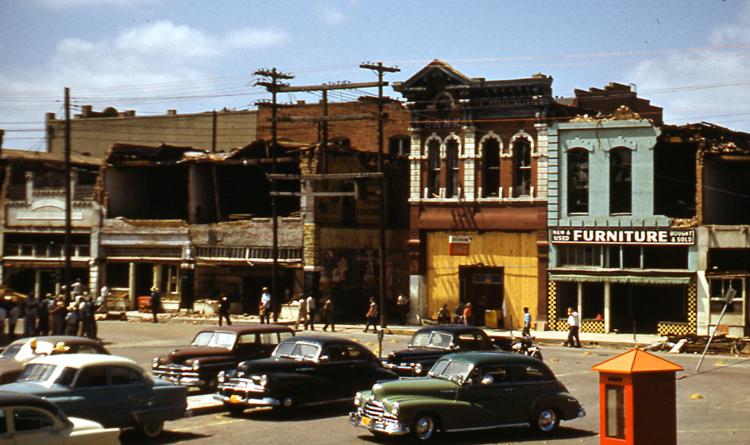 Damon Crump, born in 1964, grew up in Waco hearing stories of the tornado and learning about it in his seventh-grade Texas history class. He and his film business, Jackalope Entertainment, assisted with the four-part documentary "What About Waco," which aired in 2017 and included an installment about the tornado.
Crump said he can only speculate why his father did not share his story about the tornado. But he said that as a father of two teen boys now, he has never thought to tell his own story about being in New York City after the 9/11 terror attacks.
He said the discovery of the slides made him think more about the influence his father has had on him, including introducing him to Super 8 home movies.
"It has made me appreciate things about him," Crump said.
---
Photo gallery: New color photos of the 1953 Waco tornado