McLennan County commissioners voted Tuesday to temporarily relocate the county's health services office to Ninth Street and Washington Avenue as it faces a Nov. 1 deadline to vacate the former Grand Karem Shrine building.
The county sold the 90-year-old structure at 701 Washington Ave. last year to Magnolia Market founders Chip and Joanna Gaines for $930,000. The Gaineses have not publicly announced how they will use the space, though Chip Gaines told the Tribune-Herald in an interview last year he is considering making it the company headquarters.
Magnolia spokesman John Marsicano said in an email Tuesday that the parties continue to weigh their options for the three-story building that was mostly empty except for county health services and a child support court.
Health functions soon will shift to the McLennan County Archives building at Ninth and Washington, where documents, some dating back decades, are stored. That building has its own issues, which commissioners discussed before voting to place health services there.
"We are fairly confident (the Gaineses) are ready to move forward," Commissioner Ben Perry said after the meeting. "They need us out."
Asked if the Gaineses shared with commissioners their vision for the space, Perry said, "They have not. That would be the million dollar question."
The county signed a one-year lease on the Grand Karem Shrine space upon closing the sale, giving staff time to relocate services and personnel.
The possibility the Gaineses would consider extending the agreement came up at Tuesday's meeting, with county staffers telling commissioners they have made inquiries and should know more by the middle of next month.
The Grand Karem Shrine building, built in 1928, officially was purchased by Magnolia Vacation Rentals LLC, which also paid the county $500,000 for the neighboring county garage. Negotiations on the two properties started in July of last year, County Attorney Mike Dixon said.
The county's office shuffling also includes relocating the Texas AgriLife Extension Service office from 420 N. Sixth St. and into the former Red Cross and United Way building at 4224 Cobbs Drive, which the county bought for $300,000. Remodeling there has started. Commissioners also are considering moving the county auditor's office to Cobbs Drive, but a decision is pending.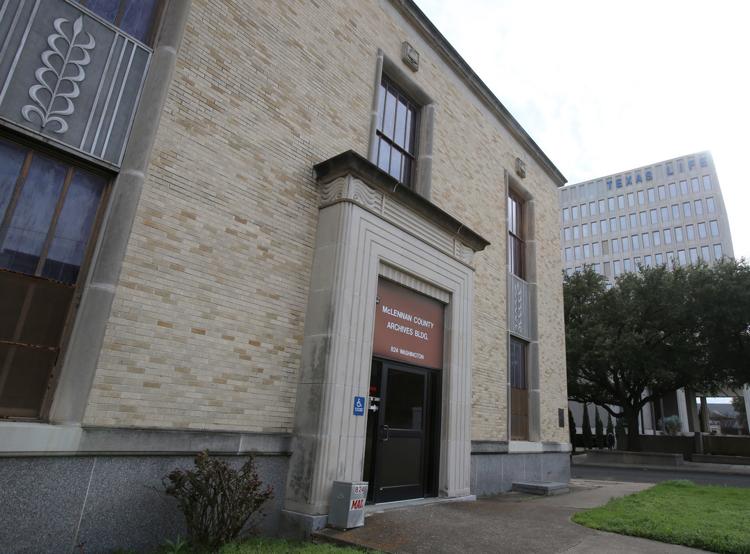 Archives building
Meanwhile, the fate of the archives building remains a hot topic.
"As it sits right now, it has three to five years left," Perry said.
Commissioners are weighing options that include creating additional storage space in the old Red Cross and United Way building, or in the basement of the county jail downtown, or taking steps to more efficiently use existing space in the archives building. They may include a "major purge" of documents by a commercial shredder the county would hire, Perry said.
Not all documents are subject to destruction, however.
"Some we have to keep forever, some for five to seven years," Perry said.
Commissioners agreed Tuesday they need more information from the county's maintenance and engineering departments before moving forward with creating temporary archival space or pursuing construction of a new climate- and humidity-controlled building specifically designed to house documents.
The building now housing the archives was built in 1916.
"If we truly decided to keep it as our archival building, it would need a new roof and HVAC (heating, ventilation and air-conditioning) upgrades at minimum, which would cost $600,000," Perry said. "If we completely overhaul it, make it sound and take care of all deferred maintenance, that would run $5 million. That's a big gap. We need to drill down on that and come up with the best numbers possible."
Commissioner Kelly Snell presented staff with results of previous stress tests performed on the archives building. One showed floors having a load capacity of 150 pounds per square foot, the other 300 pounds per square foot. Snell said the disparity needs to be addressed going forward.