His jet black 2019 Lamborghini Urus parked outside, Austin businessman Glenn Williams toured his new Waco home Thursday afternoon, a stunning, historic abode on Columbus Avenue known as the Migel House.
Kelly Realtors' agent Trish Griffin, who shepherded the home through a 284-day stay on the Multiple Listing Service, escorting a dozen would-be buyers through the 10,641-square-foot mansion, sought to find Williams for an introduction to visitors. She momentarily lost track of his whereabouts, as Williams and seller Robert Tunmire toured the place Tunmire spent $1 million to renovate.
"Maybe they're bowling," said Jake Joseph, with the Austin office of the international Engel & Volkers real estate firm. He represented Williams in the transaction, though he smiled and said Williams needed little help.
Indeed, the Mediterranean-style home once featured in Mansion International, a publication of the Wall Street Journal, has a bowling alley in the basement, fireplaces in every room, a carriage house, wood floors and "coiffured ceilings" as the trade magazine to the rich and famous so eloquently put it.
Tunmire and Williams chatted about the historic home's idiosyncrasies, and Tunmire, a top executive at Neighborly, formerly The Dwyer Group, passed along information about his landscaper, the one familiar with the workings of his sprinkler system, and handed over the warranty on his roof.
"You've got my cell number, and my office is 5 minutes away," Tunmire said before saying his goodbyes to all, including a friend of Williams, Scarlett Black, whose pet raven, Nevermore, accompanied her on the visit.
"I'm an Edgar Allan Poe fan," Black said, explaining Nevermore's appeal.
The Migel House, built in 1910 at 1425 Columbus Ave., was the longtime residence of Louey Migel, a co-owner of the Goldstein-Migel department store.
"Migel House is a beautiful example of Beaux Arts revival style," according to a wacohistory.org post. "Its Doric columns and the urns flanking the front walkway are reminiscent of a Greek temple, while the terra-cotta tiles and scalloped roof recall the architecture of a Spanish mission. The brickwork featuring festoons and cartouches makes this two-story structure one of the most uniquely adorned historic houses in Waco."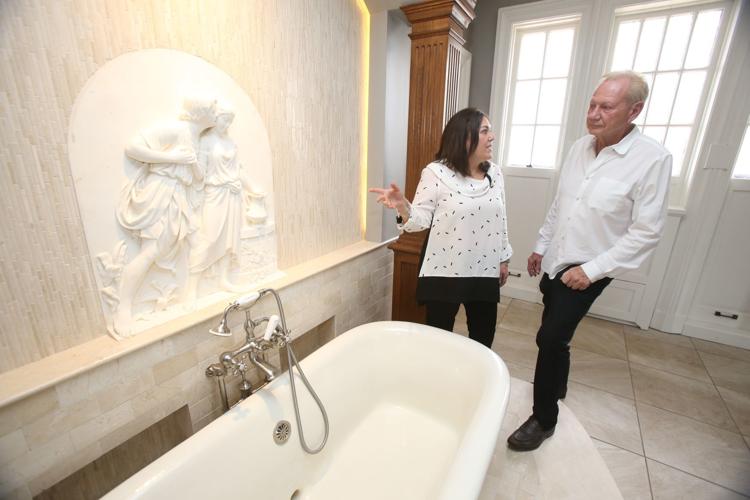 Williams, 74, said he has traveled through Waco for years on business. He has real estate and commercial interests in Austin and San Antonio, has developed property in Las Vegas, and made his first million dollars before the age of 30, he said during a free-flowing interview inside Migel House.
He often stopped to dine at The Elite Cafe on Waco's traffic circle, now a restaurant called Magnolia Table owned by Chip and Joanna Gaines. He had business dealings with the former owners of Leslie's Chicken Shack, the defunct diner on New Dallas Highway once famous for hot meals, warm rolls and honey, and the sign on top that featured a doddering tuxedo-clad chicken.
In recent years, he said, he became enamored with Waco's potential. He became a fan of Chip and Joanna Gaines' hit reality show "Fixer Upper," and having studied engineering at the University of Texas at Austin, began to appreciate Waco's historic architecture, natural beauty and solid infrastructure. He warmed to the idea of buying Migel House, saying the attention to detail owners Robert and Kitty Tunmire included in their renovations, with the input of local renovation expert Tom Lupfer, was exceptional. The diligence and expertise of Kelly Realtors' Griffin was the icing on the cake, making the buying experience enjoyable, he said.
He does not personally know Chip and Joanna Gaines, but they have become tremendous ambassadors for Waco, serving up glimpses of the area's appeal and quality of life that many find irresistible, Williams said.
The Tunmires operated the Migel House as a bed-and-breakfast establishment until early summer last year, about the time they got serious about selling it. Williams said he may pursue that option eventually, but not in the near-term. He said he may often visit the home midweek, and make it available to employees on weekends as a reward for good performance.
"I'll say, 'I'm going to let you stay in an authentic Waco castle,' " he said.
The Tunmires left a couple of projects undone. They hoped to create a well-manicured park on property next door, even build a gazebo. They leveled the nearby Shear-Callan House, having determined is was too expensive to restore, and salvaged materials, some for use in the Migel House restoration.
It was on the Shear-Callan site the Tunmires wanted to develop a pretty place. Williams said he may follow through with that vision.
Recently, Tunmire said buying and remodeling Migel House "was a fun project, and if we had to do it all over again, I'm sure we would. But it's time to move on." He said there is little left to do from a renovation standpoint.
Williams agreed, saying he is considering tweaks here and there, but overall he will focus on maintaining the integrity of the historic home.
No one Friday would reveal the final sales price.