The State Bar of Texas has accused a Waco attorney of violating its rules by failing to properly inform opposing counsel in a pending lawsuit that he represented the judge presiding over the case.
In a letter to attorney Ty Clevenger dated April 20, Rebecca Stevens, assistant disciplinary counsel for the State Bar of Texas, said that the bar's disciplinary proceeding against Waco attorney Greg White will be heard by an evidentiary panel of the state bar district grievance committee.
The letter says the matter will be pursued by the Commission for Lawyer Discipline through the Chief Disciplinary Counsel's Office.
White, who also joined the Baylor Law School's faculty in February as a legal writing lecturer after serving as an adjunct since 1995, did not return phone messages left for him Monday and Tuesday at his law office and at the law school.
White represented Smith against Clevenger's complaint to the 5th Circuit, which led to Clevenger's bar grievance against White. Clevenger alleged White failed to disclose his attorney-client relationship with the judge to lawyers on the other side of the case from White in Smith's court.
Clevenger also has since filed a new complaint that claims Smith may have received free legal services from White while White had cases pending in Smith's court.
Smith and White both have declined comment on the allegations in the past.
White responded to the State Bar charges leveled by Clevenger, and Clevenger made White's responses public.
White's answer acknowledged that an attorney from Florida who was unhappy with Smith's rulings in the case questioned White about his relationship with the judge. White told him he was representing the judge, and the attorney immediately filed a motion to recuse Smith from the case, which Smith granted.
"Frankly, I had assumed three things," White wrote in his answer. "First, I thought my role was so limited that my representation made no difference to anyone. Second, I though that Tammy (Hooks, Smith's career law clerk) was calling people in my cases (to inform opposing parties of White and Smith's attorney-client relationship). Third, I knew that I was bound by confidentiality — both by rule, and by my client's instruction — not to volunteer that Judge Smith was the subject of a judicial conduct complaint or that I was his lawyer."
In its reprimand of Smith, the Judicial Council of the 5th U.S. Circuit Court of Appeals found that the judge did not follow appropriate procedures regarding his recusal from the case involving White.
The judicial council reprimanded Smith in December, finding he made "inappropriate and unwanted physical and nonphysical advances" toward a female courthouse staff member in his court chambers in 1998.
Clevenger included with his complaint a sworn deposition from the woman, who no longer lives in Waco, in which she detailed her unnerving experience with the judge and how it forced her to leave a good job at the federal courthouse.
Smith, 75, has been a federal judge since 1984 and is a former chief judge of the Western District of Texas.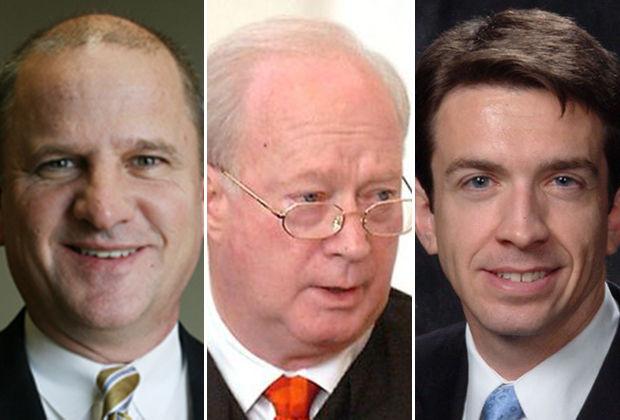 The council also suspended Smith for one year from hearing any new criminal or civil cases filed after Dec. 3, ruling that his conduct "was in contravention of existing standards of behavior for federal judges."
Smith's suspension from hearing new cases has forced a judge from Austin to fill in for him by hearing new cases in Waco. The suspension has also required magistrates, including one who came out of retirement, to perform additional duties and has created the need to hire two new law clerks at a total of $104,000 a year, officials have said.
The Judicial Council also said Smith "does not understand the gravity of such inappropriate behavior and the serious effect that it has on the operations of the courts."
"The Judicial Council also finds that Judge Smith allowed false factual assertions to be made in response to the complaint, which, together with the lateness of his admissions, contributed greatly to the duration and cost of the investigation," the order, signed by 5th Circuit Chief Judge Carl E. Stewart, said.
While the council said Smith's actions do not warrant a recommendation of impeachment, Clevenger has appealed that decision to the Administrative Office of United States Courts in Washington, D.C., and is seeking impeachment.
In response to Clevenger's accusation that White represented Smith for free, Smith recently has shown lawyers a copy of a canceled check that he says is proof he paid White $10,000 to represent him on the 5th Circuit complaints.
"The judge showed me the check because he knows that one of the accusations is that Greg White was doing something for him and wasn't getting paid for it to curry favor of the court, and he wanted to show me that not only it wasn't true, he had a copy of the canceled check," Waco attorney Russ Hunt said. "So I don't have any doubt that Walter is telling the truth when he says, 'Hey, I paid him $10,000,' and I do not doubt Greg's word. Greg is a man of his word."
In a letter dated Jan. 27 from White to his attorney and submitted as an exhibit in White's response to the State Bar, White said an attorney who formerly served as Smith's law clerk called him and said the judge wanted to speak to him about Clevenger's federal complaint.
White wrote that Smith was concerned about the accusations being made public and asked White to file a motion to dismiss the complaint.
"I must say that I was not sure whether I was writing as Judge Smith's lawyer, or whether I was ghost-writing for Judge Smith," White wrote in his memo. "I am sure I had an attorney-client relationship, but unsure how formal my representation would be."
White prepared a draft and said the judge asked him to sign the motion as his attorney.
"One statement in the motion to dismiss bears mention," White's memo says. "After talking to Judge Smith, I was under the impression that he believed that the young lady involved might have acted in a way to suggest her willingness to participate in a personal relationship — that she was the aggressor.
"I wrote that in the motion to dismiss — characterizing it as Judge Smith's 'memory.' His memory came from a lawyer-friend of Judge Smith's while Judge Smith's divorce was pending. During the divorce, there were apparently 'threats' to make this woman's complaint a public matter," White's memo says.
The lawyer, whom White does not identify, suggested that they could respond to the threatened publicity by suggesting that the woman approached the judge romantically in an attempt to gain favorable treatment for her husband, who was part of a group considering litigation in Smith's court.
"That suggestion to Judge Smith (from his lawyer-friend) stuck with him, and he suggested it to me," White wrote.
"After the motion to dismiss was filed, a more careful examination of the docket" revealed the suggestion that the woman approached the judge in such a manner to help her husband was not true, since the lawsuit involving her husband was not filed until long after the incident in Smith's chambers.
During the council probe, the investigator told White that the investigator knew that version was not true.
"I acknowledged to the investigator that we had misstated that, and wished to correct it," White's memo says.
Clevenger has become infamous as more than just a thorn in judges' sides. Over the years, he has filed numerous complaints against judges and attorneys. Most recently, he filed a complaint against Chief Judge Merrick Garland of the U.S. Court of Appeals for the D.C. Circuit, President Barack Obama's choice to succeed Antonin Scalia on the Supreme Court.
Clevenger's blog, LawFlog, and his website, DirtyRottenJudges.com, bash the judiciary and highlight misconduct by judges. Clevenger currently is under fire from a Washington, D.C., judge, who sanctioned Clevenger $120,000 in December, sparking other pending disciplinary actions.
About seven years ago, Smith sanctioned Clevenger and fined him $25,000 for filing what the Waco federal judge deemed a frivolous lawsuit in his court.
Clevenger has been in touch with U.S Rep. Bill Flores' office since the Republican from Bryan told the Tribune-Herald in January that he thinks the judicial council did not go far enough in sanctioning Smith. Flores said then that he would explore procedures to impeach the judge by talking to U.S. Rep. Bob Goodlatte, the House Judiciary Committee chairman, about those procedures.
But Flores said recently that he is aware that Clevenger is appealing the council's decision and he thinks that process should be allowed to play out. He also said he has had difficulty getting in touch with Goodlatte.
"Congressman Flores talked a good game before the Republican primary, but after the election, he lost all his interest in impeaching Judge Smith," Clevenger said. "It looks like it was the kind of say-anything-to-get-elected stunt that makes people cynical about politicians."