The Hewitt City Council on Monday applauded police for their swift action and life-saving efforts in a Feb. 5 bank robbery and shootout, and honored the officer who was shot while pursuing the suspect with a medal of valor.
The crowd at the council meeting gave a standing ovation to 11 officers along with three civilian staffers who were honored for their role in the response to the robbery of PointWest Bank.
Hewitt Police Chief Jim Devlin awarded Officer Clint Brandon, the first officer on the scene of the bank robbery, the medal for his acts outside the bank. Brandon engaged in gunfire with Dallas Scott Bohanan, 25, after Bohanan exited the bank, pulled out a weapon and began to shoot at Brandon.
"Not only did Officer Brandon receive a gunshot wound from the suspect, but a vest also saved a round from entering in him," Devlin said. "He was struck in the arm, but he was also struck in the vest. We consider that a vest-save and that doesn't happen very often."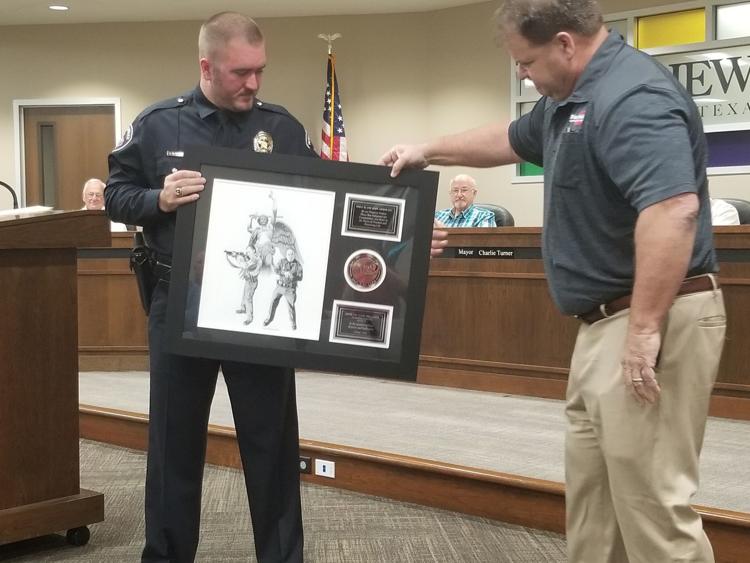 Clete Turner, a sales representative with Point Blank Body Armor, thanked Brandon for his efforts during the bank robbery. Point Blank, the company that produced the bullet-proof vest Brandon was wearing, quickly provided another vest within weeks for Brandon after his was damaged in the shooting.
"It is very important for us to recognize why we do what we do," Turner said. "Thank you for wearing your vest and thank you for your service to our country, state and your community."
Devlin presented honors to officers and civilian staff for their response during Bohanan's apprehension. He said the crime scene spanned about 10 miles and involved multiple jurisdictions, all which will receive honors from Hewitt police for helping Brandon and capturing Bohanan.
Bohanan has pleaded guilty to a federal bank robbery charge in the incident and faces a new state indictment charging him with shooting Brandon.
Federal charges include the PointWest Bank robbery in Hewitt, the Santa Fe Community Credit Union in Temple and the robbery of the Chase Bank, 320 N. New Road in Waco, though federal prosecutors agreed to waive that last count as part of the plea agreement. Bohanan is scheduled for sentencing Oct. 31.
Bohanan, who remains in federal custody, continues to have state felony charges of aggravated assault of a public servant and evading arrest pending in state court.