The recent "Operation Washout" warrant roundup has shed some light on the nature of gang activity in the Waco area, which is in line for a state anti-gang task force.
The multi-agency operation that ended Oct. 4 netted 119 people on felony charges, including 22 said to be affiliated with 10 different locally operating gangs. The groups listed range small-time car burglary rings to prison gangs such as the Aryan Circle and Mexican drug gangs, according to documents the Tribune-Herald obtained from the Texas Department Public Safety and U.S. Marshals Service.
The agencies have not released the names of the arrested people but did list their charges, which include capital murder, drug charges, aggravated assault and child sexual assault.
Waco Police Chief Ryan Holt said Waco police have identified at least 75 gangs operating in the area, some of which are involved in car burglaries, theft and the drug trade. But he said local, regional and federal efforts are helping to combat gang-related crime, and threat needs to be kept in perspective.
"Are we having criminal activity directly attributed to gangs? Yes," he said. "Is it something that affects the safety of the lives of day-to-day citizens? No. It is not something that causes me pause to have my wife or kids in Waco."
According to the Texas Penal Code, a gang is defined as "three or more persons having a common identifying sign or symbol or an identifiable leadership who continuously or regularly associate in the commission of criminal activities."
Texas Department of Public Safety Assistant General Counsel Albert DiMarco said gangs are often interconnected and can be associated with Mexican cartel drug and human trafficking operations.
The names listed in the Operation Washout documents include the Peckerwoods, Tango Blast, Aryan Circle, the 200's, Crips, Black Disciples, Brown Pride, Mexican Mafia, Bloods and Latin Kings.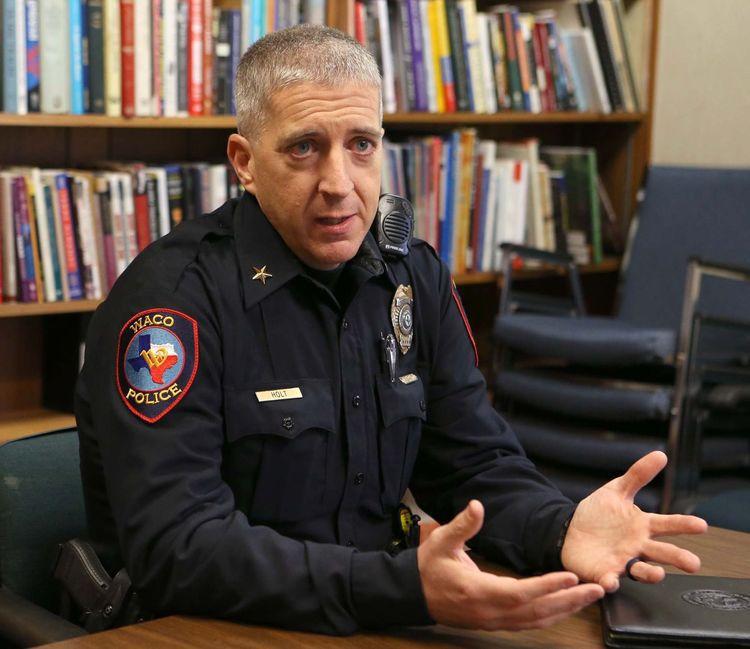 In presentations early this year to the Waco City Council, Holt sketched out different categories of gangs believed to be operating in Waco.
He said "Tier 1 gangs" are considered by state officials to be the greatest threat and are often involved in violent crimes. Of four Tier I gangs operating in Texas, two are documented to be operating in Waco: Tango Blast and Mexican Mafia.
Eight Tier 2 gangs are believed to be operating in Waco: Latin Kings, Bloods, Aryan Brotherhood of Texas, Crips, Bandidos, Sureño 13, Aryan Circle and Texas Syndicate.
Tier 3 gangs operating in Waco include Gangster Disciples and Raza Unida, Holt said.
He stated more than 1,000 identified and documented gang members are living in Waco and McLennan County with support from other undocumented gang members.
"So far, most of these gangs when they commit violence, it is usually on other gangs and it is very targeted," Holt said. "Overall crime is down, so you can't say the gang problem is such a large issue, but it is a very real issue that we as police are having to deal with."
Waco officers are dealing with what Holt called "hybrid gangs," which are groups of people who are splitting away from notorious groups to form their own cliques. He said the traditional idea of gangs has evolved from prison gangs to street gangs and even adolescent peer groups.
Mitchell Roth, a professor of criminal justice at Sam Houston State University, said some gangs are broken into different offshoots of larger gangs into neighborhood gangs. With the progression of technology, territory of gangs no longer exists in towns, he said.
"They aren't are as turf-oriented as they have been in the past, for instance like dealing crack on corners," he said. Now anyone with a cellphone can buy drugs, sex or guns without exposing themselves to street violence, Roth said.
Roth, an expert in outlaw gangs, said gangs are much more decentralized in their operations. He said most operations are "unsophisticated" in their recruitment compared to past decades.
"The Crips used to have 'Baby Crips, Junior Crips, and Original Gangster,' and they had members as young as 10 years old that they were indoctrinating early on," Roth said. "It is now not a one-size fits all, but it is mainly an urban problem, even getting into the suburbs now."
Roth said the more gangs that are identified, the better local departments can obtain state or federal funds to combat gang activity.
Last November, a DPS "gang threat assessment" reported that the Crips and Bloods gangs had a "significant presence" in Bell, McLennan and Williamson counties. It stated rival motorcycle gangs were continuing to challenge the dominant Bandidos gang that was involved in the 2015 shootout at Waco's Twin Peaks restaurant.
Earlier this year, Texas Gov. Greg Abbott's voiced support of two new anti-gang centers in Waco and Tyler, named Texas Anti-Gang Operation Centers. The center will be an expansion of the Houston-based center that will serve as a hub for local and federal agencies expected to open this fiscal year in Waco.
"Collectively, more than 9,000 arrests have been made by agencies participating in TAG center," DPS noted in its statement. "As evident by the results of Operation Washout and the collective arrest totals between local law enforcement partners within the TAG's, it is readily apparent that the power of collaboration targeting these criminal gangs have been proven to be effective means of reducing the impact of organized crime within our communities."