The young man in his early 20s had no history of mental problems, so he did not know what to do when he started hearing voices and hallucinating.
So he called 911 and asked for police to come over and help him. When officers arrived, the man, in the throes of his first onset of schizophrenia, was scared and confused, refused to come outside and became combative.
An officer sprained his ankle in the dust-up, and the young mental health patient went to jail, charged with second-degree felony assaulting an officer instead of being taken to a mental facility.
The young man's attorney, Cody Cleveland, thinks the case involving his client and others like him with mental disorders are why it is so important that McLennan County is creating two new specialty courts — a mental health treatment court and a veterans treatment court.
The new courts have been in the talking stages in McLennan County for years. But now, with the leadership of two judges who will head the courts and with the backing of a slew of community mental health and veterans team members, the new courts have evolved into the reality stage.
Judge Gary Coley Jr. of 74th State District Court will preside over the new veterans court, while Associate Judge David Hodges, a former longtime McLennan County court-at-law judge, will handle the mental health court docket.
Both judges hope to have their teams in place and to be screening applicants for their respective courts by July or August.
Cleveland said he has been "riding the docket," or delaying his client's trip through the criminal justice system, in hopes that the mental health court will be up and running in time to benefit the young man, who is facing up to 20 years in prison.
"He has since been diagnosed as schizophrenic, but this was really his first bout with schizophrenia," Cleveland said. "He had never had any symptoms and he didn't really know what was going on. He literally was losing his mind.
"He didn't try to put himself in a situation with the cops. It was more the mental breakdown that he had that led to this. The mental health court will be a perfect avenue for him to get past the criminal charge but not be roped in with some of your typical felons. I really believe somebody like him is exactly why they are creating that court."
The two new courts being created are similar in that they are designed to divert nonviolent defendants with special needs from becoming regulars at the county jail and to help them get the treatment and support they need.
However, like many major changes at the McLennan County Courthouse, the concept for the new courts stalled for a time while commissioners studied where the courts would operate, funding issues and which judges would preside over them.
Hodges is the county's utility infielder, appointed by commissioners last year and assigned as a permanent visiting judge to all seven courts in the county. If a judge is out or involved in a lengthy trial and needs a little help, Hodges gets the call to fill in. So far, he has been kept pretty busy.
He likely will preside over the mental health court on the fourth floor once the county converts the law library into a courtroom. Furniture should arrive in a few weeks, and county maintenance workers will start to renovate the library as quickly as possible. The county budgeted about $40,000 for the renovation, County Administrator Dustin Chapman said.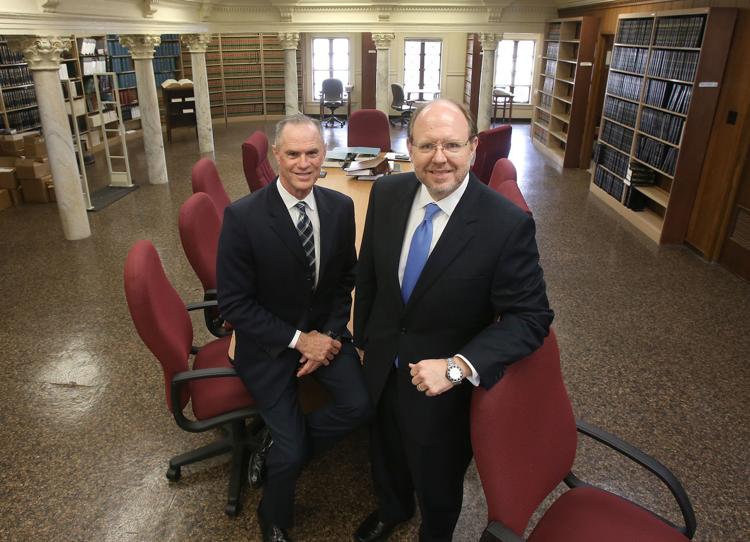 Hodges, 69, admits to being a bit frustrated at the pace at which the project is moving, but said it takes time to develop a new specialty court from scratch and to assemble the team of probation officers, prosecutors, mental health workers, jail officials and others who will be heavily involved in the operation of the court.
"It takes a while to get cases to court, so these people may sit in jail 30 to 60 days before they can get to court," Hodges said. "Most of the folks with mental issues are in jail for things like criminal trespass or shoplifting at Walmart. If we just plead them on the criminal charge, we haven't done anything to address the mental health issues. We hope this will prevent them from being in jail again and again by making sure they receive treatment for their mental illness.
"Essentially we are using the power of the robe, the presence of being in the courtroom, to make sure they are going to their counseling sessions, cooperating with MHMR, to make sure they are taking their medication, things like that."
Coley, 50, presides over the county's juvenile court and has a partial docket of civil cases. His court is at the Bill Logue Juvenile Justice Center on Gholson Road, and no one wants to make the veterans find their way there to attend veterans court or make their way to the fourth floor of the courthouse in cramped elevators shunned by many combat veterans to find the new courtroom.
So Coley thinks the veterans court will be held on the first floor of the courthouse in the commissioners' courtroom.
While he stays busy managing his regular docket, Coley jumped at the chance to preside over the veterans court. His father is a Vietnam Army veteran who suffered serious combat injuries that left him 100 percent disabled and confined to a wheelchair.
"It is personal for me," Coley said. "I have a personal connection with someone who military service drastically changed the course of his life. He has been lucky to have a lot of family and support, but a lot of folks who come back don't have that support system or those folks around them.
"I think we owe it to everyone who served to make it possible to get them back on track. These folks deserve it. They made a commitment to put their lives on the line for our country, and we need to to do the best we can to provide these services for them so they can get the help they need."
Both judges said it might take some time to build a caseload, but each said the respective courts eventually will serve from 30 to 35 defendants at a time. Some will be in the program after misdemeanor or minor felony convictions, others will be diverted from the system before their cases are adjudicated, the judges said.
Both judges say they will rely on support teams to make the programs work. However, the veterans court will enjoy the advantages of U.S. Department of Veterans Affairs officials behind them, including a newly hired veterans justice outreach officer, officials at the Heart of Texas Veterans One Stop, the Baylor University Law School Veterans Clinic and both the Veterans Affairs Regional Office and the Veterans Affairs Medical Center.
McLennan County Veterans Services Officer Steve Hernandez said he first discussed the idea of a veterans court with commissioners about seven years ago. He said he is grateful Coley stepped up to get the program "off high-center."
"It takes a special type of judge to oversee this program," Hernandez said. "It has been my experience that the veteran does fall off from what he has been mandated to do, whether it is relapsing on drugs or alcohol or other things. It helps to have a judge like Judge Coley to decide if it is in the veteran's and society's best interest to get them off the program and send them to jail or keep them in the program and give them another chance."
Josh Borderud, who runs the veterans clinic at the Baylor Law School, has been involved in the formation of the new veterans court. The clinic features law students and volunteer lawyers who give legal advice to veterans at the Veterans One Stop.
Borderud and Hernandez pushed for the creation of the veterans court in a presentation to county commissioners that promised the county could save money by keeping veterans with service-related mental health issues out of the jail, a sweet refrain to the ears of all county commissioners.
According to the Veterans Administration's Veteran Re-entry Search Service, there were 698 veterans booked into the McLennan County Jail in 2016, 675 in 2017 and 421 veterans as of June 17, 2018.
Of 31 veterans in jail in July 2018, Borderud reported that 17 were nonviolent offenders who could possibly benefit from a veterans treatment court.
There are around 180 veterans courts in the United States and about 25 in Texas, he said. He told commissioners it costs about $1,800 a month to house a county jail inmate. At full capacity, the court likely will have 30 veterans in the program, and if the court keeps 10 veterans out of jail per month, the county would save $18,000 a month, he said.