The son and grandson of triple-murderer Billie Wayne Coble are disputing the disorderly conduct and resisting arrest charges they face after an outburst while witnessing Coble's execution last week.
J.R. Vicha, whose father and grandparents Coble killed in 1989, said he feels for the surviving Cobles and hopes prosecutors decline to pursue the charges.
After Billie Coble gave his final statement Thursday evening and closed his eyes as a lethal injection was administered, his son, Gordon "G.W." Coble, started hitting the window to the execution chamber with both fists and screaming for his father. Guards rushed in and removed G.W. Coble and his son, Dalton Coble. They were both arrested on misdemeanor resisting and disorderly conduct charges and released from Walker County Jail on $1,000 bond the next day.
Gordon Coble said he did not attack the glass or anyone before he was pulled from the room.
"I was collapsing backward into my son's arms, basically," he said. "I didn't know he was going to catch me, but he did. We were headed to the floor and got attacked."
J.R. Vicha, a defense attorney in Waco and former McLennan County prosecutor, witnessed the execution but was not in the same room as the Cobles.
"I didn't see (the outburst). I don't know what happened, but I heard it," he said. "I feel like G.W. is also a victim in all of this. He didn't ask for any of this. That had to be very emotional for him.
"I would hope the prosecutors down there would refuse the case and let him go on with his life."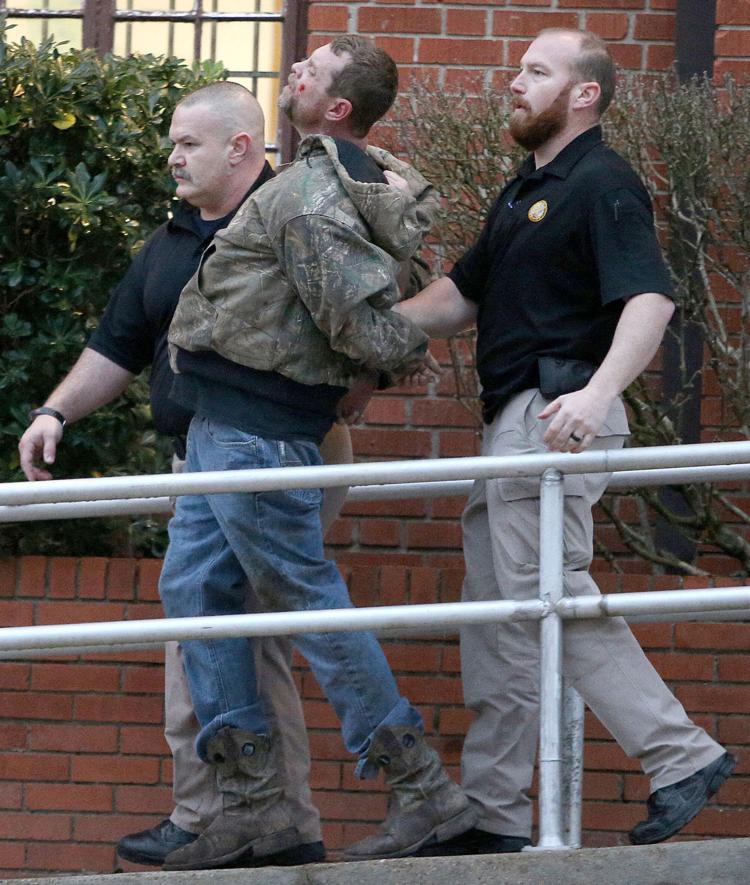 Billie Coble was executed in a Huntsville prison for killing his estranged wife's brother, Waco police Sgt. Bobby Vicha, and her parents, Robert and Zelda Vicha, in 1989. He also tied up four children, including an 11-year-old J.R. Vicha, and kidnapped his wife, threatening to kill her, before police stopped him.
Walker County District Attorney Will Durham said his office had not received charging documents against the Cobles as of Tuesday night.
"I haven't been given the information yet about the execution incident," Durham told The Huntsville Item newspaper. "I anticipate that it will likely be my office and likely misdemeanors only. But we will have to see any video and reports from (Texas Department of Criminal Justice) first."
Witnesses contradict
Gordon Coble said he did not violently hit the window with his fists and resist officers, despite witness statements from reporters in the room, including from the Tribune-Herald, The Huntsville Item and KCEN-TV.
Gordon Coble said he and his son were not formally told what they were being charged with for several hours.
"They beat the living s--- out of us, and my son, he doesn't have anything on his record. But now his job is in jeopardy," Gordon Coble said. "He missed a day of work, and his concealed handgun license might get revoked, and all because he caught his dad and supported me emotionally in one of the hardest times in our lives."
Officials said the Cobles received medical attention before they were booked into Walker County Jail.
Gordon Coble said he suffered a pinched nerve, injuries to his shoulder and back, and superficial injuries to his body. He said his son was also injured.
"We were not there for any type of violence," he said. "My heart goes out to the Vicha family. I've said many, many times that if I could give my life to bring back their loved ones, I would do it in a heartbeat. They didn't deserve what happened to them, and we didn't deserve what happened to us."
He said his father had expressed remorse for the murders before his death and that he was overcome with an unknown force before the killings.
"I've told my dad he was wrong in doing it, and me and him have come to terms with that," Gordon Coble said. "But you know the person they executed was not the person that committed those crimes. He changed in 30 years."