---
A Baylor University graduate filed a Title IX lawsuit against the school Friday in U.S. District Court, alleging a culture of sexual violence that included 52 rapes in four years.
The plaintiff, named in the suit as "Elizabeth Doe," said she was raped by former football players Tre'Von Armstead and Myke Chatman. The two former players have been named in a Waco police report alleging sexual assault.
The lawsuit centers on a culture of sexual violence in recruiting under Art Briles, who was fired as head football coach in May. Briles' firing followed a nine-month investigation by Philadelphia law firm Pepper Hamilton LLP into Baylor's handling of sexual assault allegations and came on the same day Ken Starr was removed as the school's president.
Coaching staff members encouraged the culture, the lawsuit alleges, by arranging for women to have sex with recruits on official campus visits.
"On one such occasion, a Baylor football player stated that Baylor coaches sent two women from the Baylor Bruins program to his hotel room and the room of another recruit to engage in sex with the two men," the lawsuit said.
The 52 rapes allegedly include five gang rapes. At least two of those five were committed by 10 or more football players, and some of the players video recorded the rapes on their phones and sent the recordings to other teammates, the lawsuit alleges.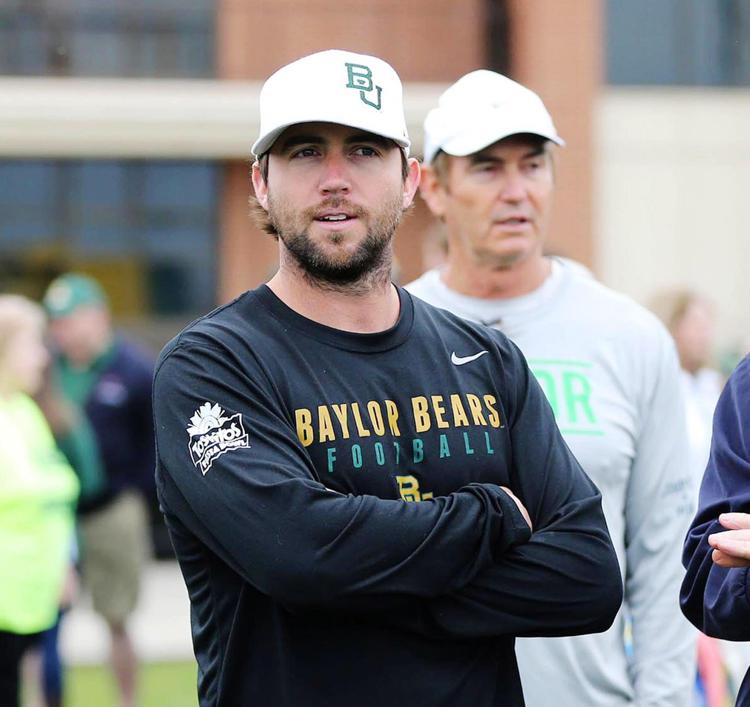 The suit claims former offensive coordinator Kendal Briles, while recruiting one Dallas-area high school athlete, stated, "Do you like white women? Because we have a lot of them at Baylor and they love football players."
Doe claims Baylor violated Title IX and was negligent with her claims.
In a statement Friday evening, Baylor interim President David Garland said, in part, "Our hearts go out to any victims of sexual assault. Any assault involving members of our campus community is reprehensible and inexcusable. Baylor University has taken unprecedented actions that have been well-documented in response to the issue of past and alleged sexual assaults involving our campus community. . . . Baylor has made a strong commitment to a values-driven culture in accordance with our Christian mission."
Boulder, Colorado, attorney John Clune, who represents Doe along with Waco attorney William Johnston, acknowledged Baylor's recent work, but said his client's case is so egregious that the suit had to be filed.
"We have been working with Baylor on these football cases since the start, and though we have appreciated their efforts thus far, this is one that needed to be filed," Clune said in a statement. "As hard as the events at Baylor have been for people to hear, what went on there was much worse than has been reported. We do still appreciate the progress that Baylor has made and know that the school will be a better place when this case is over."
Baylor waited at least a year and a half to investigate the case, ESPN reported.
Armstead was dismissed from the team for an "unspecified team rules violation" on Sept. 18, 2015. He played in the 2015 season opener on Sept. 4, but was held out of the second game for an unspecified reason before being kicked off the team.
Armstead was expelled from Baylor in February 2016 and his appeal of his expulsion was denied, according to the ESPN report. Chatman transferred from Baylor and has played at Sam Houston State University.
Chatman was previously accused of raping another Baylor student, a student trainer, at his off-campus apartment, according to the lawsuit. When the alleged victim reported it to the Baylor's athletics department, a staffer warned the team to "get control over their players," or the team would no longer have student trainers.
Baylor is believed to have reached an agreement with the victim to pay for her education in exchange for a non-disclosure agreement, the lawsuit states.
Baylor did not take action against Chatman and moved the trainer from her football assignment to a women's sports team, the lawsuit states.
Doe joined the Baylor Bruins program in fall of 2012, believing it to be an informal sorority to make friends.
The lawsuit claims the program is a "hostess" program meant to use attractive female students to escort football recruits and their families on official visits.
"Unofficially, the Bruins are expected to make sure the recruits have a good time by socializing with the recruits, attending parties and seeing to it that the recruits enjoy their visit to Baylor . . . Some Baylor Bruins were at times used to engage in sexual acts with the recruits to help secure the recruits' commitment to Baylor," the lawsuit states.
The lawsuit alleges that Bruin hostesses were impregnated by football players on more than one occasion, and in Doe's case, a member told her to tell police she had " 'consensual sex with one white male' in an apparent effort to protect the Baylor athletes."
A woman with the Twitter handle @callme_norm, whose account is attached to the name Katie Norman, claimed to be a former recruiting chair of the Baylor Bruins and tweeted Friday evening, "I'm not sure if someone outside our organization told someone to sleep with a recruit, but no one in Baylor Bruins ever told someone to."
In a subsequent tweet, Norman wrote, "I was assigned to some of the best recruits we ever had. Not one person EVER asked me to do anything except hang out with them at games."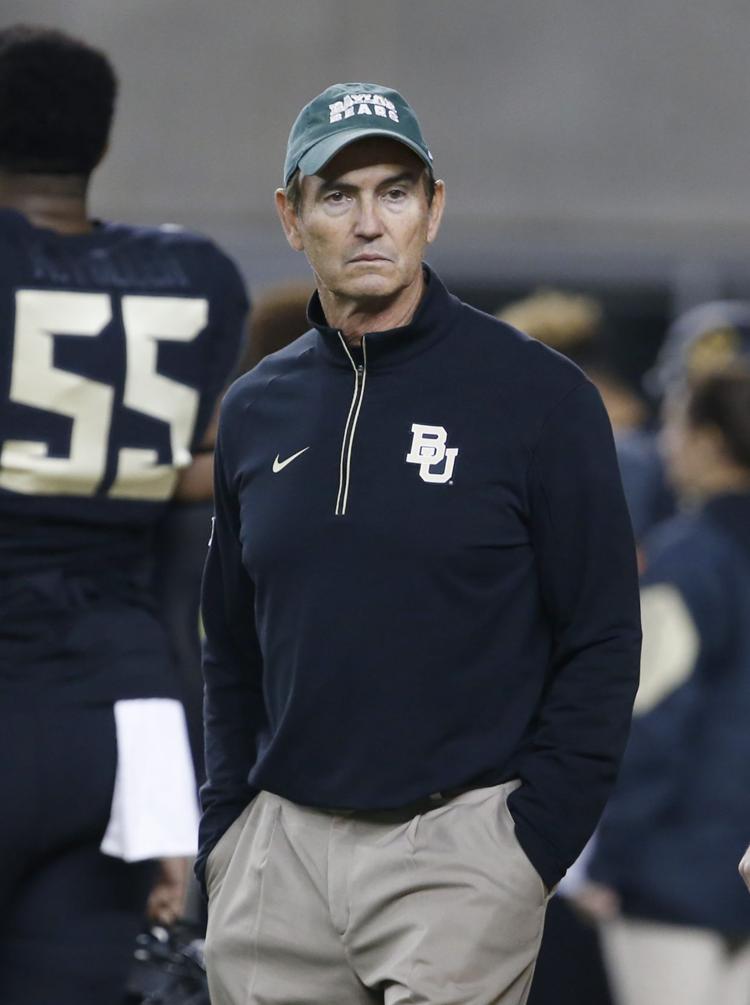 The lawsuit cites Art Briles, who was hired in November 2007 to rebuild the football program, as saying, "What we have to do is win football games. That's our mission."
The lawsuit alleges from 2009 to 2015, football players were involved in numerous crimes involving "violent physical assault, armed robbery, burglary, drugs, guns, and notably, the most widespread culture of sexual violence and abuse of women ever in a collegiate athletic program."
Football recruiting and efforts by staff used sex to sell the program, the lawsuit states. Paying for and escorting underage recruits to bars and strip clubs, players arranging for women, alcohol and illegal drug use for parties when recruits were in town and paying for off-campus parties, which resulted in gang rapes of women by athletes, are among the lawsuit's allegations.
Investigation by lawyers turned up at least 52 "acts of rape," including five gang rapes, by 31 football players from 2011 to 2014.
Baylor's policies come under fire in the lawsuit, stating there was little to no discipline for football players and a policy of interference with female students' access to help. Football staff allegedly conducted their own untrained internal inquiries to abuse reports, which discredited complainants and denied them a right to a fair trial, the lawsuit states.
The lawsuit claims Doe was raped by the two players April 18, 2013, after a party off-campus on Diadeloso, a campuswide day of celebration on which Baylor classes are canceled.
The party was hosted by Shawn Oakman, who was then a first-year transfer student-athlete from Penn State University. Oakman has since been indicted on a separate sexual assault charge, stemming from an alleged April 2016 rape at his off-campus apartment.
Doe, Armstead and Chatman returned to Doe's apartment following Oakman's party, according to Doe's lawsuit. Doe's roommate's boyfriend called police after he heard "what sounded like wrestling and a fist hitting someone," then a woman's voice loudly saying "no" in a closed bedroom, which Armstead and Chatman left a short time later, the lawsuit states.
Before police arrived at the apartment, another Baylor Bruin — apparently already aware of the incident — came to the residence and told Doe to tell police she had "consensual sex with one white male," according to the lawsuit.
"The Title IX investigation would later show that Chatman had called the Bruin and given her this assignment," the lawsuit alleges. "The Bruin remained on scene when the Waco Police Department arrived, interfering with Ms. Doe's recitation of events. Nonetheless, the roommate's boyfriend and Ms. Doe's roommate clearly reported the events as rape by Chatman and Armstead."
Police at the scene noted that Doe was drunk and had physical injuries. They told Doe the alleged rape "was likely too difficult to prove and gave Ms. Doe the alternate option of placing the investigation in 'suspended' status. Not wanting the Waco Police to close the case, she chose suspended status," the lawsuit states.
Waco police spokesman Sgt. W. Patrick Swanton was unavailable to comment on the lawsuit's claims late Friday, including the claim that Waco police never attempted to interview Armstead or Chatman.
Baylor police also took no action on the case after being notified by Waco police, the lawsuit alleges.
Doe began suffering daily panic attacks, fearing she would see Armstead on campus, according to the suit.
Baylor's Title IX staff, including former coordinator Patty Crawford and former investigator Gabrielle Lyons, started investigating the case in fall 2015. An outside adjudicator found Armstead responsible, leading to Armstead's expulsion in spring 2016. Chatman had already left Baylor by that time.
Briles and Starr were fired May 26, 2016, after Pepper Hamilton found "fundamental failure" in Title IX implementation and a football program "operating above the rules," according to information released by the school's regents. The numbers alleged in Doe's lawsuit — at least 52 rapes by no fewer than 31 players under Briles, including at least five gang rapes — stand in stark contrast to figures Baylor regents told to the Wall Street Journal in October. Board Chairman Ron Murff and regent J. Cary Gray told the Journal 17 women reported sexual or domestic assaults at the hands of 19 football players since 2011, including four gang rapes.
Baylor now faces six Title IX lawsuits, including Doe's, and Pepper Hamilton faces a negligence and defamation suit filed by former athletics staffer Tom Hill, who was also fired amid the fallout of the sexual assault scandal.
Briles, who accepted an undisclosed financial settlement as part of his firing, has sued three regents and a senior administrator, alleging libel, slander and conspiracy.
Baylor has reached at least three settlements with sexual assault victims. Clune represented those victims, and lawsuits were not filed.
Staff writer Kristin Hoppa contributed to this report.
---