A former Baylor University student testified Wednesday that former Baylor football player Shawn Oakman prevented her from leaving his off-campus duplex in April 2016 and raped her.
Prosecutors Robert Moody and Hilary LaBorde called eight witnesses Wednesday, the opening day of testimony in the 26-year-old Oakman's sexual assault trial, and said they will rest their case against Oakman in the morning after the testimony of Waco psychologist Lee Carter.
The alleged victim, who was a 22-year-old graduate student working on her master's in public health at the time, said she texted Oakman and invited him to meet her and her friends that night at Scruffy Murphy's, a Baylor-area bar. She said she had been drinking with her friends at an apartment and at Cricket's, another bar, and was drunk before she got to Scruffy Murphy's, where she had more drinks.
She said she met Oakman the year before and they had a sexual relationship that lasted for awhile before they agreed to part as friends. She said her memory of the night is "spotty" but that she remembers standing on the porch of Oakman's James Avenue duplex, which is just behind Scruffy Murphy's.
She said Oakman had to hold her up while he was trying to open the door because she was so drunk. She said it is possible that is how she might have received a bruise on her arm that prosecutors showed the jury a photo of.
She said she wanted to leave, but Oakman would not allow it. She said the next thing she remembers is being face-down on Oakman's bed while he removed her clothes and raped her. She said Oakman later turned her over and raped her again.
After the alleged assault, she wanted to leave, saying she was in such a hurry she put her shirt and jacket on inside-out and left behind her underwear and an earring. She said at first, she did not want to tell her friends what happened, but they coaxed it out of her because they could tell something was wrong.
"I knew something had happened to me and I knew it wasn't right," she said.
She said she has not been able to live alone since the incident, she sometimes has to sleep with her mother and has frequent nightmares. She cannot sleep in a room with the door closed and is paranoid, anxious and fearful, she told the jury, crying softly throughout much of her testimony.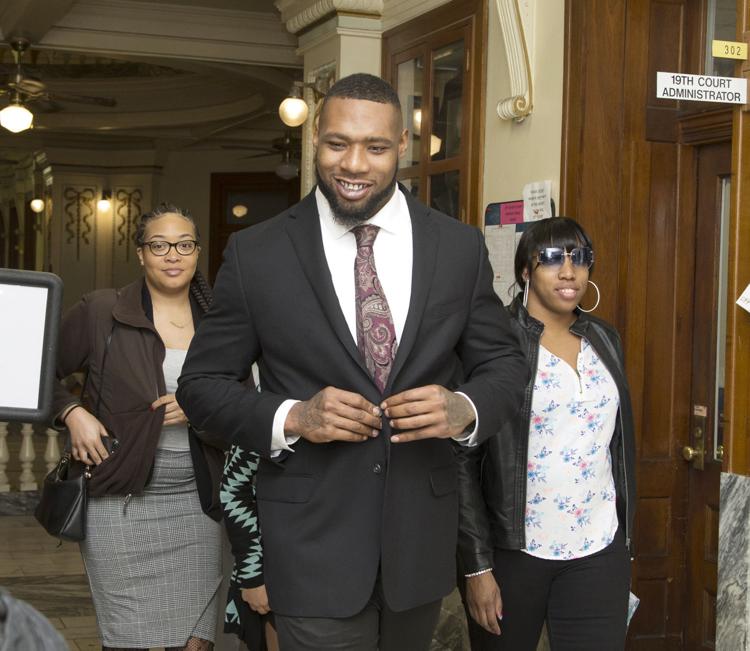 During cross-examination, defense attorney Alan Bennett asked her about a series of text messages she sent that night. One was to Oakman earlier in the evening, and others were to her friends at bar closing time. Her friend, Alicia Duval, asked her if she was going to be OK and if she was leaving with Oakman. She told Duval to go on home, she would be fine.
Duval texted back, telling her not to feel pressured to stay at Oakman's. She texted she would be OK, and Duval responded, "OK, ballin', have fun."
She told Bennett she does not remember telling Waco police Officer Danny Pilgrim, the state's first witness, that Oakman choked her. Pilgrim and Michele Davis, a sexual assault forensic examiner, both testified that the woman did not appear overly intoxicated at the hospital during her examination, but both said she was very upset.
However, the woman told Bennett she threw up at the hospital, so it should have been clear to the officer and others that she was drunk.
Davis, a nurse at the Advocacy Center for Crime Victims and Children who has performed more than 500 sexual assault exams, said the woman told her Oakman raped her. Davis said she told her Oakman also choked her and that she noted in her report that the woman said Oakman enjoyed her struggle for breath.
Davis said her exam revealed six vaginal tears, three areas of bruising, redness and bleeding, all consistent with sexual assault. She noted in her report the woman told her, "He turned me over and got on top of me. I just zoned out and I was so scared and wanted to leave."
Davis cited studies that found 6 to 10 percent of people engaging in consensual sex report redness, bruising or tearing. In cases of sexual assulat, injuries are four to 20 times more likely, Davis told the jury.
Bennett told jurors in opening statements that the woman willingly had sex with Oakman that night.
Duval and another of the woman's friends, Kaitlyn Prelde, both said the woman was disheveled, panicky, upset and crying when they saw her after she left Oakman's duplex. She said she reluctantly told them what happened, not wanting to report it at first because of the notoriety surrounding Oakman, Baylor's all-time sack leader and a potential NFL draft pick.
After convincing her to go to the hospital, the woman, who they described as "emotionally drained," stayed with Duval for a few days.
"It was like the life was sucked out of her," Duval said. "It's still like that. It's just very hard seeing your best friend go from being very happy to not wanting to live anymore."
Pam McKown, a therapist who treated the woman, said she diagnosed her with post-traumatic stress disorder and major depressive disorder.
Bennett and co-counsel Jessi Freud told Visiting Judge Michael Snipes late Wednesday that they intend to call about six witnesses in Oakman's defense. They did not reveal if Oakman will testify.
---
Live updates from the trial
---