The Texas Attorney General's Office will not help McLennan County prosecute a Twin Peaks case McLennan County District Attorney Abel Reyna recused his office from last week.
Hours before a hearing in which Reyna had been subpoenaed to testify, he dismissed 13 cases that had been pending almost three years, refused prosecution in eight others that had not been indicted and recused his office in the Twin Peaks shootout case involving Billy Jason McRee, a former Cossack from Seagoville.
Judge Ralph Strother of Waco's 19th State District Court thought the county could save money by asking the AG's office to take the case instead of having to appoint private attorneys to prosecute the case.
Strother received a letter Tuesday from Lisa Tanner, chief of the AG's criminal prosecutions division, who said the state lacks the resources to accept the request, "largely due to nine death penalty prosecutions" the office is involved in that are set for trial this year.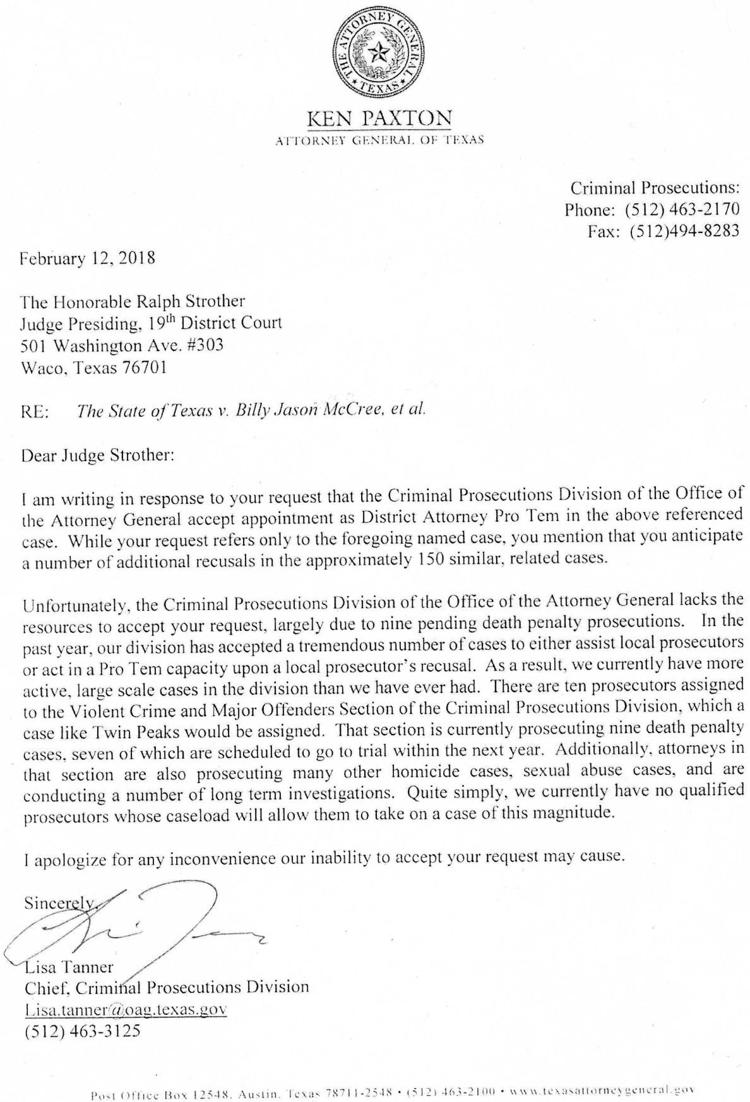 The letter states the division has more "active, large-scale cases than we have ever had," including capital murder, murder and sexual abuse cases.
"Quite simply, we currently have no qualified prosecutors whose caseload will allow them to take on a case of this magnitude," Tanner wrote.
Strother said Tuesday he now will ask if three Houston attorneys who were appointed in November to handle another Twin Peaks case Reyna recused his office from will handle McRee's case.
Reyna recused his office in Matthew Clendennen's case in late October, and Senior Judge Doug Shaver, of Houston, appointed Brian M. Roberts, Brian Benken and Feroz Merchant as special prosecutors in the case. Strother's office had not heard back from the attorneys Tuesday afternoon.
Fort Worth attorney David Conrad Beyer, who represents McRee, said the AG's office might be reluctant to take the case because he has indicated he is going to call Assistant Attorney General Christopher Lindsey as a witness in the case.
Lindsey, who served as liaison between state agencies and Reyna's office during the first Twin Peaks trial involving Jacob Carrizal, was secretly taped by Carrizal's attorney, Casie Gotro. Carrizal's trial ended in a mistrial, with most jurors leaning toward acquittal.
Lindsey can be heard on the recording telling Gotro that Reyna urged a Texas Ranger to withhold evidence in Carrizal's case and said he thinks Reyna is "deluded" and cannot be trusted.
Besides Lindsey working for the AG's office, Beyer said he thinks the AG will not accept the case because it is weak.
"I know that the AG's office is a very large organization, and the fact that they can't find anybody to handle these cases is pretty indicative of their opinion of the prosecutability of these cases," Beyer said. "We are trusting that whoever they appoint to this case will do what justice requires."