Hundreds of pedestrians pass by the Roosevelt Building parking lot at Fifth Street and Austin Avenue with scarcely a second thought about the open space or the historical marker planted at its corner.
For Waco businessman and arts supporter Clifton Robinson, that empty space is filled with memories: It's the fatality epicenter of the devastating 1953 Waco tornado that leveled blocks of downtown and killed 114 people, nearly half of whom died within a block of the state historical marker.
Such a pivotal moment in Waco's history needs more than a metal marker that so many pass by without regarding, he believes, and the Waco City Council will hear his solution: a trio of wind-driven kinetic sculptures aimed at catching the eye of passersby, both tourist and resident.
Robinson, 81, and his wife Betsy plan to buy three wind-driven sculptures from Santa Fe, New Mexico artist Mark White — two of his Oscillators and one Passion Flower — and install them, with permission of property owners Frank and Bland Cromwell, at the corner of the Roosevelt Building parking lot's Austin Avenue entrance. "I'm not an artsy guy at all, but I'm very community-minded," he said.
For Creative Waco director Fiona Bond, who will speak at Tuesday's city council work session on the subject, the sculptures offer a step into new dimensions of Waco public sculpture. The project would be a private-public arrangement where the city is a steward of private art on private property. It also opens the possibility of other sculptures and markers creating a Waco tornado walk.
The arrangement would allow the city to "adopt" a privately funded piece of public art, so the city would have some input on the fate of a work should the property on which it stands changes hands, Bond said.
"It's a great way for making a bigger canvas for public art," she said.
The wind-driven pieces will be planted several hundred feet from a teardrop shaped memorial to the victims of the 1953 tornado, located at Fourth Street and Austin Avenue, but will not affect that memorial. Plans are in the works to contact the Texas Historical Commission about the prospect of moving the existing Waco tornado historical marker closer to the wind sculptures. The sculptures themselves will also have an interpretive plaque.
Robinson is the lead donor in the city's two largest collections of public sculptures, the Branding the Brazos tribute to the Chisholm Trail in Indian Spring Park with its three larger-than-life trail drivers and nearly two dozen head of Longhorn cattle, and the yet-to-be-installed Sculpture Zoo walk announced last spring.
Bond recently approached Robinson about possibly sponsoring a wind-driven kinetic sculpture, something more abstract and symbolic than the representational art he and his wife usually support. What caught his attention was using White's moving art to catch others' attention to a monumental day in Waco's life.
Robinson, then a 16-year-old Waco High School sophomore, was at home after school when the 1953 tornado hit, but recalls the days that followed when he and friends joined thousands of volunteers and National Guardsmen in clearing rubble by hand, first looking for survivors, then bodies needing burial.
He had friends who were killed serving as lifeguards at the Cotton Palace swimming pool when the roof of an underground shelter collapsed. Other Waco High friends lost parents and siblings. Robinson's family home on Parrott Avenue was near the former Hillcrest and Providence hospitals. "We heard ambulances all day and all night for weeks," he recalled.
Burying the dead and clearing ruined buildings was only the start of recovery, he said, a process that took years if not decades. "None of us realized the impact of what (the tornado) would do to Waco," Robinson said.
That's why he felt it important that the site of the greatest damage, the R.T. Dennis Building and its neighbors, in the space now used as the Roosevelt Building parking lot, have some sort of physical reminder. "I want people to say, 'Wow. We're standing where that happened,'" he said.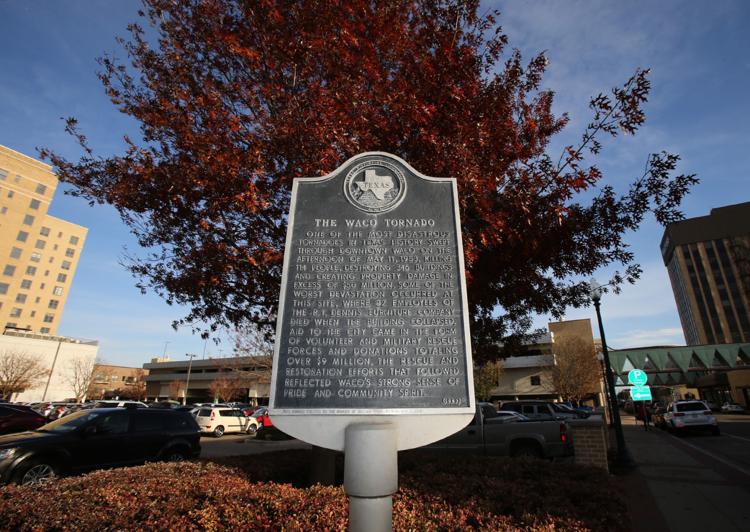 Bland Cromwell and his brother readily agreed to Robinson's proposal, granting him use of their property and offering the city an easement to the work.
"We were thrilled to be part of it. It's a good spot to put it. It's in an area of walking tourism and can easily be seen. It's also real close to the actual site of the R.T. Dennis Building," he said.
Bond notes that there's a Waco tornado walk in the various themed walks held by the volunteer group Waco Walks to give participants a feet-on-the-ground perspective of the deadliest day in Waco history. There's no formal path in mind for a tornado sculpture walk nor any additional sculptures or markers, but the door is open for those who might be interested.
"We hope this will encourage other people to become involved. We're creating a framework for this to be possible," she said.
Robinson has no plans to add other tornado sculptures, but does have a grand vision of linking outdoor sculptures at Baylor University, McLane Stadium, the Texas Ranger Hall of Fame, the Branding of the Brazos and Sculpture Zoo into a miles-long circuit that would draw the eye of outsiders to his home city. "It would be as big as anyone has seen in the United States," he said.
Editor's note: Clifton Robinson owned the Tribune-Herald from 2009-12.