Stan Mason was 7 when two Waco police officers came over to him and his family at the bus station to say hello and ask how they were doing.
Mason immediately was struck by how nice the officers were and became enamored with their big black belts lined with rows of shiny bullets and the .38-caliber revolvers they sported on their hips. He told his mother then that he was going to become a Waco police officer.
That was 50 years ago. Mason now has four days left before he retires after a successful 25-year career with the Waco Police Department.
The lanky, 6-foot-4-inch Mason is well known as an officer who goes out of his way to try to make a difference in the lives he touches, who digs into his own pocket to buy kids meals or pay for haircuts and who works to improve relations between police and the rest of the community.
He also is known as someone who is not afraid to take controversial positions that he knows make some uncomfortable and alienate others, such as using his weekly webcast at stanmason.com to call out police violence against black people, racism in our society and to support former NFL quarterback Colin Kaepernick's decision to kneel in protest during the national anthem before games.
"Stan was a striking authority figure in law enforcement," Waco police Sgt. W. Patrick Swanton said. "He is a big, tall, skinny guy and he contributed to us being able to develop some good relationships in areas where it wouldn't have been that way if not for Stan. He was one of those guys who would do what he could for kids. He didn't want a bunch of fanfare about it. But if he could buy a kid a sandwich or make sure they had Christmas gifts, he would do those kind of things. He just helped them and moved on to the next person in need.
"Stan gave 25 years of his life to the city and those people of Waco, and we are grateful for the service he has provided for the community and everything he did for the Waco Police Department."
Mason had his chance encounter with the Waco officers as a boy while his family was visiting his mother's family in Waco. Mason's father, who spent 30 years in the Army and Army Reserves and later worked for the U.S. Postal Service, was stationed at Fort Hood when he met Mason's mother. The family moved to Harrisburg, Pennsylvania, where Mason, his brother and three sisters were born.
"Our neighborhood was one big family," Mason said. "You could literally walk into anybody's house at dinner time and sit down and eat. You know the way the old days were. We didn't have much, but we didn't know it because the people next to us didn't have much, either. So if you had a little more of not having much, you had more than they had."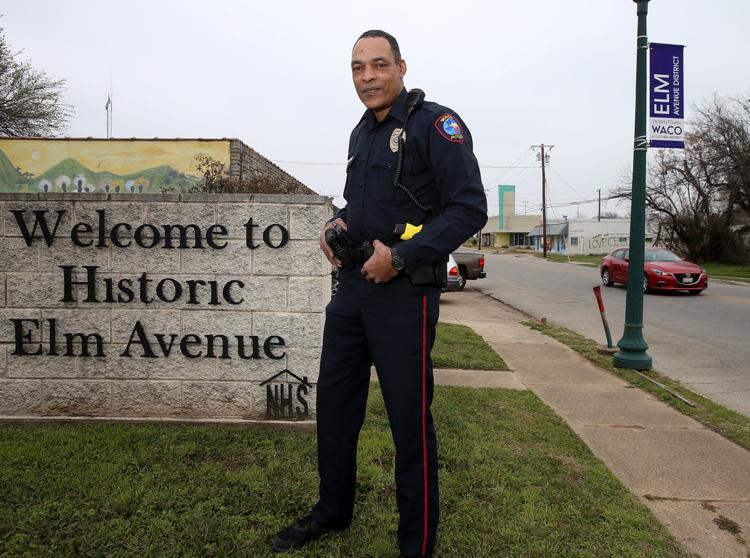 Mason's pleasant experience with the Waco officers contrasted with what he calls inner-city "northern policing" and helped shape the officer he would become. Four years later, Mason and a friend were walking home from the mall in Harrisburg when a lady reported her purse had been snatched.
"The next thing we know, a Harrisburg officer stops us and puts us in his car and took us over there to see this lady," Mason said. "All I remember is her saying, 'Not those two.' I will never forget that because all that lady had to say was 'yes,' and my life probably would have been dramatically different. That left a bad taste in my mouth for policing. That really bothered me for a long time."
After graduating from high school, Mason spent 11 years in the Air Force as a law enforcement specialist. He was in Saudi Arabia during Desert Storm at Taif Air Force Base, where his job was to protect the base, its planes and cargo.
True to his youthful prediction, Mason moved to Waco after leaving the Air Force in 1993 and got a job with a security company. Eighteen months later, he was a Waco police officer.
"When I got hired here, those two events with those officers really planted a seed for who I am," Mason said. "I didn't like what happened to me up there, but I had two choices. I could complain about it and point fingers and blame police or I could come in and change it from the inside."
Mason's security job had him driving to Dallas three times a week and walking around the parking lot of a Motel 6 for 12 hours. The other two days, he worked at the Waco school district's alternative school, where he formed his affinity for helping at-risk kids and a desire to help turn their lives around.
On the day he was to take the Waco police entrance exam, he had been up all night and drove back to Waco to find 760 applicants lined up for 21 open slots. The long line discouraged Mason, and he turned to leave.
"As I was walking away, a voice in my head said, 'I brought you this far and you are going to quit?' I went back and got back in line and said, 'God, I'm tired. I need you to take this test,'" Mason said.
Mason scored the highest grade out of all the applicants. A year later he became the first minority officer to win the Waco Police Department rookie of the year award, his first formal honor in a highly decorated career.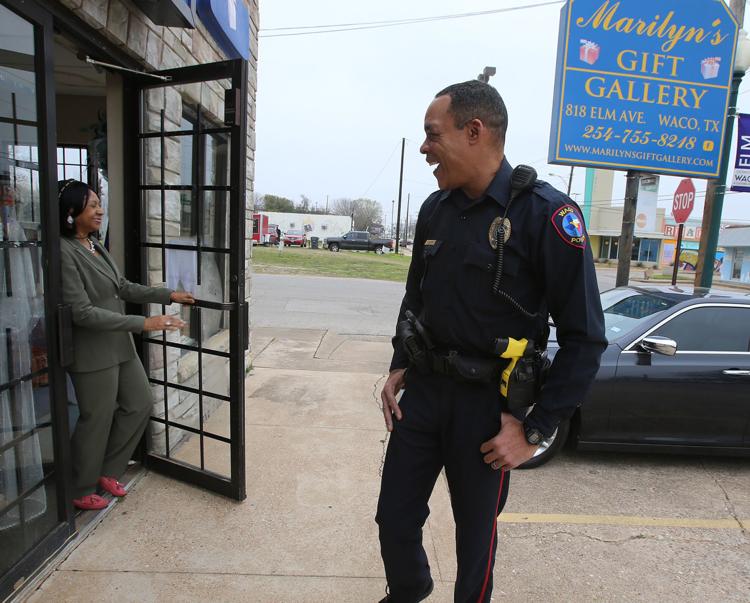 A proponent of community policing and tackling community problems head-on instead of merely reacting to calls, Mason said he is proud of the city he lives in now compared to that of the early '90s, when the crack cocaine wars were raging and murders were commonplace.
"I am proud of this city because Waco is an example of what a city and a police department can do when they work together to solve crime and homelessness and hunger and poverty, when they both come in and get through the hard conversations and finger pointing and sit down and solve the problems," Mason said. "This city should do more to advertise its greatest resource, which, in my opinion, is not Baylor and is not Magnolia.
"It's the citizens. This city is very diverse. We do not have the racial strife that other cities have. We don't have the anti-police sentiment that other cities have. Sure, we have homeless people here, but you don't have to go far to see citizens feeding homeless citizens here. When somebody's house burns down, you have citizens come together to help those people."
Mason was one of the first officers chosen by former Waco Police Chief Gil Miller to kick off a community policing initiative. Officers went into neighborhoods, got out of their cars and asked residents in blighted areas how they could work together to make things better.
"We need to change and we also need to teach people to change," Mason said. "Policing's core concept has not changed in close to 10 years. Sure we have better technology and faster cars, but the concept of what policing is supposed to be has been lost in transition. I don't know if you want to call it an inability or an unwillingness or sheer ignorance of policing as an institution to look at an ever-changing society and say we need to get better at this. We don't get out of the cars and interact with the people as much as we used to."
The department started the community policing program one neighborhood at a time, Mason said. Police held community meetings, listened to problems and worked together with the budding neighborhood associations to try to make them better places to live.
"The profession of policing does a lousy job of explaining to citizens the things they should know about policing," he said. "There is a difference in responding to a call and solving a problem. The call is a result of a problem. I can work the call and not solve the problem, and that is where you get repeated incidents. There are different types of policing. I have a very nontraditional approach. I understand that. I look beyond the call. I don't see calls. I see problems."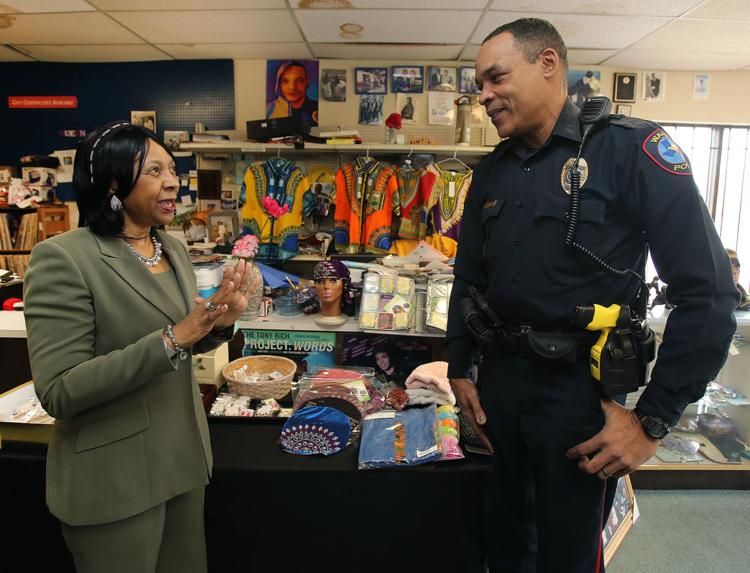 Mason labels the concept of policing he tries to promote as "roaches, mice and rats." He explains that if you think of the city neighborhoods as apartment complexes, many apartments are going to have roaches. Those can be considered complaints for drunks, loud music, prostitutes — things that Mason says will not hurt you but will embarrass you if company comes over.
Then there are the mice. You never see them, but you see their droppings, shredded paper and the like. Those are the burglars, car thieves, graffiti artists and others — the ones you don't see but are keenly aware of the damage they leave behind.
Last is the group Mason calls the rats, violent offenders, murderers, rapists, drug dealers and gang members who have been through the criminal justice system and know it better than most.
As the community policing program started, police held neighborhood meetings to learn about the problems and to ask for help to solve them. Police held paint drives, resulting in work days in which four or five houses a day were painted and volunteers helped dig up and locate long-buried sidewalks in areas where people complained they had none.
Soon, the neighborhoods became the kind of places where people wanted to stay instead of ones they were dreaming about leaving, Mason said. Drug dealers and prostitutes moved to areas of town that had not been spruced up, areas where people had not yet rediscovered pride in their neighborhoods.
"People woke up and saw that now where they live is now where they want to be," Mason said. "So now we have impacted crime without really having to deal with crime. The nuisance crimes were gone, which means now we could focus on the rats, because the roaches and the mice are gone. Their quality of life has gone up, they now are starting to believe in the police department. They are not hearing gunfire every night. They are hearing birds, and their kids can play outside. Their stress level is down, and their property values have gone up."
Swanton said he credits Mason with paving inroads into areas that were "not typically police-friendly," calling his work ground-breaking.
"Stan was one of those who was very good about making his way into a community and opening doors," Swanton said. "The best thing that he had going for him was his ability to listen to people. Stan would attend neighborhood meetings and got along very well with kids and was very good about warming up to him. He was always community-friendly and very good about developing positive relations with the kiddos. He would go into low-income areas and help reduce the stigma of law enforcement being the bad guys."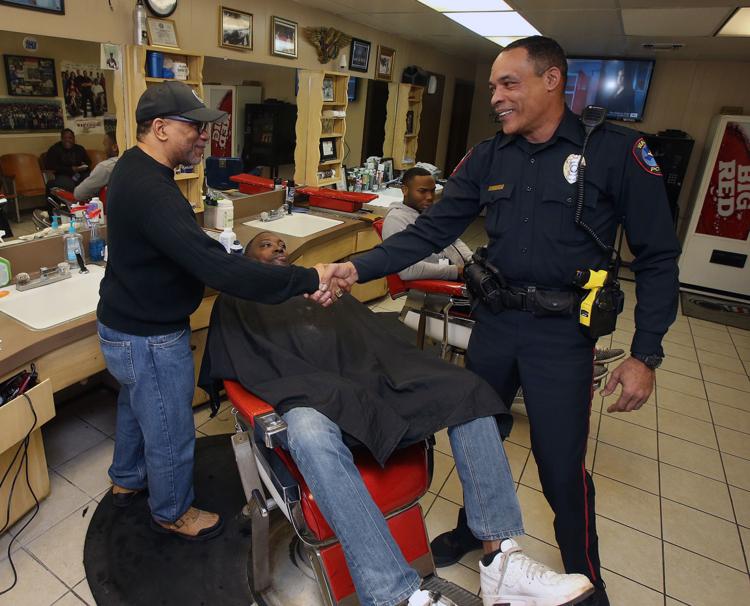 Carlton Stimpson, a longtime barber who works at The Jockey Club Barber Shop, 809 Elm Ave., has known Mason for 27 years and has seen many examples of his dedication to community service and his desire to help others.
"Community servant is the first thing that comes to mind," Stimpson said. "He has a passion for his work. I see him speaking to kids and pulling them aside if they have saggy pants and telling them to stay out of trouble. He is always coming over to the parks and reaching out to the kids to let them know to chase their dreams and all of that, and the kids respond to him well. He is very well-liked and respected."
Mason often brings kids in to see Stimpson for a trim and pays for the haircuts, Stimpson said. Mason also contributes to an annual community dinner known as the "Feast in the East" and sometimes buys school clothes for kids in need, he said. Perhaps his only flaws, Stimpson said, are that Mason is a Philadelphia Eagles fan and does not like the Dallas Cowboys.
Marilyn Banks, a business owner on Elm Avenue, said Mason gave her and the East Waco community a sense that someone was watching out for them. She said she once mentioned in passing that someone had stolen an air-conditioner from the back of her business, not meaning to make it a police matter.
Mason tracked down the young offender, but instead of taking him to jail, Mason gave him 24 hours to bring back the merchandise, Banks said. The air-conditioner was there the next day, she said.
"He is somebody who is very caring," she said. "He cares about the people who are often forgotten or the people who others might look down on. He loves everybody, and everybody loves him."