The Waco City Council is set to take a major step Tuesday in transforming downtown Waco: A ground lease agreement and incentives on a riverfront development that will include apartments, a full-service hotel and restaurants, a farmers market and a music venue.
At its Tuesday meeting, the council is prepared to provide the developer, Catalyst Urban Development LLC, a $5.5 million economic development grant for construction costs in the $40 million first phase of the project. The council is also set to approve a long-term lease agreement on a 6.3-acre tract, the first of several agreements for leasing public land.
Paris Rutherford, co-founder of Catalyst, could not be reached for comment on Monday.
"This is a big marker in the project," Assistant City Manager Bradley Ford said. "Paris and his team are kicking into high gear."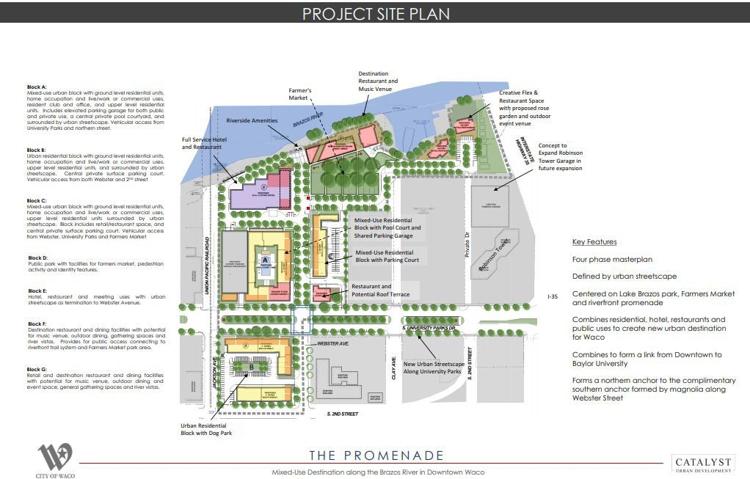 Ford said construction on the $100 million, four-phase project known as the Brazos Promenade will begin in September or October. The first phase includes 264 residential units, a parking garage and an improved space for the Waco Downtown Farmers Market, which temporarily relocated from that space two years ago to the parking lot in front of the McLennan County Courthouse.
The parking garage will include 334 spaces, 170 of which must be available to the public. University Parks Drive will be reworked with wide, lighted sidewalks and landscaping.
In October, the council approved a $6 million grant from the downtown Tax Increment Financing Zone fund for on-site public improvements.
Two public input sessions on the public improvements will occur within eight weeks, city spokesman Larry Holze said.
Downtown Waco is ripe for the kinds of development that bring more development, according to preliminary findings from a forthcoming market study.
The city owns the 16 acres from South Second Street to the Brazos River and will enter into separate leases with Catalyst for the four phases. Under the easement agreement, Catalyst will maintain the parking garage under the easement agreement.
The following phases include the 110-room hotel with meeting space, and new sidewalks and streetscapes. The whole of the mixed-use development will be walkable and provide connections throughout the area, developers have said.
City council members have shown enthusiastic support for the project and are eager for construction to begin.