Percent of children under age 6 with elevated blood lead (2016)
State average: 2.6% • Local average: 5.7%
---
Source: Texas State Department of State Health Services
When toxic lead levels in the blood of children began to escalate in Flint, Michigan, two years ago, it sparked moral outrage across the nation, along with a raft of lawsuits and even felony charges for state officials judged responsible for the tainted water.
But awareness and outrage are in short supply when it comes to North Waco, where the percentage of young children tested with elevated blood levels outpaces even the hardest-hit parts of Flint.
Last year, 65 children under age 6 in the 76707 ZIP code were found to have lead levels above 5 micrograms per deciliter of blood — the level at which brain damage could occur, according to federal guidelines. That's 17 percent of the 381 children who were tested in 2016, compared with 2.6 percent statewide, Texas Department of State Health Services statistics show. It's also significantly higher than the 10.6 percent reported in the most affected part of Flint at the height of the lead crisis in 2015.
Without further study, it's impossible to say for certain how lead is getting into children's blood in North Waco. But the evidence seems to point to lead paint rather than water, as was the case in Flint.
Elevated blood lead levels in North Waco and other inner-city neighborhoods have been well-documented for years. Three years ago, a Baylor University toxicology professor started a community effort with the Waco-McLennan County Public Health District to try to lower those levels.
The Waco Human Environmental Exposure to Lead program, or WHEEL, used college students to collect lead samples in soil and homes around town, with the ultimate goal of pinpointing and remediating specific lead hazards, including peeling paint in old houses. The group, in partnership with the Waco-McLennan County Public Health District and Head Start, also trained child care workers in lead hazard detection.
But that effort appears to have died on the vine since August 2015, when the toxicologist, Spencer Williams, left Baylor to take a position in Kansas with the U.S. Department of Health and Human Services. Williams said his new position prevents him from commenting on the fate of the initiative, but environmental scientists at Baylor still have the data from the testing and are looking for an opportunity to publish it.
No home visits
Local health district officials said they are not involved in any lead prevention efforts. Some health districts in Texas make home visits to investigate environmental causes of high lead levels in children, which can include lead paint, soil, pipes or pottery glazes. But the Waco-McLennan County district hasn't done home visits for lead since the mid-1990s, and no one there has the certification required for such work, environmental health director David Litke said.
"I think everybody knows there's some problems, but what's the best way to address it is the question," Litke said.
Janet Jones, a health educator with the district, said the issue of lead contamination in the 76707 ZIP code is on her radar, and she is planning to discuss it soon with officials with the Baylor nursing program.
In the meantime, high lead levels pose a threat to the long-term physical and mental health of children. Based on a 2012 recommendation, the U.S. Centers for Disease Control and Prevention lowered its threshold for lead-exposure intervention from 10 micrograms of lead per deciliter of blood to 5. Above 5 micrograms, the toxin can cause decreases in IQ and academic achievement, behavior problems and delayed puberty in certain children, according to the National Institutes for Health.
"Lead poisoning is an interesting illness in that the ramifications can be quite profound, but the same levels can create problems in one individual but not in another," said Dr. Roland Goertz, president of the Waco Family Health Center.
The Family Health Center, which serves mostly low-income patients, tests all its child patients at 12 and 24 months of age, following Medicaid rules, Goertz said. High lead levels can usually be treated quickly through a chemical binding process called chelation, he said.
Bans on lead paint, pipes and gasoline have caused child and adult blood levels to fall significantly over the last three decades, with about 2.5 percent of tested children nationwide and 2.6 percent in Texas now testing above the 5 microgram standard. But pockets of high lead contamination persist, according to a recent special report by the Reuters news service that looked at ZIP codes across the United States. Some neighborhoods in Baltimore, Cleveland and Philadelphia had 40 to 50 percent of children above that standard, according to the report.
The Reuters interactive map shows 76707 as having a 23 percent rate of elevated blood lead in children between 2005 and 2015, which would place it among the top three ZIP codes in Texas. But data obtained from the Texas State Department of State Health Services show a slightly lower number for 76707: a 19.4 percent average rate from 2005 to 2016, with a high of 33.8 percent in 2006 and a low of 8.1 percent in 2014. Last year's rate of 17.1 percent included 53 children with levels between 5 and 9 micrograms and 12 with more than 10 micrograms.
Other local ZIP codes with more than 6 percent of children with elevated blood levels include ones in the Robinson area, Crawford, East Waco, Moody and Mart.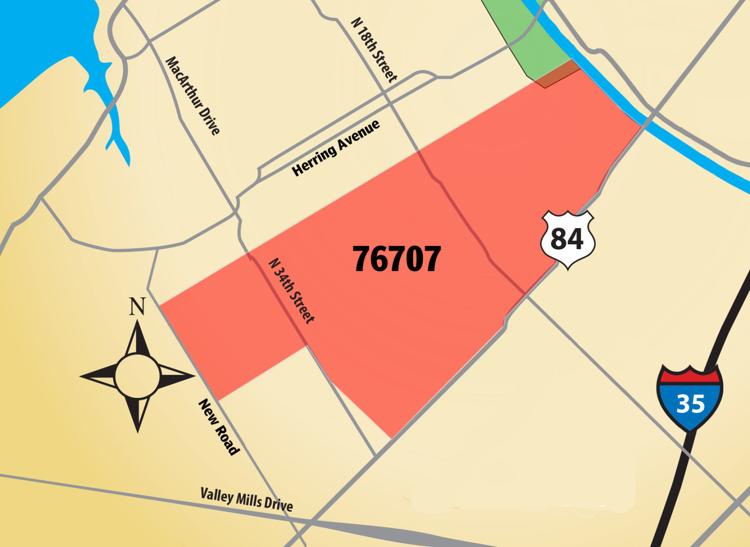 Water pipes
City of Waco water utilities spokesman Jonathan Echols said the city water system has no known lead pipes, and when city crews encounter a private service line made of lead, they replace it. At least four such replacements were made last year, Echols said. Even if some lead service lines remain, the city keeps treated water at a pH of 7.5 or higher to keep it from leaching lead out of pipes, as more acidic water can.
"There's always that possibility of lead leaching out of pipes, but we've done a pretty good job of trying to keep on top of that," he said.
In Flint, blood lead levels spiked when Michigan state officials switched Flint from lake water to more acidic river water and failed to correct the pH.
What North Waco does have is a lot of old houses with flaking lead paint. In 76707, more than two-thirds of homes were built before 1960, according to census estimates. It wasn't until the 1960s that paint companies started lowering lead levels in paint, and lead in paint was banned altogether in 1978.
Today, renovation contractors are required by federal law to take elaborate steps to prevent spreading dust when disturbing paint in houses built before 1978, but the law isn't widely enforced.
Peter Tadin, environmental lead program coordinator for the Texas Department of State Health Services, grew up in Waco in the 1960s and isn't surprised that the city would have relatively high environmental lead risks. Residents most affected tend to be lower-income people who live in old houses and likely rent them.
"Waco's not like Austin," he said. "Waco has a problem with old housing. Most cities have a problem with old housing. If you look at the percentages, you're going to find less older housing stock in Austin than Waco.
"You can't take away half the housing stock in Texas to fix the problem. The best way to deal with it is to keep the paint from flaking, peeling, cracking and getting to the alligatoring stage. . . . The hazard occurs when you have abrasion take bits of lead paint off, and the dust accumulates on horizontal surfaces."
He said lead paint abatement can be expensive, and only a handful of cities have the resources, almost always through federal grants, to help low-income families do that work. Houston and Harris County assist by doing investigations and remediation of lead in homes upon request.
Debora Jones, director of EOAC Head Start and Early Start in Waco, said she has seen progress in lead levels with the low-income children her program serves, but much remains to be done. She said parents need to be more aware of lead hazards.
"We try to make sure that the doctor explains it to the parent," Jones said.
She said lead testing is required for children in Medicaid and in the Head Start program, but some pediatricians are not eager to do those tests.
"We have found quite often we have children who had a physical exam, but the lead procedure was not completed," Jones said. "One doctor wrote a note back saying, 'This child does not live in this (problem) ZIP code and does not live in a house built before 1976; therefore according to the lead questionnaire, I don't feel this child needs a lead test,' " she said, referring to a lead checklist that the Texas Department of State Health Services provides.
"We do have some physicians who are very cooperative in the effort to obtain lead screenings but some that are not as cooperative. That concerns me, looking at some of these ZIP codes."
At times, Head Start has had to pay for the lead tests out of its own budget, Jones said.
"We have a ways to go on this issue," she said.
She would like to see local agencies work together on the lead issue.
"Prosper Waco has done a good job bringing different categories together," Jones said. "It would be good if that group could take this on."
Waco Councilman Dillon Meek, who represents North Waco, said he's concerned about the lead issue in 76707 and wants to see more study of the problem.
"Let's find a solution to this," Meek said. "I don't have a solution right now, but I'm committed to being a vehicle to find that solution, because it affects the health of people in my district."
Lead levels in local children: Ages 5 and under with elevated blood lead, 2016
| Zip | Tests | 5-9 µg/dL* | ≥10 µg/dL* | Total | % |
| --- | --- | --- | --- | --- | --- |
| 76524 | 21 | 0 | 0 | 0 | 0 |
| 76557 | 33 | <5 | <5 | <10 | 6.1 |
| 76624 | 27 | <5 | 0 | <5 | 3.7 |
| 76630 | 14 | 0 | 0 | 0 | 0 |
| 76633 | 41 | <5 | 0 | <5 | 2.4 |
| 76638 | 14 | <5 | 0 | <5 | 7.1 |
| 76640 | 36 | 0 | <5 | <5 | 2.8 |
| 76643 | 143 | <5 | 0 | <5 | 0.7 |
| 76655 | 73 | <5 | 0 | <5 | 1.4 |
| 76657 | 128 | <5 | 0 | <5 | 0.8 |
| 76664 | 33 | <5 | <5 | <10 | 6.1 |
| 76682 | 22 | <5 | 0 | <5 | 4.5 |
| 76689 | 25 | <5 | 0 | <5 | 4 |
| 76691 | 51 | <5 | <5 | <10 | 3.9 |
| 76701 | 23 | <5 | 0 | <5 | 4.3 |
| 76704 | 144 | 8 | <5 | ≥9 | 6.3 |
| 76705 | 330 | 6 | 0 | 6 | 1.8 |
| 76706 | 426 | 26 | 5 | 31 | 7.3 |
| 76707 | 381 | 53 | 12 | 65 | 17.1 |
| 76708 | 416 | 23 | <5 | ≥24 | 5.8 |
| 76710 | 284 | 12 | <5 | ≥13 | 4.6 |
| 76711 | 164 | 7 | 0 | 7 | 4.3 |
| 76712 | 260 | 6 | 0 | 6 | 2.3 |
| TOTAL | 3,089 | ≥153 | ≥24 | ≥177 | 5.7 |
| STATE | 268,501 | 5,346 | 1,607 | 6,953 | 2.6 |