District 2 Councilwoman Alice Rodriguez formally stepped down from her role to a standing ovation Tuesday night.
Rodriguez, Waco's first Hispanic councilwoman, represented District 2 for a total of 24 years, split between two stints on the council. The rest of the city council recognized her during a meeting full of remembrance and barely suppressed tears, followed by a reception at the Waco Convention Center. Shortly after the recognition, Rodriguez's successor, Hector Sabido, was sworn in alongside District 4 Councilman Dillon Meek and District 5 Councilman Jim Holmes, who were both re-elected.
Members of the Cen-Tex Hispanic Chamber of Commerce, Rodriguez's family and other guests filled the meeting room. She said the support of her family and her district made her tenure with the city of Waco possible.
"You can't do anything without your family, and I've turned to my family and asked them, lots of times, to help me," Rodriguez said. "I leave this post with mixed emotions. I love my family here at the city."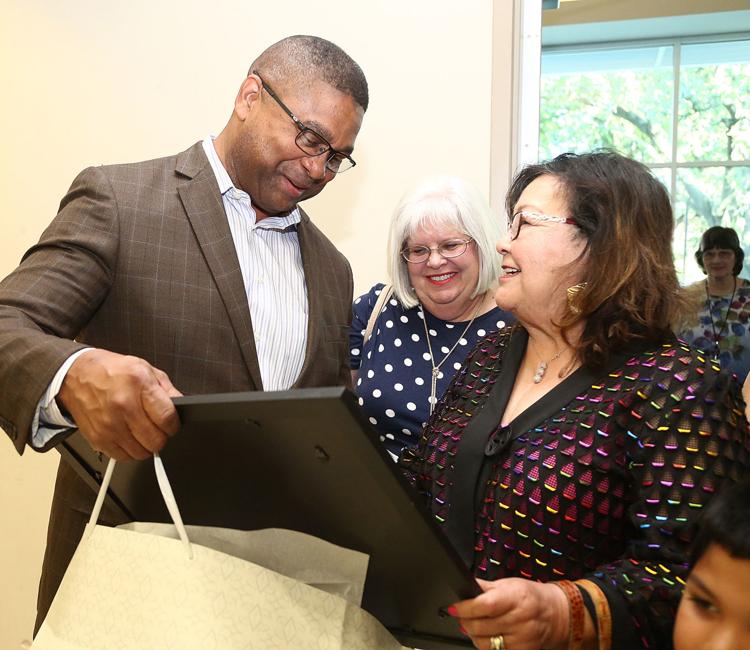 Rodriguez said she decided not to run for re-election after the death of her husband, Joe Rodriguez, last year. He served as president and CEO of the Cen-Tex Hispanic Chamber of Commerce for years before his death.
"My council colleagues were awesome," Rodriguez said. "They helped me through one of the toughest times of my life."
Rodriguez said she mentored Sabido, who ran unopposed, for months before the election. Sabido has served on various nonprofit boards, and said he plans to continue the work Rodriguez started.
"Last year, we knew there was going to be a transition in leadership, and I just really felt a calling to go ahead and step into that role," Sabido said. "I've known Alice for many years, and I've known her to be an advocate and a voice for the people of South Waco, so I've always respected her."
Sabido said the Interstate 35 project, economic development and recognizing Waco's diversity are his top priorities as he moves into the position.
The leadership transition in the District 2 Waco City Council seat will be quiet this spring…
City spokesman Larry Holze, who has known Rodriguez since she was first elected as Alice Flores in 1991, said she exemplifies the council's attitude toward teamwork.
"They work well together," Holze said. "She was always very responsive and very defensive of her district, but she was always very sweet."
Elaine Slaughter, a staff member for state Rep. Charles "Doc" Anderson, presented Rodriguez with a Texas flag from the state Capitol. Cen-Tex Hispanic Chamber board Chairman John Montez presented her with a plaque commemorating her work for the city council, then recognized her work with the League of United Latin American Citizens' local Council 273. Montez is the local LULAC president, and Rodriguez will continue to serve as the chapter's executive director.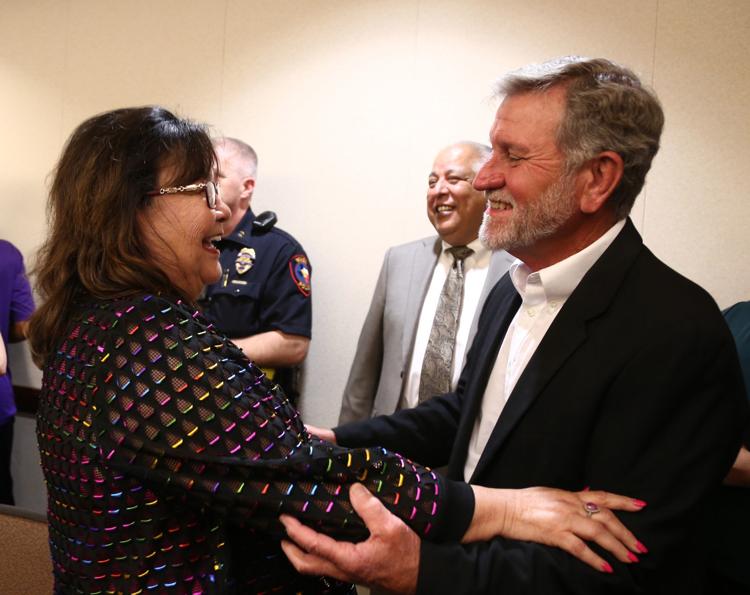 'Great role model'
"She's been a great role model for our community, for the entire community, but specifically for the Hispanic community," Montez said. "We can't thank her enough."
Rodriguez's fellow council members spoke one by one, sharing anecdotes and thanking her for her years of work. Councilwoman Andrea Jackson Barefield, who was named mayor pro tem Tuesday, said she remembers her mother, former mayor Mae Jackson, working with Rodriguez.
"I've been so grateful for me to be able to begin my city council career with you by my side," Barefield said. "So many times, I have listened to you all do business and make things happen and how to make a path, because that's what you do. To be able to sit with you and do that again in this period of time has been such a blessing to me."
Alice Rodriguez will not seek re-election to the Waco City Council, ending the 24-year tenur…
Councilman Dillon Meek said Rodriguez's experience and institutional knowledge after 24 years were indispensable and could not be matched.
"It was practically helpful, but there is also so much wisdom that you carry," Meek said. "You are a fighter for your district. You always fought for the people because you love the people, and it was an honor to see, and to learn from you in that regard."
Meek said she also helped create an environment and culture that make the council feel like a second family.
Rodriguez was first elected in 1991, took a break from the council from 2001 to 2005, then returned. After Tuesday's meeting, Rodriguez said she is sad this chapter is coming to an end but is excited about what the future holds for her.
"I'm going to relax and not have to listen to the phone. That's going to be great," Rodriguez said. "Then, I'm going to contemplate what I'm going to do next."