Three local governments have taken aim at an aging, bumpy stretch of Ritchie Road, intent on making a better route between the Highway 84 corridor and Interstate 35 and improving traffic flow around new subdivisions that may bring 2,700 new homes to the area.
McLennan County approved its portion this week, and work is expected to start early next year and wrap up by August 2020, said Jim Reed, a city of Waco Capital Improvement Plan manager overseeing the collaboration between Waco, Hewitt and the county to rebuild another stretch of the two-lane country road into a four-lane thoroughfare.
Improvements should make travel easier for residents of the 1,500-home Park Meadows subdivision now taking shape, with builders D.R. Horton and Stylecraft taking the lead. Nearby, builders Fred Dewald and Richard Clark have launched the Creekside subdivision that could include up to 900 homes built over the next decade, Dewald said. Ryan Lindsey also has another development with up to 300 homes planned in the area.
"What we're seeing on Ritchie Road is a major improvement that should have been made years ago, though I'm not blaming anybody," Dewald said. "Development has continued to push growth that way. Everybody seems to like the area. It's nice and quiet, with rolling terrain. The improvements to Ritchie Road make us feel very good about our plans for the future."
McLennan County commissioners approved about $700,000 for the $6.2 million project this week. Hewitt, which approved the work earlier this month, and the county are paying a combined $2.24 million for roadwork and $550,000 for utility upgrades on the 0.6-mile stretch from Park Place Drive to West Warren Street.
The Waco City Council is scheduled to vote Sept. 18 on rebuilding the mile-long stretch from Warren to Panther Way. Waco and the city of Woodway wrapped up a separate $5 million rebuild of Ritchie from Panther Way to Old McGregor Road in recent years, Reed said.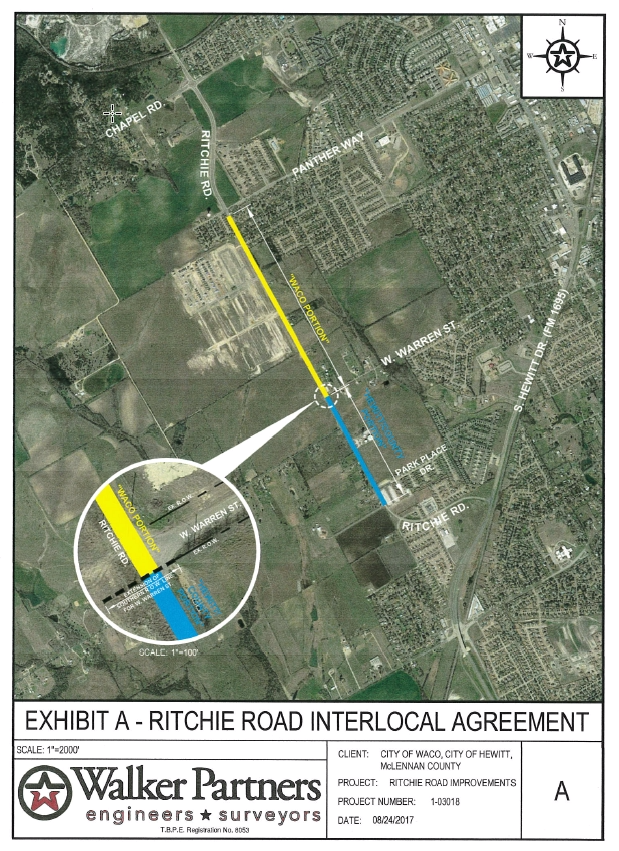 Big Creek Construction is expected to keep traffic flowing through the year-and-a-half of work, with some diversions likely.
Workers will install a new waterline, sidewalks and wastewater infrastructure, completing the task with landscaping, Reed said.
"This is excellent news," said Scott Bland, a local builder and immediate past president of the Heart of Texas Builders Association. "With the density of homes we've got going in out there, Ritchie Road is going to be critical, and an upgrade is critical."
Bland has two lots in Lindsey's development and hopes to break ground next month, he said.
"By this time next year, hopefully we're selling lots," Bland said. "There is no doubt these residents darn sure will be using the heck out of Ritchie Road."
Reed said Ritchie Road needed attention before new homes started to dot the landscape in the area southwest of Waco. An upgraded Ritchie "will go a long way toward providing a direct route and improved roadway between the Highway 84 corridor and Interstate 35," he said.
McLennan County's about $700,000 contribution to the project will be covered from an estimated $32 million bond package commissioners have approved to cover several infrastructure projects, including upgrades to Speegleville Road, Chapel Road and Surrey Ridge Lane.
"Homes are popping up left and right in that area," said Precinct 4 Commissioner Ben Perry, whose precinct includes Ritchie Road and the area targeted for improvements. "This will be a highly traveled road."
Commissioners also signed off this week on spending $3.05 million for the Surrey Ridge project, which calls for widening the county road between Lorena and Robinson from two lanes to three, one lane in each direction, plus a turn lane, County Judge Scott Felton said.
Precinct 1 Commissioner Kelly Snell represents an area that includes Surrey Ridge, a subdivision launched by the late Eddie Gummelt that has grown to between 250 and 300 units, including single-family homes and duplexes. The development sits directly behind an industrial park Gummelt also created that features trucking-related businesses, including Pilot Travel Center.
"Work is supposed to start later this month and should be wrapped up in five to six months," Robinson City Manager Craig Lemin said.
The city of Robinson is spending $315,000 to relocate a waterline as part of the Surrey Ridge Lane project, Lemin said.
Red Cross building
In other business Tuesday, commissioners agreed to buy the former Red Cross and United Way building at 4224 Cobbs Drive from the city of Waco. It is priced at $300,000.
"We have several pieces of property on the market and are under contract to sell two, so we're trying to figure out our future property needs," Felton said. "The fact this building is near our 'venue' project is a plus."
The county has earmarked $34 million for a redevelopment of the 60-acre Heart O' Texas Fair complex, supported by new special-purpose venue taxes on car rentals and hotel stays in the county, Felton said.
Paying for the building is possible through long-term financing, he said.
SpaceX incentives
Commissioners also agreed to wording changes in an economic development contract with SpaceX, the company founded by billionaire Elon Musk that operates a rocket-testing facility in McGregor.
Waco and McLennan County pledged $3 million to SpaceX from their joint economic development fund if the company met certain conditions.
"They have exceeded their performance requirements, so the wording of their contract needed a little adjusting," said Kris Collins, senior vice president for economic development at the Greater Waco Chamber of Commerce.
The changes to not include more money, Collins said.
The Waco City Council also approved the wording change, she said.
SpaceX pledged to spend at least $46 million on facility upgrades in McGregor but has exceeded that requirement by more than 5 percent, Collins said.
"They also said a percentage of employees would make a salary of $60,000 or higher, and they have over-performed by 20 percent," she said.
SpaceX now employs more than 500 people in McGregor.