Retired U.S. Postal Service worker Arno Frosch moved his foot from the downtown pavement onto the deck of an electric scooter as it quickly picked up speed, much to his surprise and excitement.
"Well, it was a little scary at first," the 91-year-old Robinson resident said with a laugh. "I read about the scooters in the paper, so I made a point to come check it out. I had to let off the gas a little bit at first to slow it down, but it was fun."
Frosch and dozens of other local residents visited with representatives from Charleston, South Carolina-based Gotcha Bikes during a demonstration Wednesday at Indian Spring Park. The company is set to launch app-based electric bike and scooter rentals in Waco by late next month.
After his ride, Frosch said he is sold on the idea of bringing the company to Waco and looks forward to seeing the mobility options find a place in Waco for residents at any age.
"One of these days I won't be driving, in about 20 years when I'm about 110 years old," Frosch said. "Then I'm going to come down here and get me a scooter."
The company's Waco fleet will include 50 electric scooters and 50 electric pedal-assist bicycles.
"We are really hoping this is going to build a vibrancy around Waco with tourism that you are seeing," Gotcha partner experience manager Clarissa Carr said. "This is also great for residents here if they are trying to find a different option from using a car all the time."
After a year of discussions, the Waco City Council has amended ordinances to clear the path for Gotcha's rental operation. A one-year contract with the company will leave the option to renew for another year if the deal is beneficial to the city, said Chelsea Phlegar, a senior planner with the Waco Metropolitan Planning Organization.
"Everything is still a work in progress, but we expect them to be on the ground in late June," Phlegar said. "Right now, the Gotcha team is trying to figure out where parking hubs will be and present a draft to the city to review and have a chance to say 'Yes, this works,' or 'No, it doesn't work.' "
Ceonn Williams, 18, of Waco, said he and two of his friends were downtown to take photographs, and the Gotcha demonstration caught their attention. He has ridden on an electric scooter before and thinks they will be a popular option downtown, Williams said.
"I didn't expect it to be that easy, but it was. It was a little faster than I though too," he said. "It gave me a little jerk, but it was a lot of fun. Depending on the price, I definitely think we'd come down here to ride scooters."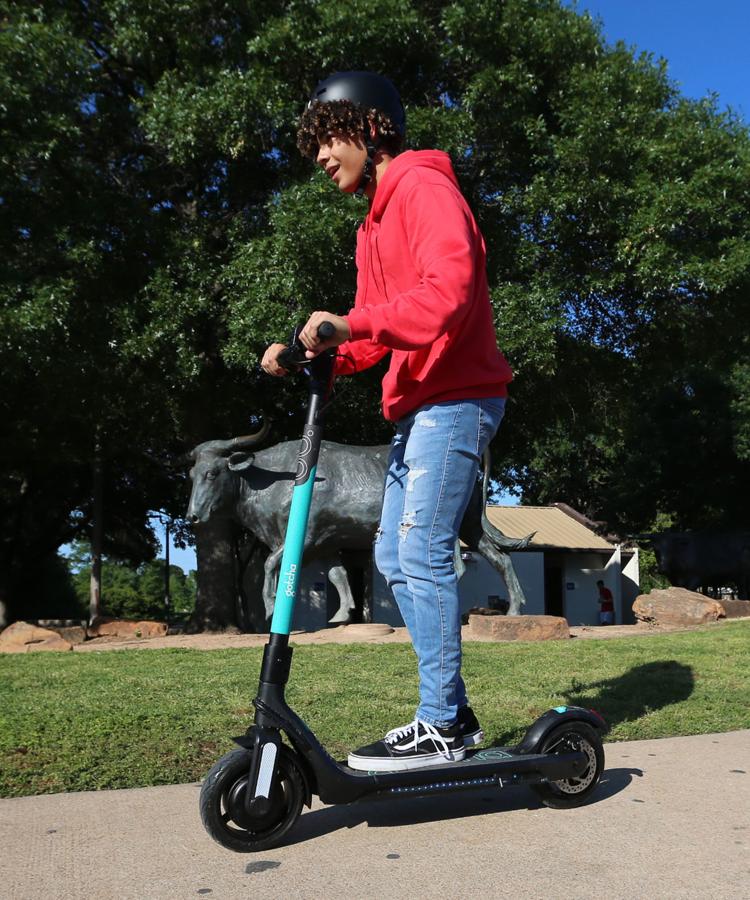 Users will download the Gotcha Bikes smartphone app and pay a fee to rent the bikes or scooters. The company, which will collect the fees, operates in more than 80 cities and universities.
Gotcha representatives are in town this week looking at site locations for the 10 to 12 parking areas, which will include city bike racks, Gotcha hubs and virtual hubs in a 2-square-mile area downtown, along the Brazos and in a sliver of East Waco.
Though the designated parking areas will initially be in a limited area, the bikes and scooters can be used throughout town.
Revised ordinance
Phlegar said a newly revised city ordinance prohibits riding on sidewalks and applies to the rentals. Gotcha Bikes also requires riders to wear helmets and limits speeds to 15 mph. Frosch will be happy to know there is no upper age limit, but Gotcha requires users to be over the age of 18.
"You are not allowed to ride a bike on the sidewalk if you're an adult, so the e-bikes and e-scooters will follow those same rules according to the city ordinance," Phlegar said. "They will be allowed on a shared-use path, like the riverwalk or some other similar path where the city says it is OK for bikes and scooters to intermingle with pedestrian traffic."
Enforcement policies are still under consideration, she said.
The Waco Walks group helped organize Wednesday's demonstration, and founder Ashley Bean Thornton said she hopes residents will be eager to try out the new scooters and give feedback about the program.
"Waco Walks is all about encouraging people to walk in town, help people feel more comfortable walking and helping find a better place to walk," Thornton said. "Some people are excited about the bikes and scooters coming, and some people are a little bit worried about it being hazardous for walkers. But we just wanted to give people a chance to ask questions."