A youngster wearing a big grin was pedaling his bicycle near Gurley Lane and South 18th Street on Wednesday, while officials meeting in the nearby South Waco Library discussed installing bike paths from downtown to his neighborhood.
Using a state grant of almost $500,000, plus almost $200,000 from city coffers, Waco proposes placing 6-foot-wide bike lanes along the 11th and 12th street corridor from Columbus Avenue to Gurley Lane. Accessible ramps would also be installed at driveways and intersections, "with pedestrian crosswalks added where necessary," according to city and Texas Department of Transportation representatives who hosted a public meeting this week.
The path would carry cyclists near Baylor University, across Interstate 35 and LaSalle Avenue, near the Southern Little League complex, the South 18th Street Community Clinic and South Waco Elementary School, where more than 500 students attend. About 94 percent of South Waco Elementary student walk to and from school, according to a presentation by the TxDOT and BSP Engineers, a local firm designing the layout.
Sidewalks will be constructed on 12th Street from Kennedy Circle to Garden Drive, on the west side of 12th Street from Carter Drive to Gurley Lane, and on one side of Gurley Lane from 10th to 27th streets, according to visuals shown during the public meeting.
"We probably will take the project to bid by March, settle on a contractor within six to eight weeks and start construction on the sidewalks and begin paving during the summer of next year, when school is out," said Jim Reed, Waco's Capital Improvement Plan manager, who attended the meeting.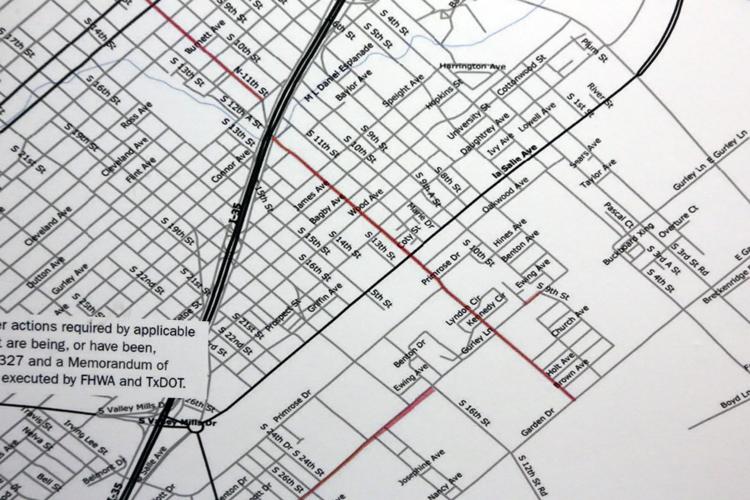 Officials asked that anyone with concerns or questions submit written comments by Sept. 20: They should be addressed to Janet Sheguit, BPS Engineers, 15 W. Central Ave., Temple, TX 76501.
About 20 people attended this week's information session. They raised questions about parking availability near the designated routes and how the paths will be incorporated into existing traffic patterns.
Kody Petillo, project engineer in Waco's Capital Improvement Program, said future meetings would address those issues and others mentioned.
"The bike lanes will give cyclists a place to call their own," Reed said. "There will be no skateboards or scooters or pedestrians sharing the space. Also, lanes will be placed on each side of the roadway, eliminating confusion about the direction in which cyclists should be riding relative to traffic flow."
Reed said Waco's master plans for years have included bike paths. A project scheduled next year calls for construction of bike lanes and shared lanes with pavement markings starting at University Parks Drive, heading across Washington Avenue Bridge and along Elm Avenue to Forrest Street.
"Greater bicycle connectivity continues to be a priority for us and other downtown stakeholders," said Megan Henderson, executive director of City Center Waco. "Bicycle use reduces roadway congestion and the need for parking and is more practical for many trips. They also are less expensive and more maneuverable, making them attractive."
The Waco City Council has shown support for starting a bike share pilot program that would allow private companies to offer short-term bike rentals.
Accommodations for bicycle travel appeal to young professionals, said Dave Morrow, vice president of the Waco Bicycle Club. He said he applauds the creation of more bike infrastructure.
"I think those should be major consideration when we add streets or embark on new developments," Morrow said.