The city is planning to start converting Washington Avenue into a two-way street through downtown next year, and residents have an opportunity Tuesday to review proposed engineering designs and traffic models and speak with officials about the project.
The city of Waco will hold a public meeting from 4 to 6:30 p.m. Tuesday at the Waco-McLennan County Central Library, 1717 Austin Ave.
The city has proposed converting both Franklin and Washington avenues to two-way streets, but a plan already in place to resurface Washington Avenue in the spring pushed it ahead of Franklin, city traffic engineering manager Eric Gallt said. Making the conversion at the same time as the resurfacing will eliminate the need to paint lane stripes twice, Gallt said.
"If we want to do something with Washington, now is the time to do it," he said.
David Lacy, a downtown office landlord and banker, has also maintained opposition to the conversion of both streets, focusing on Franklin.
The concentration of downtown attractions along Austin Avenue has expanded, and Washington Avenue, one block north, is no longer conducive to growth and development as a one-way street, said Cory Duncan, who owns properties on Washington. Duncan and his wife, Kate, co-own Wildland Supply Co. at 721 Washington Ave.
"I don't want to downgrade the viability of a two-way Franklin, but it does make a lot more sense for the currently five-lane, one-way Washington to be two-way immediately," Duncan said.
The conversion would stretch from North Fifth Street to North 18th Street, where the road already becomes two-way. The plans include left turn lanes at critical intersections, parking on both sides of the street and a bike lane.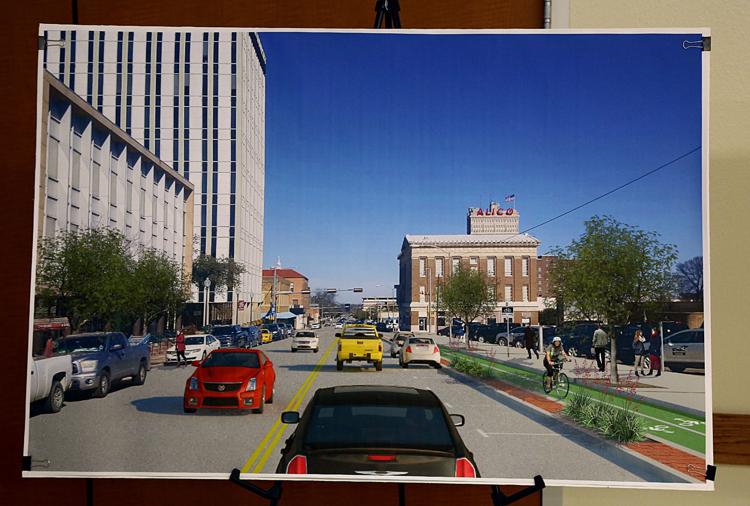 Gallt said city officials decided to handle Washington and Franklin separately after receiving input during a public meeting in February. The projects are independent and separated by the two-way Austin Avenue, he said.
Washington has lower traffic volume than Franklin, which is expected to continue, he said.
Both have excess traffic capacity, and a study presented in February found both would retain adequate capacity even if traffic increases by 20 percent in the next 10 years.
The streets were converted to one-way traffic in 1957, at the same time the city converted eight other streets to one-way traffic.
The conversion was needed at the time to speed up traffic and clear congestion by allowing for synchronized traffic lights and eliminating left-turn conflicts, City Engineer R.T. Gregory wrote in the Tribune-Herald on May 23, 1956.
Gallt said input from business owners and residents during Tuesday's meeting could be included in the final designs.
"We do have some time now within the design window to make some changes as needed," he said.
Gallt said he does not have a cost estimate for the project yet because of how it is integrated with resurfacing and signal work that would happen regardless of the conversion.
Duncan said he envisions more pedestrian traffic along Washington Avenue as development continues in the area.
"A one-way, five-lane street is more conducive for people to exceed the speed limit, and I think it's not abnormal to see someone going 40, 50 mph down Washington Avenue if they hit the lights right, and it's not as pedestrian friendly going one way," he said.