The downtown Waco Public Improvement District board on Monday welcomed a potential bike share pilot program for the riverwalk and surrounding area, as long as rules ensure unused bikes are parked in an orderly fashion.
The plan, meant to encourage Waco's bike culture, would allow users to rent bikes on an hourly basis by a private vendor's mobile app. The Waco City Council would approve a formal measure before the system becomes active, but the Monday vote signaled support from downtown stakeholders.
The PID board represents a district that uses a special assessment on downtown businesses to fund downtown amenities and services. The board Monday also voted to contribute an additional $25,000 to the Doris Miller Memorial project.
Fees for a bike share system would likely range from $1 to $4 per hour, with membership options available, a group studying the issue found.
An increasingly popular trend in the "sharing economy" appears to be barreling toward Waco o…
The proposed system is known as a hybrid between docked and "dockless" models. It would use public racks, ground-level docks and "geofencing," which uses GPS for virtual perimeters, to hold the bikes.
"This is not direct competition with our local bike companies that already offer rentals," said Jeffrey Vitarius, a finance and administration official for City Center Waco. "It's more about encouraging people to use bikes and increasing awareness of bikes on the road and interest in bike facilities across the city."
The working group considered docked systems too expensive and bulky, and dockless models were seen as disorderly because a larger amount of bikes — up to 500 — would be required to make the system financially viable.
Jim Clifton, who represents the Dr Pepper Museum on the PID board, noted bike share systems in college towns are sometimes funded by respective schools, but he did not envision Baylor University or other Waco institutions footing the bill.
"We might find three or four sponsors that will come in at a smaller level, maybe located in an area where a bike rack or a dock would be concentrated that would be of some benefit to their businesses," Clifton said.
He said Baylor officials prefer not to have bikes dumped on campus, but he is hopeful the university would be incorporated into the system.
"Right now, the interest is in downtown," Clifton said. "Providing something for the tourists and the people who live down here, and just another amenity for getting people downtown."
Waco Mayor Kyle Deaver agreed, saying, "the general feel of the city council is this is something we want for our city."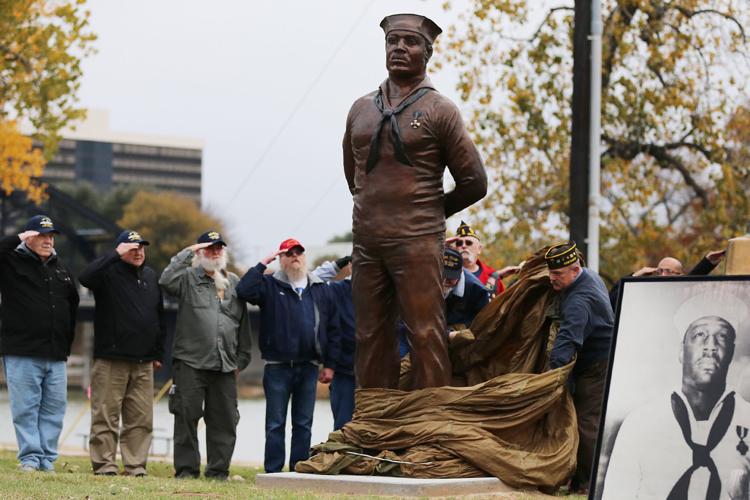 The PID board Monday also approved increasing its $25,000 contribution to the Doris Miller Memorial to $50,000.
Construction for the memorial, years in the making, continues at Bledsoe-Miller Park where a nine-foot statue of the Pearl Harbor hero from Speegleville was unveiled in December. Miller, the first African-American to win the Navy Cross, served in the kitchen of the USS West Virginia, the only place he was allowed.
Doris Miller got a hero's welcome Thursday in his hometown of Waco, exactly 76 years after t…
As the 1941 attack on Pearl Harbor unfolded, Miller dragged wounded shipmates to safety and fired at Japanese planes on a machine gun, despite his lack of training.
The memorial, largely funded by local foundations and individual donations, is slated for completion on Dec. 7, Pearl Harbor Day. An original Memorial Day goal could not be met due to funding issues, bad weather and unexpected flood plain requirements, said Doreen Ravenscroft, executive director of Cultural Arts of Waco.
The PID money goes toward the first phase of the project, which met its first fundraising goal of $1.3 million but is still some $200,000 short.
"That's absolutely fantastic," Ravenscroft said of the PID approval.
Between the time he dragged his captain to safety and rescued shipmates from the burning, oil-slick waters of Pearl Harbor, Doris Miller grabbed an anti-aircraft gun and showered Japanese war planes with bullets.