At a time when information is as available outside the bindings of a book as ever, the Waco-McLennan County Library System is managing to thrive and expand its reach.
Overall circulation increased 7% in the past three years, and circulation of books alone increased by 13%. After extensive renovations and an increased budget in 2016, the library set its sights on broadening its programming, updating its collection and bringing back visitors who, statistically speaking, probably stopped coming to the library during their teen years, Library Director Essy Day said.
"We don't want that. We don't want to lose this huge population of people and just wait until they have children to come back to us," Day said.
Program attendance increased by about a third among children and teens, with a much larger jump among adults, she said.
Library community services supervisor Jessica Emmett said the library started collecting anecdotal feedback, informally polling visitors and the staff about what programs they would like to see.
"The libraries are here to build lifelong readers, not readers who come until they're 10 or 11 and then stop," Emmett said.
She said on closer inspection, the staff found their programs did not offer much for adults not accompanying children or grandchildren.
"They didn't have little kids as their gateway back into the library, and we said, 'This should be a space for you as well,'" Emmett said. "Plus, we have a lot of people who are moving in and new to town, and they're not necessarily finding the library through children's programs."
Last April, the library launched Books and Brews, a book club for adults, as well as programming targeting seniors. The library worked with the Area Agency on Aging of the Heart of Texas and the local Texas A&M Agrilife Extension Service to put together health programs covering exercise, safety and nutrition for the South Waco Library.
"People think of 'literacy' as just books, but really we have health, finance, everything," Day said.
Emmett said cooking classes have been among the more popular courses, and soon East Waco Library will also house health programs.
"At the end of programs, we always say 'Well, what else would you like to see?' And after that one, we got lots of suggestions, which is great," Emmett said.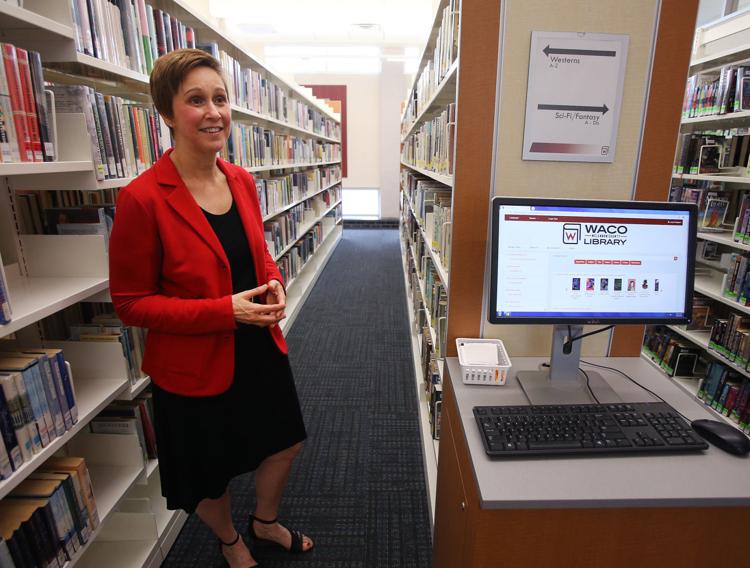 The West Waco Library is also set up to give technical support to visitors.
"You can set up an appointment with a reference librarian, and she will work one-on-one with you on any computer issues you have — how to use your tablet, how to use your iPhone, your cellphone, write resumes, she'll help you," Day said.
The East Waco Library already offers blood pressure monitors for checkout from the Waco-McLennan County Public Health District. More recently, the health district started teaching health classes at the east branch.
"They're going to come in and talk about how to prevent strokes and also how to recognize them," Emmett said. "There's also one for heart attacks and a diabetes workshop."
In September, the library's outreach van will start bringing library materials to assisted living facilities and community centers.
"A lot of times, they have mobility issues and can't get to the library, but they love to read or listen to audiobooks," Day said. "We believe that's going to be popular, and we're excited to start that."
Programming for teenagers received some attention as well. Emmett said the library reviewed its crafting section and quickly realized a lot of its offerings were out of date. But after replacing the books and adding some crafting classes, teenagers have taken to both. They also plan to add more "adulting" classes that teach teens life skills like basic banking.
Day said children's programming, while consistently a large draw, starting receiving more updates about two years ago.
The library added a sensory program for children with special needs and a set of 10 sensory kits at the South Waco Library, designed for children on the autism spectrum. Emmett said the kits have been popular, and they plan to eventually add sets to each library location.
More storytime sessions throughout the week and on Saturdays accommodate a wider variety of work schedules, and a Lego Lab, STEAM programs for elementary students, and a Minecraft club and a Roblox club have been added at the West Waco Library.
Officials also turned their attention toward underserved populations, finding that developmentally disabled adults were often skipped over. They started working with Mosaic, a local service provider for people with intellectual disabilities.
"They bring their clients here, and we do a storytime and a life skills class, which is whatever they want us to do," Day said. "It's good for them, because it gets their clients out into the community, and everybody loves a good field trip.
The library started checking out museum passes in 2017, when the Mayborn Museum phased out its free Sunday admission. The library quickly added passes for the Cameron Park Zoo, Dr Pepper Museum, the Texas Sports Hall of Fame, Texas Rangers Hall of Fame, the Mayborn Museum and the Waco Mammoth National Monument. Day said the passes have been checked out about 2,600 times since January.