Waco is once again revisiting its old problem with New Road, this time with an out-of-the-box solution from the Upper Midwest.
The Metropolitan Planning Organization's technical committee last week reviewed three possible solutions to the chronic congestion at the intersection of Franklin Avenue and New Road.
The committee favored a "median U-turn" model, new to Waco, that eliminates left turns in favor of U-turns.
MPO Program Administrator Christopher Evilia said the committee will recommend the median U-turn model, also known as a Michigan Left, to the MPO policy board for consideration. The at-grade intersection model would cut traffic light time in half and would be millions of dollars cheaper than an overpass, but it would be unfamiliar to many motorists, he said.
"It's making it a little more circuitous," Evilia said.
Under the model, traffic coming from New Road could turn right on Franklin or continue straight but could not make a direct left turn. Instead, those motorists would take a right turn on Franklin, move to the inside lane and make a U-turn at some distance from the intersection.
The committee considered two other alternatives, at-grade access roads or overpasses, and the plan is far from set in stone. Evilia said the idea of the Michigan Left, created decades ago by the Michigan Department of Transportation, is to simplify signal operations. He said despite the U-turns, traffic would move through much faster than at a traditional signalized four-way intersection.
"Part of the challenge is that you have a lot of really big, beefy roadways intersecting at odd angles and very close to each other," Evilia said. "From a traffic management standpoint, this is a very challenging area."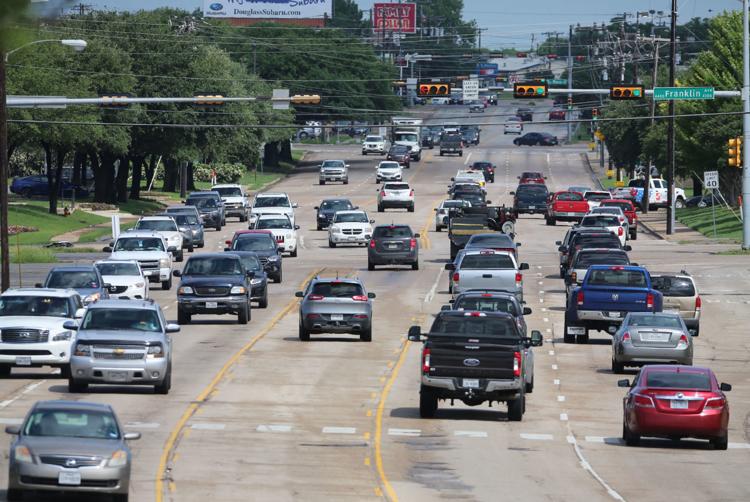 Engineers working for the Texas Department of Transportation created models of each possible solution and how they would improve the flow of traffic. The MPO provides socioeconomic data that TxDOT then incorporates into a travel demand model that predicts how traffic in a given area will change over the next 25 years. Evilia said the results should always be taken with a grain of salt, but they're a useful tool for planning ahead.
Evilia said the MPO has been considering different plans for the intersection for at least 20 years, if not longer, and models predict traffic in that area will double.
Engineers predict that by 2040, 21,000 cars per day will travel on Franklin, which isn't a steep increase. But by then the projected traffic on New Road could roughly double to 38,000 to 40,000 cars per day.
Evilia said those increases are due to economic development within the last 10 years, and he anticipates much more growth within the next decade. However, that portion of the city lacks roadways that run northwest-to-southeast. Many drivers would find Loop 340 or Valley Mills Drive to be too far away to be an attractive alternative, he said.
"You can actually absorb a lot of delay here and Franklin before those facilities become attractive," Evilia said.
Expanding Lake Air Drive farther southeast is not an option either, as an industrial plant and Cottonwood Creek Golf Course block the way.
The MPO is also considering other factors, such as the deployment of self-driving cars in the near future.
"In 25 years, things can greatly change," Evilia said. "(Autonomous vehicles have) the potential to completely altering the landscape in terms of how we get from Point A to Point B, even to the point of maybe changing where we live and where we look and what's even considered an acceptable commute."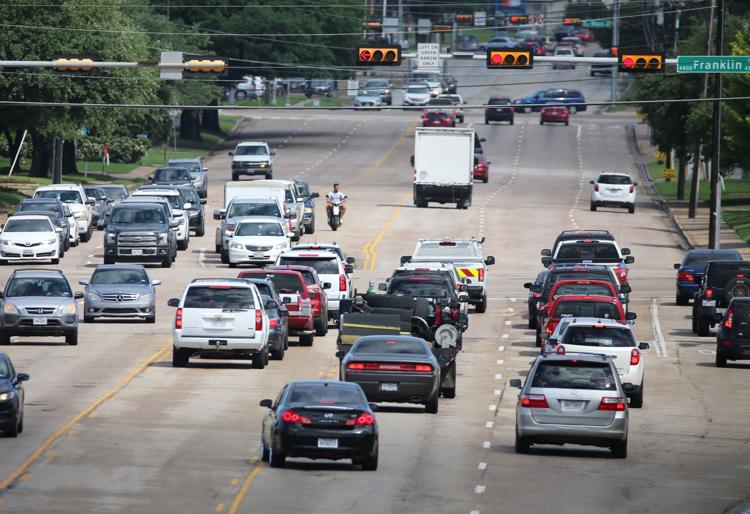 While the MPO tries to contend with a familiar issue, the Waco Transit System is planning for the future. Waco Transit System General Manager Allen Hunter said buses currently avoid Franklin and New Road intersection, but if the Waco Rapid Transit Corridor plan is approved for funding from the Federal Transit Administration, that will change. The "bus rapid transit" system would provide an express bus line along Franklin, with a series of dedicated stops served by smaller buses that circulate in neighborhoods.
"For me, the big thing is making sure that the engineers and planners are aware, and keep in mind that the BRT line might be traveling in this area," Hunter said.
The intersection is busy enough to limit where buses can safely pick passengers up, and current bus lines just skirt the area. If approved, the plan would include a main bus line up Franklin Avenue and continuing onto U.S. Highway 84. Hunter said the U-turn median model is a good fit for the planned bus routes, but those routes wouldn't be in use for another four or five years.
"I'm more worried about what's going to happen with the routes in the future," Hunter said.
Hunter said Waco Transit System's current hub-and-spoke system is far from efficient, but for now it's the best fit for the city's limited resources. He said the rapid transit corridor plan is much more efficient, and operates almost like a light rail system, with lines feeding into one another throughout the city.
"There's still more work to be done," Hunter said.