A 1989 flood that submerged apartments and swept vehicles down Waco Creek would pale in comparison to flooding a storm of the same scope would bring if drainage issues associated with a plan to widen Interstate 35 are not addressed, officials said Thursday.
The Waco Metropolitan Planning Organization has been debating whether to boost its $80 million contribution to the project by $8 million, and the MPO Policy Board delayed the decision again Thursday after learning of the potential drainage issues.
"Given the information that (Walker Partners President) Jed (Walker) has presented to us that the construction of this highway will cause additional significant flooding, I find it to be concerning enough that we should push pause and try to get resolution as to what our plan can be," said Dillon Meek, a member of the MPO board and Waco City Council.
Officials are considering options to improve drainage in the area north of 12th Street along I-35 that is dominated by fast-food restaurants, but it remains unclear whether the city or state would be responsible for covering the cost. One option would cost an estimated $20 million and cause major disruptions along Clay Avenue through downtown.
Waco Mayor Kyle Deaver said he thinks it would be the Texas Department of Transportation's responsibility since its interstate project is exacerbating the flooding potential.
The city hired Walker Partners in March 2017 to study drainage impacts of TxDOT's $340 million plan to widen the interstate from 12th Street north to Loop 340, with a focus on Waco Creek and its proximity to the interstate near 12th Street.
In response to the study's findings, TxDOT amended its interstate design by raising the main lanes by 4 feet. The change would make the interstate safe from a 50-year flood, but the higher road would act as a dam, making flooding worse around nearby businesses and in the new underpasses planned at 12th Street and at Fourth and Fifth streets.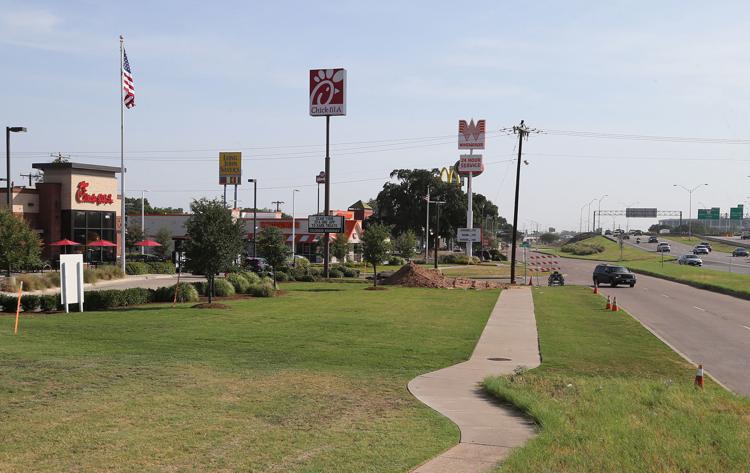 Near Freddy's Frozen Custard & Steakburgers, for example, the projections show a 50-year flood now would bring 3.5 of water, compared to projections of 5.4 feet of water when accounting for the new interstate plan.
From a high point near 13th Street and Webster Avenue, Waco Creek flows toward the interstate, crosses near 12th Street and flows through Baylor University to the Brazos River.
In the 1960s, the city built a tunnel 16½ feet wide and 17 feet tall that starts near 13th and Webster and diverts water directly to the Brazos that would otherwise flow through Waco Creek and make flooding more likely.
For its time, it was "one heck of a project," Walker said. Now, a project of similar scope is one option under consideration to solve the drainage problems exacerbated by the interstate plan.
TxDOT made its drainage plans about two years ago with the "best available information," which did not include the level of detail Walker Partners provided, Deaver said.
Finding a solution is imperative, he said.
Walker said the firm considered culverts under I-35, but they likely would just pass flooding issues from the west side of I-35 to Baylor University on the east side.
Deaver said his preferred option would be to run culverts along I-35 to the river, but TxDOT officials have said interstate plans are too far along for that change.
That leaves the option of a new diversion tunnel, which would run along Clay Avenue from 13th Street to the Brazos.
It would require tearing up a heavily trafficked area that passes near many residences, businesses, including Magnolia Market at the Silos, and could disrupt riverfront development.
"In the end, we'll have a good product, but it's going to be messy," Deaver said.
And responsibility for the bill remains a question.
TxDOT is asking the MPO to contribute an extra $8 million from its state allocation to cover a cost overrun unrelated to drainage.
The city considered offering the $8 million contingent on a plan to address drainage, Deaver said.
"That appears to be problematic for TxDOT," he said.
TxDOT Waco District Engineer Stan Swiatek said the MPO Policy Board is responsible for deciding how to spend money it gets from the state, not putting conditions on use of that money.
"This is a project that was approved by this board to pursue," Swiatek said.
Meanwhile, the project has a $29 million shortfall, which $8 million from the MPO would offset, and has already been bid out, he said.
"This is a debt that we already owe," he said. "This is something we're going to be under contract in a very short amount of time."
Meek and Deaver proposed the MPO board postpone a vote on the $8 million until its Feb. 21 meeting to allow more time to investigate the drainage situation and solutions.
Meek said the city is working with TxDOT to explore as many options as possible.