Anybody who knew Malcolm Duncan Jr. as a businessman and a councilman could have guessed the kind of mayor he would become: A number-cruncher, an efficiency wonk, a driver of hard bargains.
He was known as someone who consumed five newspapers a day, who monitored lake levels and city lot-mowing statistics. He championed tax cuts and more efficient garbage pickup.
But something has happened since he became mayor in 2012 that has surprised everyone, including Duncan himself.
He caught a vision of what it would take to tackle Waco's thorniest social problems. Then he set about building partnerships to do just that, becoming the de facto quarterback of a community effort to help those on the bottom rungs of the economy move up.
Now in his second term after sailing through an uncontested election in May, Duncan is applying to social issues the acumen and rigor that he once devoted to selling 18-wheelers.
Duncan has forged alliances on issues ranging from jobs for ex-convicts, animal welfare and teen pregnancy to transit, low-income health care and prekindergarten-to-college education.
Above all, he has become the most passionate advocate for Prosper Waco, a broad-gauged antipoverty partnership between the city and schools, colleges and nonprofit organizations.
In doing so, he has redefined the role of the mayor, a mostly ceremonial position for which Duncan takes no compensation. Duncan, 61, has made it a full-time job, spending much of his time convening community leaders and forging partnerships, he said.
"I realized that's the only thing a mayor can do," he said. "I have no ability to dictate. But I was convinced we had the resources and the people to tackle a lot of these problems if we can sit down and work together."
During the past two years, Duncan has enlarged his vision of what cities can do for their residents.
"There's nothing that says we can't tackle teen pregnancy or stray animals or (ex-convict) reintegration as a policy of the city, because it's going to make this a better place for all the citizens," he said.
City Manager Dale Fisseler has seen a lot of mayors as a veteran of city government in Dallas and Fort Worth, where he formerly was city manager. But he said Duncan has unique talents in understanding complex issues and building consensus.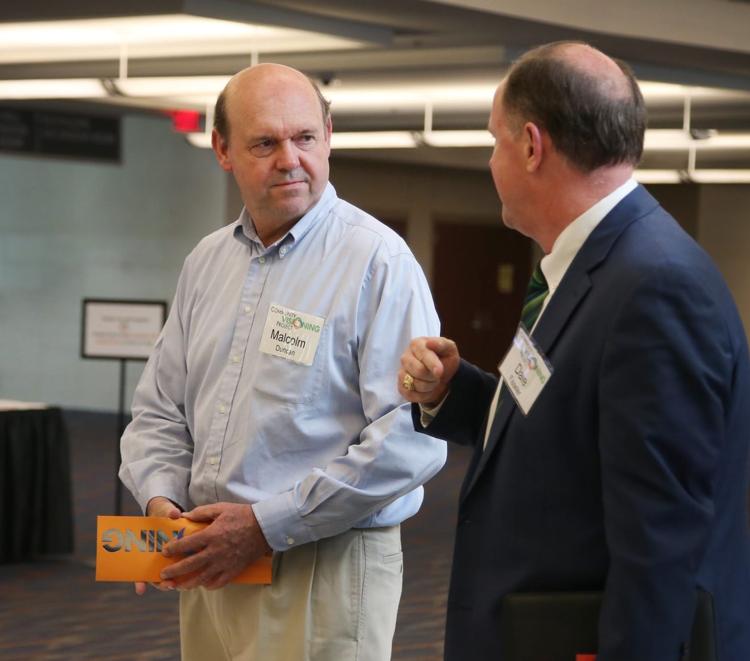 "I don't think I've ever seen a mayor use the bully pulpit as effectively as Malcolm has in getting people together," Fisseler said. "He's gotten the city, county and school district all working toward the same goals. He's really a master of that."
Councilwoman Toni Herbert said she knew Duncan would be the kind of mayor that "would get into the nitty-gritty of every financial report."
"That didn't surprise me a bit," said Herbert, who represents North Waco. "What I didn't anticipate is that he would take on my issues."
Herbert for years has been outspoken about the needs of the inner city and the economically disadvantaged – in short, the concerns of Prosper Waco. She said she was "blown away" by Duncan's embrace of that initiative.
"He and I agree on almost everything," she said. "What he brings to it that I don't is the whole vast knowledge of the financial part."
What started as a plea from local poverty advocates to the council in 2009 evolved into a "poverty solutions committee," then into Prosper Waco, a name chosen to reflect that reducing poverty helps the whole community.
The partnership is in the process of hiring an executive director and small support staff to coordinate efforts that are already going on and create new job training programs for entry-level workers.
In the meantime, the council has begun to reorient its policies toward helping people escape poverty. It has raised the minimum wage for its workers to $9 an hour and lowered barriers for ex-felons seeking employment.
The city and school district have trained their staff in "Bridges Out of Poverty" curriculum that provides a framework for understanding poverty.
The city of Waco is reforming its municipal fine processes to give people more chances to avoid getting trapped in a cycle of escalating late fees and warrants.
The city is even rethinking economic development after commissioning a study of Waco's economy from the W.E. Upjohn Institute for Employment Research. Among the findings was that transportation to work is a major obstacle in some parts of town where vehicle ownership is low.
In response, city leaders are discussing how to incentivize new businesses to move to inner-city areas, such as East Waco.
At a daylong council retreat last November that focused on Prosper Waco, then-City Manager Larry Groth confessed that he had initially been a bit skeptical of the initiative.
"To my surprise, this really has traction," he told the council. "It's going to set the stage and be the blueprint for where we want to go."
Groth, who retired in March, said in an interview that Duncan's advocacy for Prosper Waco eased doubts that it would be "another government program that didn't work."
Groth said Duncan's "tremendous ability to absorb data" impressed him, as well as his sincerity.
"From all aspects, you would place him with the white rich folks, the country club crowd, like a lot of people try to do," Groth said. "But that's so far from the truth. The stuff he does with health care and prosperity is from the heart."
Certainly, Duncan's credentials as a member of the Waco establishment are hard to beat. His father and grandfather both served as mayors of Waco, and both his parents served on the Waco Independent School District board.
As the son of a leading Waco car dealer and entrepreneur, Malcolm Duncan Jr. and his three siblings grew up in a privileged world of the country club and private schools.
Today, he and his wife live in a spacious house he designed on an oak-studded ridge near Lake Shore Drive, seemingly insulated from the problems of a city where the poverty rate is nearly 29 percent.
But Duncan's priorities might be less surprising to those who knew his parents and their history of community service in education, health care and social issues.
His mother, the late Mary Ruth Duncan, was known for leadership with WISD, Planned Parenthood, and the Humane Society. Malcolm Duncan Sr.'s philanthropy includes building the South Waco Library and establishing the MAC Grant, which ensures that any McLennan County high school graduate can pay for community college.
Susan Duncan, who has been married to Malcolm Jr. since 1979, said the welfare of the community has always been on the agenda whenever the Duncans got together.
"Their family would sit around the dinner table, and all they would talk about was the city and education," she said. Today, her husband and father-in-law — equally matched in their strong opinions — talk about Prosper Waco over Sunday dinner, she said.
After college, Malcolm Duncan Jr. proved himself at another car dealership before going to work for the family business, Duncan Motors. He spun off Duncan Freightliner, establishing three Central Texas truck dealerships and becoming the largest partner in a group of 12 dealerships.
Duncan would follow in his parents' tradition of civic service, with long stints on the Plan Commission and other boards. That track record helped persuade the Waco City Council to appoint him in 2010 to fill out the term of District 5 Councilman Jim Bush, who became mayor that year.
Duncan sold his business several years ago, but his involvement with Prosper Waco has caused him to reflect on his own time as an employer of about 400 workers.
The new initiative is challenging Waco employers to hire the unemployed and work with them on skill-building, transportation, child care and health care.
Duncan said that in retrospect, he thinks he could have had less turnover among entry-level workers if he had paid more attention to those needs.
"I could have talked to them about, 'Why are you not at work?' instead of firing them for not being there," he said. "Did their car break down? Is there a reason they're not subscribing to the health insurance plan? Maybe it would help if we were not charging so much for health insurance."
Duncan said when he first joined the council, he had no particular agenda other than acting on behalf of taxpayers.
"I thought it was mainly about finances," he said. "I thought it was about having the organizational structure to be able to achieve all the basic services citizens wanted at the lowest cost. But the more time I spent trying to do performance-based metrics, the more I realized we would never be able to measure the true value of what we were doing, because Waco is so unique."
As a councilman and mayor, Duncan pushed for new policies to reduce the city's liability for retirement and to fund more projects from cash rather than debt. He pushed for a tax rate cut, and got one last year.
He showed himself unafraid to ruffle feathers when questioning the value of popular services.
Shortly before becoming mayor, he floated the idea of charging for curbside recycling, arguing that it was a drain on the solid waste budget. Ultimately, the council chose to limit recycling to every other week, saving money and fuel and actually increasing participation in the program.
As councilman, Duncan served as the council's liaison on animal issues. At the time, the Humane Society of Central Texas was running the city shelter and demanding more funding from Waco and other partners. Duncan and other city officials were unpersuaded.
In summer 2012, soon after Duncan was elected mayor, the Humane Society announced it would terminate its agreement with the city. Duncan then announced that the city would run the operation strictly as a holding facility for stray animals, with animals subject to euthanasia after 72 hours.
Animal lovers flooded the council chamber to protest Duncan's scenario, which the council had never discussed. Protesters warned of impending mass euthanasia, "an animal Auschwitz," one said. Others called on the city to create a "no-kill" shelter.
Duncan now acknowledges that he took a hard-line position to get a fractious animal welfare community to the table. Within weeks, local advocates were meeting at City Hall to agree to work on a joint solution, which included the Humane Society running the adoption operations at the city-run shelter.
To the surprise of many animal advocates, Duncan became among the strongest advocates for a no-kill shelter, a goal which now appears within reach.
In the meantime, Duncan was beginning to connect the dots of Waco's challenges, including schooling, crime, workforce preparedness and low-income health care.
Duncan says he wanted to follow the will of the council in making poverty reduction a priority, and he wanted to build on the work of former mayors such as Virginia DuPuy, who started the Greater Waco Education Alliance.
He said he began seeing how poverty colored every issue the city has.
"Take the animal thing, and tell me how it doesn't fit into Prosper Waco," he said. "It's the same ZIP codes that we have the recurrence of stray animals that we have teen mothers and dropouts. That's what makes poverty so complex. You can look at education, and what happens before they get to school, and the single-parent issue – you can take them individually and say they're important, but put them together, and they're all connected."
Duncan said the Upjohn study has convinced him that the city is doing a good job bringing jobs to the community, but not at stopping flight of the gainfully employed to the suburbs. He said improving the standard of living and education for those at the bottom will make Waco a more attractive community for all.
"We've got to be able to give people reasons to stay, by raising the standard of living for the low-to-middle income, then we'll be able to offer more things that would draw people to the city," he said. "People want to know why we don't have more good restaurants and that kind of thing. You can't have a top-down economy. This isn't just to help the marginalized, less advantaged people. It's for the whole community."
As mayor, Duncan presides over city council meetings, but he is only one of six votes.
Malcolm Duncan Sr. said he is impressed with his son's ability to listen to other council members and win consensus.
"What has pleased me is the way he has cemented the council together," he said. "I don't see much dissent. They're all working together. He has pulled the minority group together onto his team. . . . He is much more cooperative with members than I was."
District 1 Councilman Wilbert Austin, who represents East Waco, said Mayor Duncan is a good listener.
"He has a great style and a humongous vision for Waco," Austin said. "I think his focus is on the whole city of Waco and not just one area. He's been like a spring bouncing all over the city. All of us are on the same page. That's what makes it so good."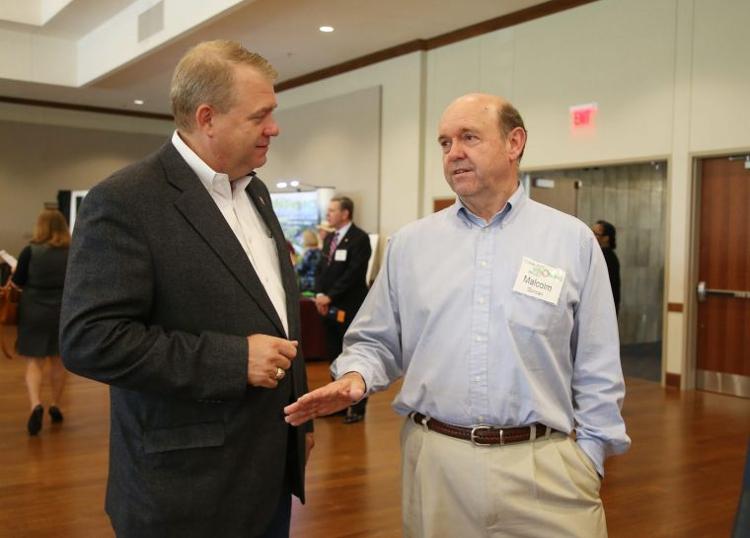 Duncan said some people he knows have questioned the city's Prosper Waco direction, seeing it as a "liberal" government program. Duncan balks at such labels, saying he is a nonpartisan leader.
"I'm not going to fit into anybody's camp if it's not in the best interest of the community," he said. "If you agree these issues are important, let's figure out how to deal with it. . . . I think that's the challenge for the rest of the community to understand what it's going to take to cure these deep issues. It's going to be different from what they've thought of. I don't think the community has ever worked on the scale that this collaboration has worked on."
Duncan said he intends to stay involved in those issues for the long term, but he won't seek a third two-year term as mayor, preferring to pass the torch to someone else.
"It's more fair to the council for me to go back to minding my own business," he said. "Besides, my wife keeps telling me I need to get a job."