Dockless electric scooters that surprised Waco leaders and residents on Friday will no longer sit on downtown sidewalks.
The scooter-sharing company Bird Rides, which operated its business on city property without a permit, picked up the vehicles Saturday night at the insistence of the city after a two-day run, Assistant City Manager Bradley Ford said.
Bird scooters unlock when users download a smartphone app, register and pay a base fee of $1 plus 20 cents per minute.
Waco was the latest city to unexpectedly host the scooters. The company has used similar tactics in San Francisco, Nashville, Austin and San Antonio. Austin officials quickly created city rules to allow the scooters, but most cities have fought back against Bird.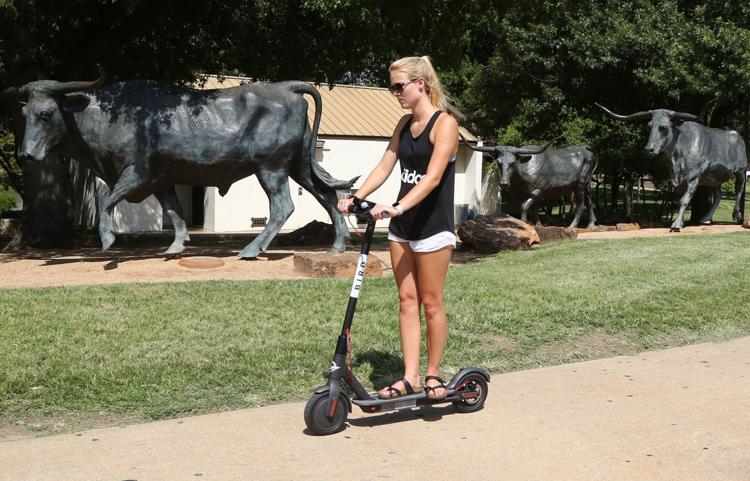 Bird paid a settlement of $300,000 to Santa Monica, California after the city filed misdemeanor charges, and other cities have impounded the scooters.
A Bird spokesperson said the company voluntarily removed the scooters "following productive conversations with the City regarding bringing dockless transportation options to Waco."
"We look forward to continue working closely with the City, University, and other stakeholders so that Bird can be a reliable, affordable and environmentally friendly transportation option for the community," the spokesperson said.
Ford said the city coordinated with Bird to have the scooters removed. Though the city council last month approved an ordinance revision allowing bike-share vendors to operate on city property, scooter-sharing companies are still prohibited. Ford said it is too early to say if the two-day incident will spark a policy shift toward scooters.
"I think what city staff worked on since Friday is just trying to get resolution to the scooters quickly," he said "And I'm sure in the coming days we'll have further discussion about scooters as it relates to bike sharing."
The downtown Public Improvement District board in April signaled support for a bike-share program in Waco after studying the issue. Ford said a request-for-proposal will be released in the coming days, and leaders have said a vendor could be selected by late fall.