AXTELL — Eastern McLennan County residents Sunday night began mobilizing against the city of Waco's new proposed landfill site as more than 400 people gathered for a raucous meeting at the Axtell High School gymnasium.
Residents said a 502-acre landfill on TK Parkway near State Highway 31 would affect their property values, water quality and even their deceased family members and friends buried in a nearby cemetery.
The Waco City Council is expected to vote on buying the land at a special meeting at 6 p.m. on Tuesday at the Bosque Theater in the Waco Convention Center.
"I'm very concerned to hear that Waco is looking for a path of least political and least legal resistance," Axtell Independent School District Superintendent J.R. Proctor said. "So we're here tonight to organize in a way to let them know: this is not the answer to your question, 'Where do we put our trash?' Axtell is not where you put your trash."
Lacy Hollingsworth, an Axtell ISD director for special programs, led the meeting with D.L. Wilson, a retired Texas Department of Public Safety official and a Precinct 2 candidate for McLennan County Commissioners Court.
"I'm trying to step up because we have no voice in our rural area," Wilson said. "I want to be that voice. This is not a campaign deal for me right here. I don't need the money. I don't need the job."
Axtell leaders are considering legal avenues in their pursuit against the landfill. They said a lawsuit protesting possible violations of federal rules would be the most likely option.
Opponents of the the original preferred landfill site on Old Lorena Road filed a lawsuit in March 2017 in state district court, charging that the city was breaking a promise not to expand the existing Waco Regional Landfill next door. That suit is still pending.
In a Sunday statement, the city said it "considers the residents of eastern McLennan County as its neighbors."
"Recent evidence of this is that Waco has offered some of its water (up to 2 million gallons each day) to help resolve the area's arsenic issue in its water supply," the statement said. "Likewise, our goal will be to work with elected officials and residents of the area near the intersection of State Highway 31 and TK Parkway throughout this process."
Axtell community members at the meeting organized an informal, 15-member committee that will strategize throughout the permitting process expected to take several years. Those members and more Axtell residents are expected to attend the Tuesday meeting, though the agenda is not posted for the hearing of visitors.
"I hope the Waco City Council is up all night listening to the concerns of actual citizens," Proctor said.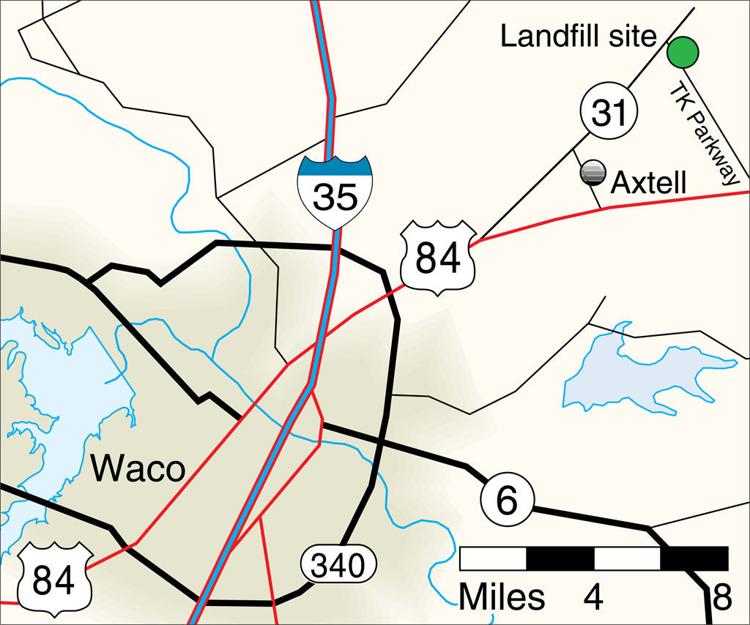 Community members expressed concern about nearby traffic, calling the intersection a dangerous road not built for scores of garbage trucks.
One resident, Susie Swaner, said she has seen two accidents there in the last three days.
"As a mother of child who's about to get his driver's license, that's concerning for me," Hollingsworth said. "I don't want them driving through a dangerous intersection with increased traffic and big trucks that can't stop quickly."
They also worried about property values, saying a landfill would decrease land in eastern McLennan County and in Limestone County.
Additionally, attendees worried about generations of their family members buried in a cemetery adjacent to the proposed site.
"There are residents that have family buried in the TK Cemetery that backs up that property," Hollingsworth said. "They're concerned about their loved ones' final resting places."
Waco Mayor Kyle Deaver told the Tribune-Herald on Friday that the city has had the land under contract since Dec. 7. Axtell-area residents accused city of Waco leadership of lacking transparency.
"It's a textbook case of social discrimination," Hollingsworth said. "You take the problems of the rich and you cast them on the poor. This is the point that needs to be made to the city council."